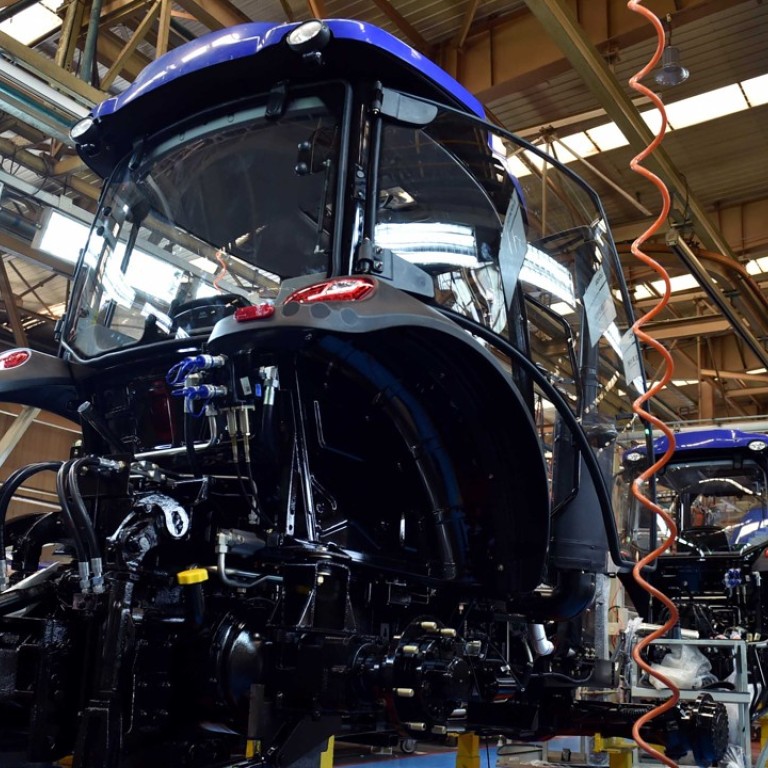 China's economic growth statistics may finally add up, in 2019
For local officials in China's provinces keen to boost their chances of promotion, the days of being able to puff up the output data they send to Beijing may be coming to an end.
Fifteen years ago, if you added up the gross domestic product of all China's 31 provinces, you'd get a number more than 10 per cent larger than the official national total. By around 2019, the country will "nearly eliminate" that gap, according to Sheng Laiyun, chief economist of the National Bureau of Statistics.
The authorities are shifting to the latest United Nations-based statistical standard, gathering more comprehensive data from a major census next year, and cutting local interference and double accounting by computing GDP for the provinces instead of relying on their own reports, Sheng said in an interview in Beijing. Output reported by 31 provinces last year totalled a mere 3.7 per cent more than the statistics bureau's figure for national GDP.
If it's convincing, a reform that closes the gap would be a major win in China's battle against flawed or fake economic data, which has fed scepticism from investors wanting to be able to trust what they read about the world's second-largest economy. It would also be a triumph for the country's economic chiefs, such as Premier Li Keqiang, who once complained that some statistics were "man-made."
"China is cleaning up the environment for statistical work and ensuring that there's no interference by officials," Sheng said.
Beyond statistical rigour, China has also shifted the incentives. Pure economic output has become less important for evaluating local party officials' performance, and punishments for fraud have been increased.
After Liaoning province admitted this year that it faked fiscal data, President Xi Jinping said in March that officials must be "frank and forthright" when delivering their reports.
Closing the gap "would be a step toward boosting the credibility of China's data," said Tom Orlik, chief Asia economist at Bloomberg Intelligence in Beijing and author of "Understanding China's Economic Indicators." "To convince the data doubters though, the NBS has more work to do," such as improving transparency of data sources and calculations.
The statistics bureau also plans to roll out a new barometer of economic health, said Sheng, who became chief economist earlier this year after serving as spokesman for the agency and as the director of the division that compiles national economic output statistics. The "green development index" will include more than 50 indicators ranging from pollution to economic structure, and will have provincial breakdowns, he said.
One reason for the disconnect between provincial and national accounts is the underestimation of national output due to insufficient data for the services sector, which accounts for more than half of output and is growing faster than the rest of the economy. Activity in places like hair salons and karaoke bars is harder to value than more straightforward things like steel mills making physical products.
China conducts what it calls a national economic census twice a decade to help fine-tune economic measurements and serve as a reference for top leaders drawing up five-year plans. In the third such survey, statisticians collected data on enterprise ownership, production capacity, and research and development from 70 million businesses.
As a result, the NBS revised up the size of 2013 GDP, adding roughly the equivalent to Malaysia's full-year output, largely due to an increase in the contribution from services. The prior two censuses led to a 16.8 per cent boost to 2004 GDP and a 4.4 per cent lift for 2008.
Sheng said that a fourth census next year will provide even more accurate and comprehensive basic figures, and likely result in a smaller revision. A fresh national account system released in July will also improve accuracy of the calculation, according to the NBS.
Meanwhile, as Xi pushes financial regulators to squeeze risk from the financial system and address excessive borrowing at state-owned enterprise during a leadership transition year, the NBS is compiling its first official government balance sheet. The tally will include SOE assets, landholdings, and the swelling debt of sovereign or quasi state bodies.
"China's assets usually generate stable income flows and can be liquidated quickly under some circumstances," Sheng said, adding that the country's high savings rate will provide a buffer in the case of breakouts. "Debt risk will not evolve into a debt crisis."
The NBS also is working with government research institutes to better monitor the fast-changing new economy. A new gauge of the more vibrant, efficient, and hi-tech parts of the economy will be released as soon as September by the agency's research arm, according to Sheng, and will measure the sector's share of GDP to help gauge economic rebalancing.
"We're pondering what new products we can provide for the nation as a statistics agency," Sheng said. "And we're stepping up the pace of rolling them out."
This article appeared in the South China Morning Post print edition as: Statistics bureau boss vows clean approach to data