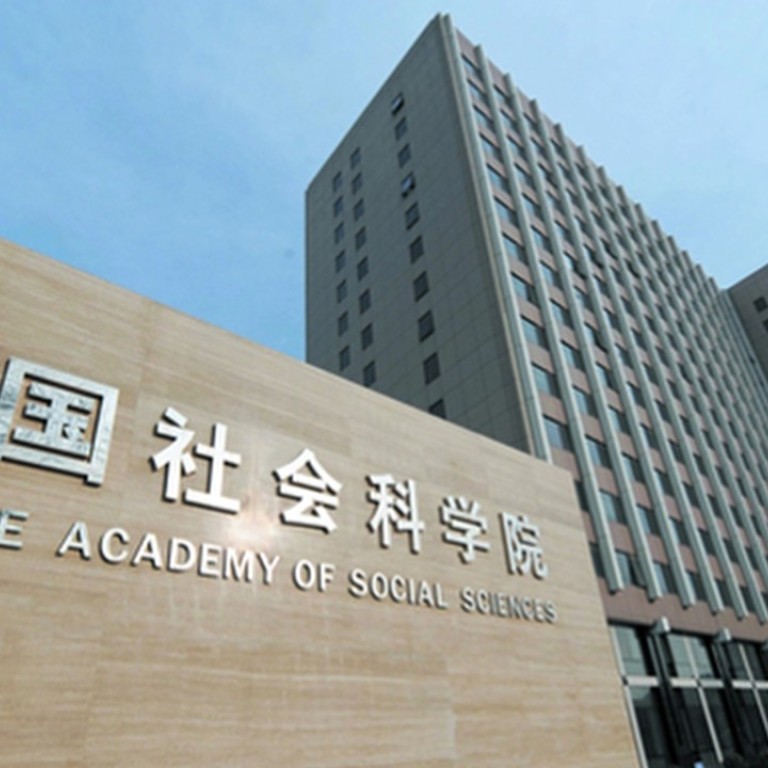 Top Chinese think tank sets up in Hong Kong in bid to boost Beijing's understanding of city
The Chinese Academy of Social Sciences, which advises the top leadership, says its purpose is to 'enhance communications', and analysts say it may be tasked with looking into the reasons for tensions between the city and the mainland
A top-level Chinese think tank that advises the leadership has set up a branch in Hong Kong in what analysts said was an attempt by the central government to improve its knowledge of the city and better formulate policy.
The Chinese Academy of Social Sciences (CASS), a ministerial-level research institution that covers issues from border disputes to international trade policy, registered a company in Hong Kong on June 27, named the Chinese Institute of Hong Kong, according to a submission to the Hong Kong Companies Registry.
CASS can play a significant role in policymaking if it is authorised by the government to take on special research projects. Every mainland Chinese province and municipality, as well as some big cities, has a CASS branch.
The Hong Kong CASS branch, albeit with a toned-down name, will play a key role in collecting data about Hong Kong for the central government and finding out the economic, political and social factors underlying such events as the Occupy movement in 2014, said Peng Peng, a sociologist at the Guangzhou Academy of Social Sciences.
Most information about Hong Kong for China's policymakers comes from "mainland experts who paid short visits [to the city] or some Beijing officials based in Hong Kong", and many findings "failed to reflect Hong Kong's real and core problems in an objective and correct way," Peng said.
According to the registry filing, the purpose of the entity is to "enhance communications between academic groups in the mainland and Hong Kong, and to enhance knowledge and understanding of the Hong Kong people for the country's development and of Chinese history and culture."
The filing gave the place of registration as the China Merchants Tower in Sheung Wan. The date of the filing was June 27, just a few days before the 20th anniversary of the return of Hong Kong to Chinese sovereignty in 1997.
Hong Kong-based political commentator Johnny Lau Yui-siu said the new institution is unlikely to make a big difference to China's policies for the city.
"No matter how many institutions China sets up, they never dare to think outside Beijing's framework," Lau said. "I doubt this one can come up with new ways of thinking."
The filing said the academy will host a forum on Monday in Hong Kong after a ceremony to officially open the branch. Hong Kong's chief executive, Carrie Lam Cheng Yuet-ngor, is scheduled to speak at the ceremony, it said. The forum will cover topics including the "Belt and Road" trade programme and Hong Kong's role as a financial centre.
Additional reporting by Viola Zhou
This article appeared in the South China Morning Post print edition as: Top Beijing think tank opens in city