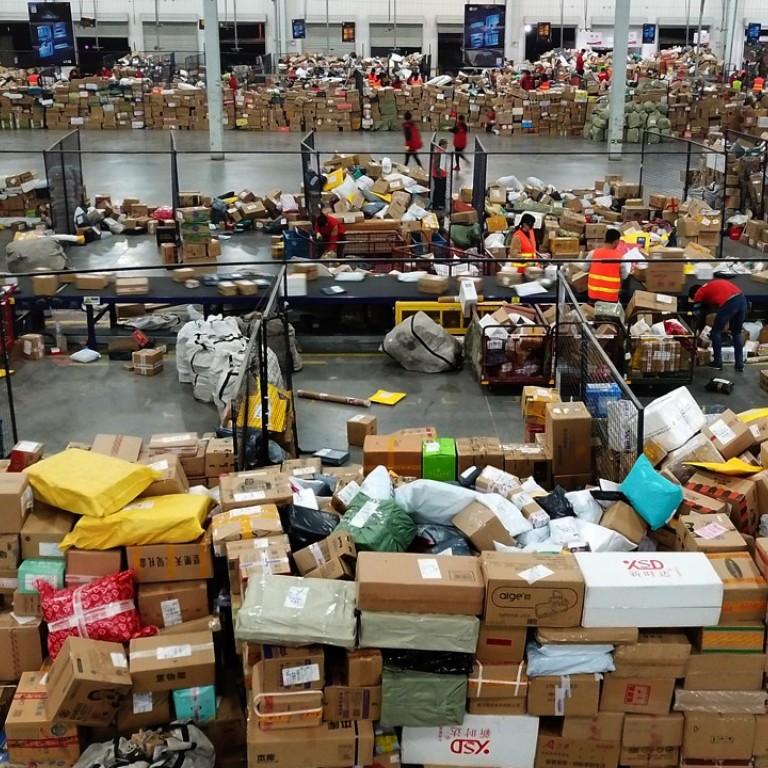 Choice, ease, price give China's e-tailers edge over offline rivals, despite import tariff cuts
Average tariff on 187 consumer goods – from baby diapers to ski equipment – will be lowered to 7.7 per cent from 17.3 per cent from December 1
With greater varieties, convenience and lower prices, China's booming cross-border e-tailers are likely to be less hard hit by the latest import tariff cuts, keeping their lead over conventional traders. At least for a while, according to analysts.
Even though working in their favour is the increasing importance that Chinese consumers place on available options and ease of shopping, Chen Tao, a senior analyst at Beijing-based consultancy Analysys, pointed out that the cuts essentially narrow the tax gap with their offline rivals. E-commerce platforms have partially been exempted from import tariffs.
From December 1, the average tariff on 187 consumer goods – from baby diapers to ski equipment – will be lowered to 7.7 per cent from 17.3 per cent. At present, imports implicate three types of taxes – tariff, consumption tax, and value-added tax.
On cross-border e-commerce channels, import tariffs are not levied until a single order is above 2,000 yuan (US$303), or the accumulated annual expenditures are over 20,000 yuan. They also enjoy a 30 per cent discount on consumption tax and VAT. The preferential policy has been implemented since April 2016 to support the new economy.
"The latest cut indicates that regulators are moving towards a more aligned and unified tax regime on different forms of trades," said Chen. "But we expect the hit to be limited because e-commerce platforms can still play up their edges in [providing the] varieties and convenience to shop."
Bargain hunting was no longer the sole reason for consumers to shop online, he said.
Eric Xu, an analyst at market research firm Kantar Retail, also noted that cross-border platforms can still offer more competitive prices over their offline rivals, despite the tariff cuts.
"It's still unclear how fast the tariff cuts can be translated into an ultimate price drop at conventional channels," said Xu. "It's also worth mentioning that cross-border e-commerce players still have an upper hand in lower taxes on consumption tax and VAT."
Fast and timely delivery and responding to consumers' needs were other advantages, he added.
This was the kind of efficiency showed during shopping bonanzas like the Singles' Day, where the e-commerce platforms had suppliers all geared up at bonded warehouses, ready to deliver the parcels to shoppers in a timely manner, he said.
In addition to the mass market segment, China's e-commerce majors including Alibaba Group, NetEase, JD.com and Suning, have also expanded their platforms to cater to affluent shoppers who want hassle free shopping for better quality imported goods. Alibaba owns the South China Morning Post.
Cross-border e-commerce expenditures in China are expected to reach 1.85 trillion yuan this year, up 54 per cent from a year ago, according to the China Electronic Commerce Research Centre.
This article appeared in the South China Morning Post print edition as: E-tailers not seen hard hit by import tariff cuts