Italy
Get more with myNEWS
A personalised news feed of stories that matter to you
Learn more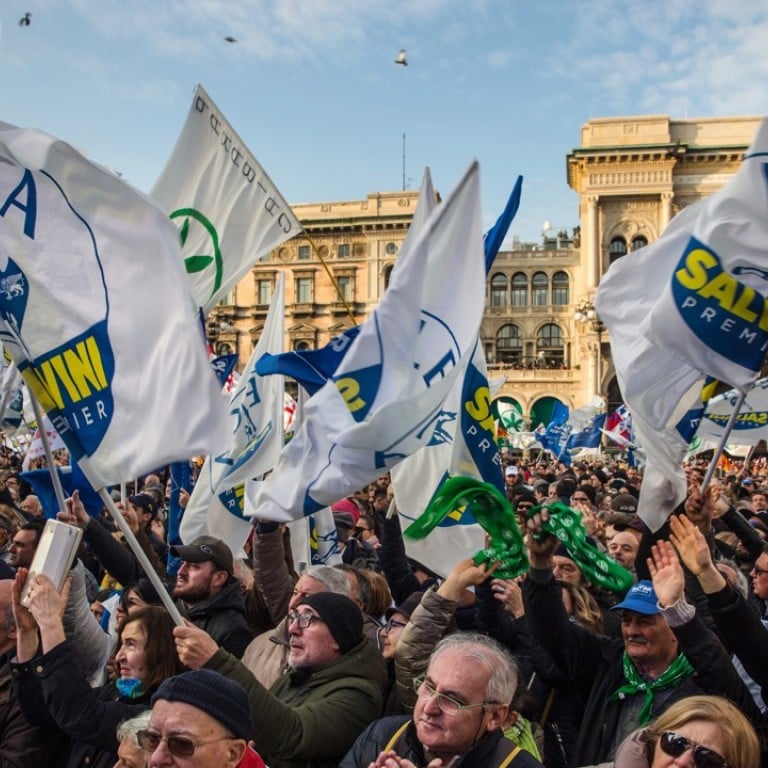 Italy needs a pause on populism and a grand coalition of parties to kick start its stalling economy
Italy's election this recent weekend was a watershed vote not just for a weary nation and its citizens but also for an international investment community that has played, and must continue to play, a major part in the recalibration of the country's economy.
A decade after the Global Financial Crisis, Italy, the Eurozone's third-largest economy continues to struggle to gain any real traction. Gross domestic product is forecast to grow by 1.4 per cent in 2018, which is welcome news, but this is still 1 percentage point behind the zone's economic powerhouses Germany and France.
There is also the spectre of Italy's public debt, which sits at over 130 per cent of GDP, continuing to be a brake on any government's ability to ease the economic burden on Italian households or to invest in much needed infrastructure.
The social toll is probably best expressed statistically in youth unemployment, which presently sits at around 38 per cent, the Eurozone's third-highest behind Greece and Spain. Italy continues to lose a generation of its best and brightest to neighbouring countries, and there is a growing feeling that young voters increasingly exasperated with their diminishing prospects will be a determining factor in the outcome of the polls.
It is a bleak picture indeed, one requiring mature and vigorous policy debate. Yet, listening to
all the major parties in this campaign, the economy has run a distant second to the twin evils of immigration and border control.
Populist parties like The League, as the re-badged Northern League is called, and the Brothers of Italy, campaigned almost exclusively on the need to reign in immigration and expel illegal arrivals as the panacea to the country's economic and social woes.
Silvio Berlusconi, 81, is back on centre-stage despite his disqualification from holding public office after his tax fraud conviction, committing his Forza Italia party to a flat tax of 23 per cent and GDP growth of 3 per cent within two years of a centre-right coalition winning office. The octogenarian billionaire and thrice former prime minister has campaigned vigorously on his flat tax idea and has cited Hong Kong on numerous occasions as a shining example of this low-tax regime.
It is not entirely surprising then, that a cocktail of xenophobic populism and a tax rainbow has put the centre-right coalition in pole position to win sufficient votes to form government at the close of voting.
The Partito Democratico, the dominant party in the centre-left coalition led by former Prime Minister Matteo Renzi, has failed dismally to offer a coherent and alternative narrative to the centre-right's anti-immigration mantra.
Renzi himself has failed to learn any lesson from his humiliating defeat at the 2016 referendum and has campaigned with his traditional hubris seemingly impervious to the divisions within his own party and his manifest unpopularity among voters.
Perhaps the biggest disappointment has been the Five Star Movement. A populist movement founded through the internet, it failed to push through the 30 per cent approval barrier and appears well short of winning enough votes to form government in its own right. It continues to look and sound like a movement better suited to the task of opposition, than the responsibility of governing.
So what are foreign investors to make of all of this, and what should they be planning for?
For a start, the task of trying to determine a winner has been made tougher by a new electoral law that has confused seasoned political pundits, let alone the average voter.
It's essentially a hybrid electoral model, wherein two-thirds of parliamentary members will be voted under a proportional representation system, with one-third through head-to-head district contests.
The most likely outcome is that no single party or a coalition of either the centre-left or centre-right is likely to win sufficient seats to form government.
What happens under these circumstances will make for fascinating political viewing as it will be the President of the Italian Republic, Sergio Mattarella, who is likely to use his constitutional authority to break any deadlock.
Whilst all the parties have declared that in the event of no winner, the country should immediately go back to the polls, I cannot see how President Mattarella would view that as a feasible option, certainly not under the very same electoral law that produced the deadlock in the first place.
What is more likely is that the president would seek to form a consensus government along the German lines, or what the Italians would call larghe intese, namely a grand coalition of parties that would govern until such time as a new electoral law can be passed, and the country is ready to go to a new election.
Such a scenario would deliver the stability and certainty that foreign investors demand and that Italy quite frankly needs at this critical juncture of its economic recovery.
Moreover, this is not a time for inward looking populism. Italy is the country that gave the world Leonardo da Vinci's ingenuity and Michelangelo's creative beauty. Christopher Columbus and Marco Polo were globalists centuries before that term became fashionable.
It comes as no surprise that Italy is in the vanguard of supporting the Chinese government's Belt and Road Initiative. Its ties with China famously date back to the 14th century when Marco Polo chronicled his 24-year journey to the east. Four centuries later, the Jesuit missionary Giuseppe Castiglione would serve as the imperial court artist to three Chinese emperors.
In more recent times, Chinese investment has played a critical role in underpinning an Italian economy ravaged by the global financial crisis. The country invested in some of Italy's best-known businesses including Pirelli, Permasteelisa, Ansaldo, CDP Reti and Ferretti. Foreign investment has permitted much needed recapitalisation and repair of balance sheets and has ensured that Italy continues to be a leader in key industries, not just within its own borders, but also in new and emerging markets abroad.
Whatever transpires in the days following the election, the vision of pioneers such as Marco Polo, Christopher Columbus and Giuseppe Castiglione must be preserved. It is hoped that Italians might pause and reflect on this when casting their votes on Sunday.
Remo Nogarotto is Managing Director of CT International and Corporate Advisory. He has been a commentator of Italian politics for the past 11 years since moving to Milan.
This article appeared in the South China Morning Post print edition as: Italian polls may spur grand coalition that brings stability