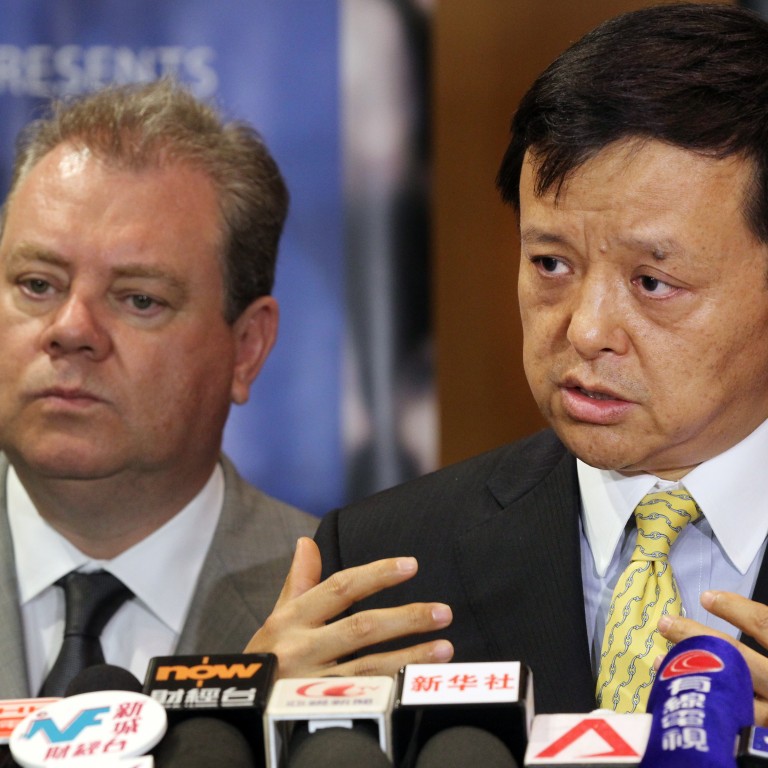 Update

|
Hong Kong Exchanges chief hopes stock connect quota to rise soon; aims for China link in commodities
HKEx chief executive Charles Li Xiaojia said on Wednesday the Shanghai-Hong Kong stock connect quota will increase "very soon" while he hopes to establish a link with commodity exchanges in mainland China and set up a network of domestic warehouses for physical metal deliveries in three to five years.
"HKEx and LME are not going to compete with mainland commodities exchanges and traders but we could work together. Let's put the gun down and work together," Li said at the opening of the annual LME Asia Week in the Hong Kong Convention Centre.
Li said that while China is now the largest metal consumer in the world, it has no influence on international price setting. Mainland commodity cannot be accessed by international investors. The LME had no warehouses in China as Beijing does not allow an overseas exchange to run a physical warehouse since domestic commodity exchanges would worry about competition from an overseas outfit like the LME.
Li hopes a breakthrough could be seen in three to five years so HKEx can play a role to connect mainland commodities with the international market.
The potential plan includes launching more commodity products such as agricultural futures in Hong Kong for mainland investors who want to trade these products. HKEx will also work with domestic exchanges and warehouse operators for the physical delivery of metals, Li said.
"Having physical delivery is important for the development of spot commodity products," he said.
Linking commodity markets between Hong Kong and mainland would be more complicated and would take more time than the stock market connect. But he said the success of Shanghai and Hong Kong stock through train supports a linkage with Shenzhen in a few months.
"The quota of the stock connect scheme would also increase very, very soon," Li said.
The stock connect allows international investors to trade up to 13 billion yuan a day, or 300 billion yuan in total, of Shanghai A shares. Mainland investors can trade up to 10.5 billion yuan a day, or 250 billion yuan in total, in the Hong Kong market.
Brokers have demanded a lifting of the quota to encourage more trading.
LME chief executive Garry Jones said in the same seminar that the LME recently introduced measures to encourage more trading of its products in both London and Hong Kong. This includes fee rebates for new users of the LME. In addition, traders can enjoy a lower fee if they trade a certain volume.
"We have seen that there are increasing Chinese and Asian users for the LME. I hope our incentives can attract more liquidity in our market in the future," Jones said.
HKEx spent 1.39 billion pounds to buy the LME in December 2012. In the first quarter of 2015, LME contributed 23 per cent of the earnings by HKEx.