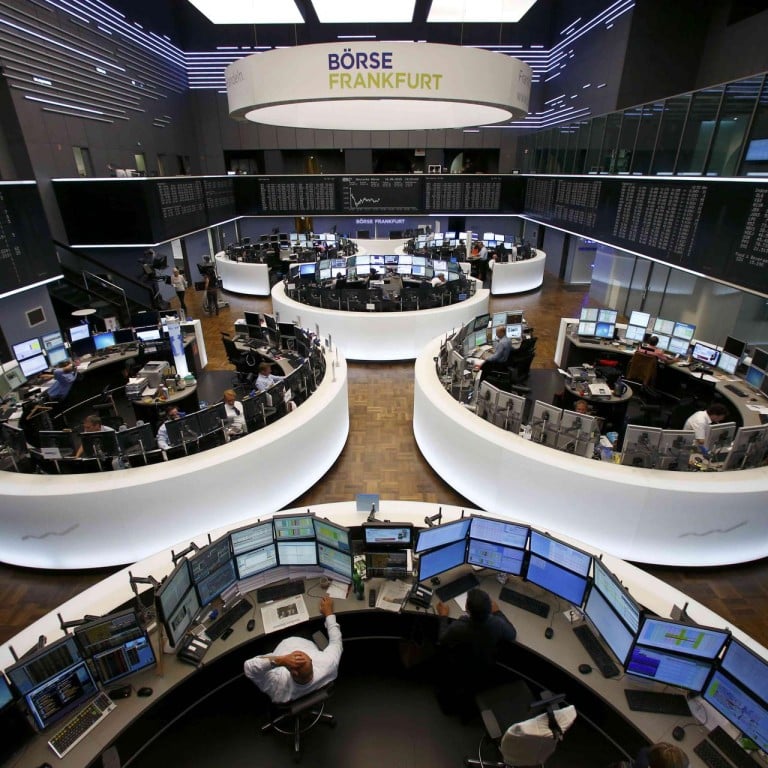 New

|
Chinese investors urged to take advantage of euro zone bargains
Cheap valuations and low interest rates increase competitiveness compared to Chinese shares, says UBS
Euro zone equities will offer lucrative opportunities for Chinese investors over the next six months because of their cheap valuations amid low interest rates, UBS Securities says.
"Not only for Chinese investors, but also for global investors, euro zone equities offer the best opportunities for asset allocation," said Xu Jian, a managing director for equities sales at the brokerage. "Compared with the A-share market, valuations in the European markets are so much cheaper."
The Shanghai Composite Index rose 43 per cent in the first five months of this year. But there have been bumps in the ride, with Friday's 6.42 per cent drop a fresh reminder of market volatility.
The weakness in euro zone economies has taken a toll on the European markets over the past few months, while the uncertainty over the Greek debt crisis has added pressure.
Xu said the euro zone's low interest rates could allow investors to enjoy low financing costs.
"While the US is expected to start raising rates, the euro zone has maintained loose monetary policy to inject more liquidity into the market," he said.
The euro's weakness was also making the region's equities more attractive, Xu said.
While Chinese investors, in particular the wealthy, were looking for more diversified options in allocating their assets, the complexity and risks in the European market could dampen their appetite, he said.
"However, Chinese investors should diversify their investments in different regions and tools," he said.
Investment products through the qualified domestic institutional investor programme, which allows Chinese to invest abroad under certain quotas, had received a warm response from retail investors, Xu said.
Some simple investment products, such as exchange-traded funds listed in the European markets, would be better options for Chinese investors who were starting to increase their overseas portfolios, he said.
Nicolas Bertrand, the head of equities and derivatives at the London Stock Exchange, agreed ETFs helped Chinese gain exposure to overseas markets.
The LSE this week held promotional roadshows in Hong Kong, Shanghai and Beijing.
The European markets offered a wide range of investment options, including fixed-income products, commodities, derivatives, structured products and hedge funds, Bertrand said.
Jon Edwards, a deputy head of primary markets for the LSE, said it also hoped to attract more Chinese firms to list in London.
This article appeared in the South China Morning Post print edition as: Euro zone stocks seen attractive for investors