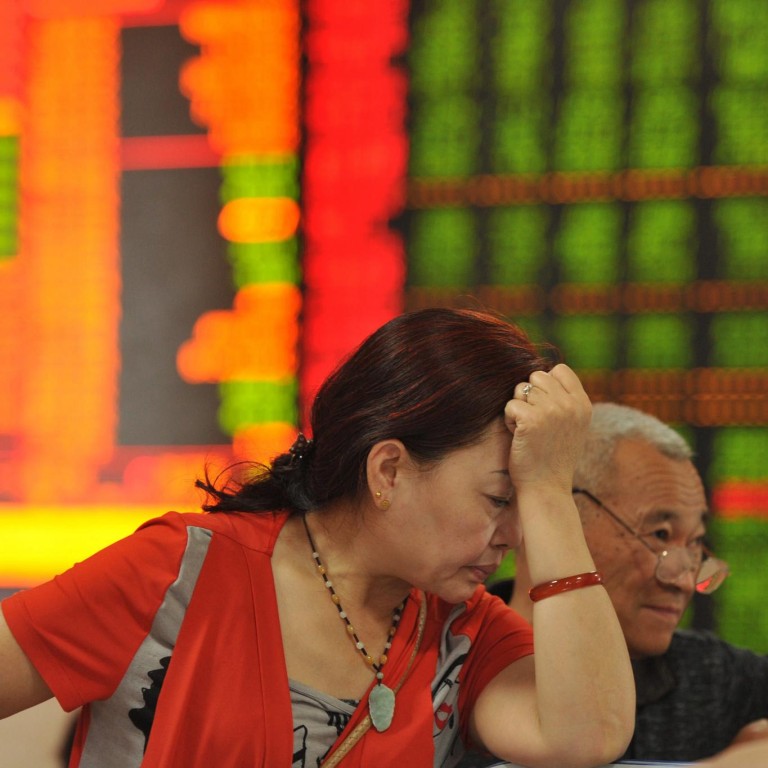 Margin calls trigger panic sell-off in China stock market
Mainland shares suffer some of the biggest falls in years, capping fortnight of pain for investors as Shenzhen enters bear market territory
Mainland shares suffered some of their biggest falls in years yesterday, as investors dumped stocks indiscriminately to meet margin calls.
The blue chip CSI300 Index fell 7.9 per cent to 4,336.19 - its biggest drop in seven years - and the Shanghai Composite index lost 7.4 per cent, or 334.14 points, to close at 4,192.87.
But the worst damage was in Shenzhen, where the city's benchmark index fell 7.87 per cent, or 213.7 points, to 2,502.9, officially entering bear market territory after a fall of more than 20 per cent from a June 12 high.
In the past two weeks, 14 trillion yuan (HK$17.4 trillion) has been wiped off the value of mainland stocks - some 20 per cent of mainland market capitalisation and three times the value of Apple, the company with the world's biggest market cap.
Speaking at a briefing yesterday, China Securities Regulatory Commission spokesman Zhang Xiaojun hinted that the central government would not be intervening to staunch the outflow of funds. "China's ongoing reforms, ample liquidity in the market, and a shift from bank deposits into the capital markets among household savings, will continue to underpin a vibrant stock market, even after a few big corrections in the market recently," Zhang said.
Almost 80 per cent of index constituent members fell yesterday, with nearly 2,000 of the roughly 2,800 listed companies in Shanghai and Shenzhen slumping by their 10 per cent daily limit.
A semi-annual audit of listed firms, including banks and brokerage houses, meant companies who trade the markets had had to dump stocks to return cash to their balance sheets, compounding the overall sell-off, said Anne Stevenson-Yang, founder of J Capital Research.
Despite a fortnight of heavy selling, both Shanghai and Shenzhen are still posting healthy gains so far this year. Shanghai is up 29.6 per cent year to date and Shenzhen is up 78.6 per cent.
Outstanding margin loans totalled 2.2 trillion yuan on Wednesday as margin calls forced investors to cut 61.5 billion yuan in leverage in the first half of the week as shares fell, data showed.
Among the few firms to post a gain for the day, brokerage giant Guotai Junan Securities soared 44 per cent to 28.30 yuan on its first trading day in Shanghai.
Mainland internet users painted a pessimistic picture of the mainland market's prospects in posting on Weibo micro-blogs.
"I beg you [the stock market] to come back to life," said actress Wang Lin.
Xiao Lei, a finance blogger, said: "China's stock markets can't stand attacks from short sellers like George Soros and Muddy Waters, as there is virtually no market-based regulatory oversight."
In Hong Kong a more orderly sell-off saw the Hang Seng close down 1.78 per cent, or 481.88 points, to 26,663.87, its biggest one-day fall in almost a month. The H-share index of mainland companies dropped 2.82 per cent, or 379.71 points, to 13,088.19.
Regional markets also fell, taking their cue from Wall Street amid concerns over drawn-out talks between Greece and its creditors. Japan's Nikkei 225 slipped 0.31 per cent to 20,706.15 and Australia's ASX 200 dropped 1.54 per cent to 5,545.9.
This article appeared in the South China Morning Post print edition as: Margin calls trigger panic market sell-off