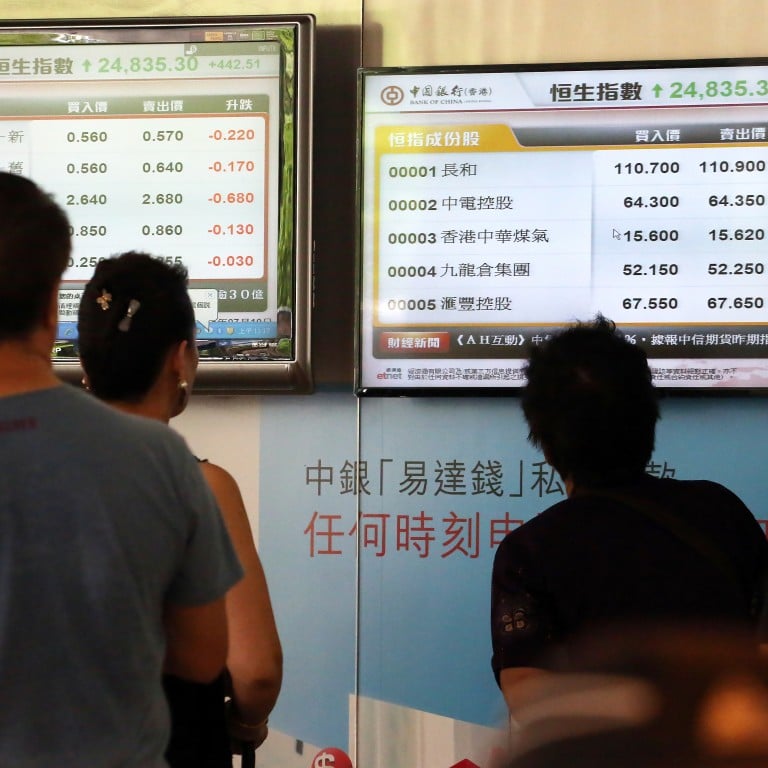 Update

|
China stocks finish higher as Shanghai, Shenzhen and Hong Kong post gains on week
Mainland Chinese stocks extended their gains for a second day  yesterday in subdued trading and finished up for the second consecutive week, with investors focusing on small-cap companies with big upside potential.
The Shanghai Composite Index of large-cap stocks rose 3.53 per cent to close at 3957.99, lifted by stocks in the national defence, satellite and ship building sectors. The tech-heavy Shenzhen Composite Index jumped 4.98 per cent to finish at 2,190.42, while the Nasdaq-style ChiNext board surged 5.95 per cent to close at 2,783.32.
Turnover in Shanghai and Shenzhen was 1.1 trillion yuan, up from 1.08 trillion yuan on Thursday, with 500 companies halted from trading after reaching the daily upside limit of 10 per cent.
"Investors have returned to the stock markets after dumping their holdings of high-beta names in national defence and cyclical companies [in the recent sell-off]," said Ben Kwong Man-bun, head of research at brokerage KGI. "Chinese markets are consolidating at this juncture with a shift from large-cap stocks into small-cap stocks."
Shares in PetroChina and Sinopec finished in red, extending their weakness for the second day in a row. Three of the big-four state-owned lenders edged lower, with Agricultural Bank of China being the only exception, unchanged from the previous session.
Shanghai's benchmark index was up 2.06 per cent for the week and Shenzhen's up 7.62 per cent, while the ChiNext index rose 9.75 per cent for the week.
The outperformance of small-cap companies suggested investors were comfortable with having more volatile portfolios, an indication perhaps of more confidence in the market, said Gerry Alfonso, a trader at Shenyin Wanguo Securities in Shanghai.
However, valuations of smaller companies look staggering, even after the recent correction from their mid-June peak. The price-to-earnings ratio for the SME Composite Index stood at 54 times earnings, compared with 59 times at the end of April and an all-time high of 85 times in December 2007.
International investors including bond king Bill Gross said before the recent correction that small-caps in China were at bubble valuations, calling it "the short of a lifetime".
In a television interview with Bloomberg, George Magnus, a senior independent economic adviser to UBS, said mainland equities would resume their downward trajectory, predicting another 35 per cent drop.  
Financial magazine Caijing  said yesterday that 17 mainland banks had lent state-backed margin lender China Securities Finance Corp 1.3 trillion yuan as of Monday, after the People's Bank of China said it wanted to extend funding to the firm.
In Hong Kong, the Hang Seng Index rose 1 per cent to finish at 25,415.27, with HK$95.1 billion worth of shares exchanging hands, up slightly from Thursday's HK$91.6 billion.
The H-share index added 0.86 per cent to 11,850, lifted by an 8.74 per cent rise in the share price of Citic Securities and a 7.13 per cent gain for Haitong Securities.
The Hang Seng Index rose 2.06 per cent for the week while the H-share index edged 0.07 per cent lower.