HKEX
Get more with myNEWS
A personalised news feed of stories that matter to you
Learn more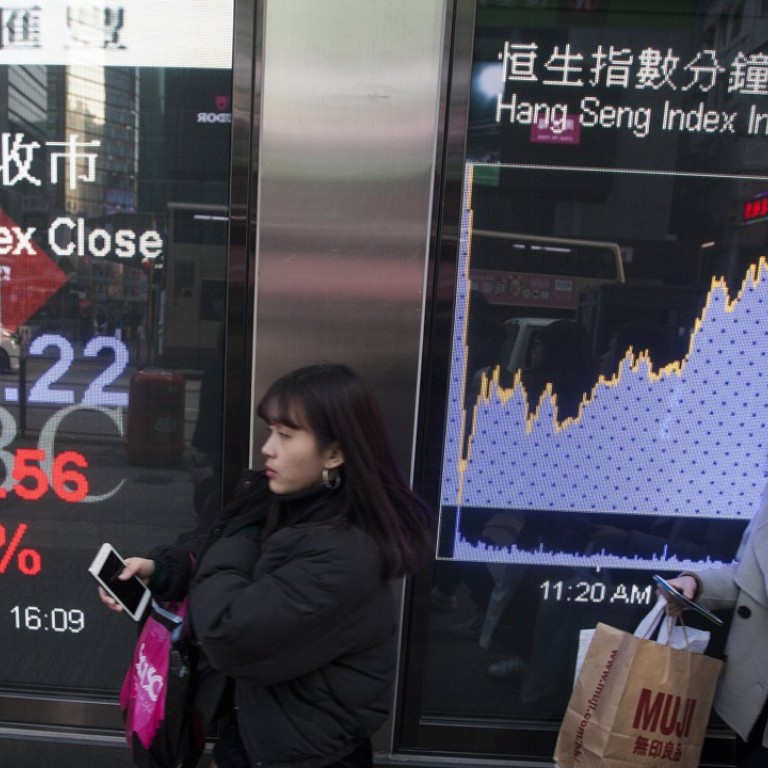 New
Hang Seng Index plunges 1,600 points amid 'panic selling', as fear sweeps city after US market rout
Hang Seng Index on track for worst one-day drop in 2.5 years
Hong Kong stocks plummeted 1,600 points as contagion selling swept through the local market in morning trade on Tuesday, inflicting significant technical damage on price trends in the wake of a US market meltdown overnight that saw the Dow Jones industrials record its worst one-day points drop in history.
The Hang Seng Index was down 4.94 per cent, or 1,593.91, to 30,651.31 at the lunch hour break. The drop is the biggest single-day percentage drop since August 2015, when the index declined 5.2 per cent.
The Hang Seng China Enterprises Index lost 6.10 per cent, or 822.11 points, to 12,657.72, on course for its biggest drop in seven years, since falling 6.2 per cent in August 2011.
"In Hong Kong, initial signs of outflows have emerged. Investors should watch for further Hong Kong dollar weakness and its liquidity conditions in aggregate terms," Kevin Lai, chief economist for Asia ex-Japan at Daiwa Capital Markets said in a note.
In other Asian trading on Tuesday afternoon, Japan's Nikkei 225 was down 6.4 per cent to 21,222.56. South Korea's Kospi was down 2.3 per cent to 2,433.049, while Australia's All Ordinaries lost 3.2 per cent to 5,930.20.
Properties saw steep losses. Country Garden slumped 10.17 per cent to HK$14.66, while Sunac was hit with a 9.67 per cent dip to HK$31.30. Evergrande dived 8.32 per cent to HK$23.15 while China Overseas fell 7.44 per cent to HK$28.60.
"Global equity markets somewhat belated recognition of rising bond yields, along with fears that strong US jobs growth would prompt the US Federal Reserve to move more aggressively in rising rates, have combined to prompt the current market sell-off, in the absence of any fundamental factors that could derail the market," said Tai Hui, chief market strategist for Asia-Pacific, JP Morgan Asset Management.
"It's important for investors to distinguish between bond yields that are creeping upwards as a reflection of healthy economic growth and modestly increasing inflation – and therefore a positive development – and a bond yield surge that exacerbates volatility and undermines the rally."
"It's healthy and normal for equity markets to experience pullbacks," he added.
All industries were down in Hong Kong by the afternoon break. 
Properties saw steep losses. Country Garden slumped 10.17 per cent to HK$14.66, while Sunac was hit with a 9.67 per cent dip to HK$31.30. Evergrande dived 8.32 per cent to HK$23.15 while China Overseas cratered 7.44 per cent to HK$28.60.
In financials, ICBC fell 6.72 per cent to HK$6.94 and China Construction Bank lost 6.55 per cent to HK$8.42, while Bank of China followed suit, shedding 6.24 per cent to HK$4.36. 
Oil and gas continued Monday's trend of losses, led by China Oilfield which shed 8.99 per cent to HK$8.80. Earlier in trading, Sinopec dived 9.32 per cent to HK$6.13, but since recovered slightly to a loss of 5.62 per cent, reaching HK$6.38. PetroChina was down 4.67 per cent to HK$3.47 and CNOOC fell 6.79 per cent to HK$11.54.
Prudential saw a 7.19 per cent drop to HK$191.00 – the highest loss among insurers. China Life fell 6.1 per cent to HK$24.65, and Ping An slid 6.19 per cent to HK$84.15.
"The market sentiment has changed rapidly. Investors will be more sensitive now to the bad news and there is some panic selling this morning," said Stanley Chan, director of research at Emperor Securities. "In the short term the market needs further correction. The main support will be in the 50 days moving average around the 3,600 level."
"Fundamentals in Hong Kong remain good because the expected price/earnings is only 13, so at the moment the sentiment is mainly bad because of US stock market turmoil," he continued. "After the corrections the Hong Kong stock market can stabilise to allow a 30,000 level, but it needs some time to discount. I think before the Lunar New Year holiday the market will remain weak."
The Shanghai Composite Index fell 2.15 per cent, or 74.95 points, to 3,412.55 by the afternoon break, while the CSI 300 – which tracks the largest companies listed in Shanghai and Shenzhen – dropped 2.22 per cent, or 94.80 points, to 4,179.35.
The Shenzhen Composite Index fell lost 2.47 per cent, or 44.52 points, to 1,761.78, while the ChiNext shed 2.41 per cent, or 40.64 points, to 1,647.63.
Mainland stocks were the only major index to see gains in Asia on Monday. Banks rose on optimism that earnings for the sector, the cheapest among all industry groups, would rebound as a recovery in China's growth boosted demand for loans, and as their ratio of bad assets fell, but the mainland dropped to join the global sentiment on Tuesday.
"The government would like to stabilise the sentiment of the mainland market so the decline may not be that big compared with Hong Kong or the US," Chan said.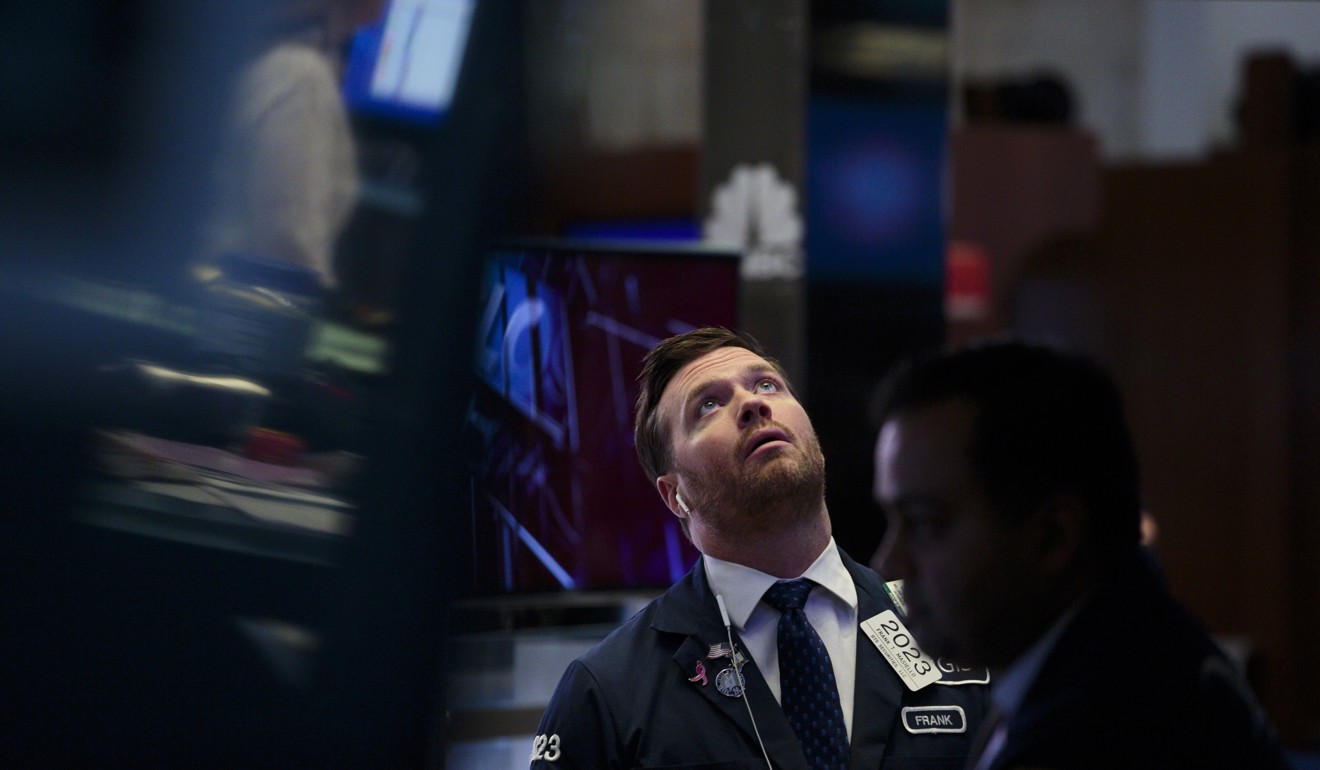 All three major US indices saw steep losses on Monday in their biggest plunge in more than six years, with the Dow Jones Industrial Average ending the session 4.60 per cent lower, or 1,175.21 points, to 24,345.75 and the S&P 500 sinking 4.10 per cent, or 113.19 points, to 2,648.94. Meanwhile the Nasdaq Composite was down 3.78 per cent, or 273.42 points, to 6,967.53. 
After data pointing to strong economic growth and rising wages, concerns grew that a stronger US economy could be headed for a period of rising inflation.
The Dow Jones Mini Futures Index was down 600 points in New York Monday evening trading, implying around an 1,000 point fall in the Dow Jones Industrial Average Index opening on Tuesday.
Monday's sell-off in New York exceeded those that followed China's devaluation of the yuan in 2015, the Brexit vote in June 2016 and market turbulence ahead of the US presidential election in 2016.
"What we are seeing is typical late-cycle behaviour," wrote Ray Dalio, founder of Bridgewater Associates, on LinkedIn. "Though it is more exaggerated because the durations of assets are uniquely long, which means that when interest rates are low, prices of assets are more sensitive to changes in interest rates than when interest rates are high."
The declines, he said, are minor corrections within the context of a bigger picture.
In other Asian trading early on Tuesday morning, Japan's Nikkei 225 was 5.44 per cent lower, having dropped 1,233.06 points, to 21,449.02 by midday. South Korea's Kospi was down 2.97 per cent, or 73.96 points, to 2,417.79, while Australia's All Ordinaries lost 3.06 per cent, or 187.80 points, to 5,940.60.