Stocks
Get more with myNEWS
A personalised news feed of stories that matter to you
Learn more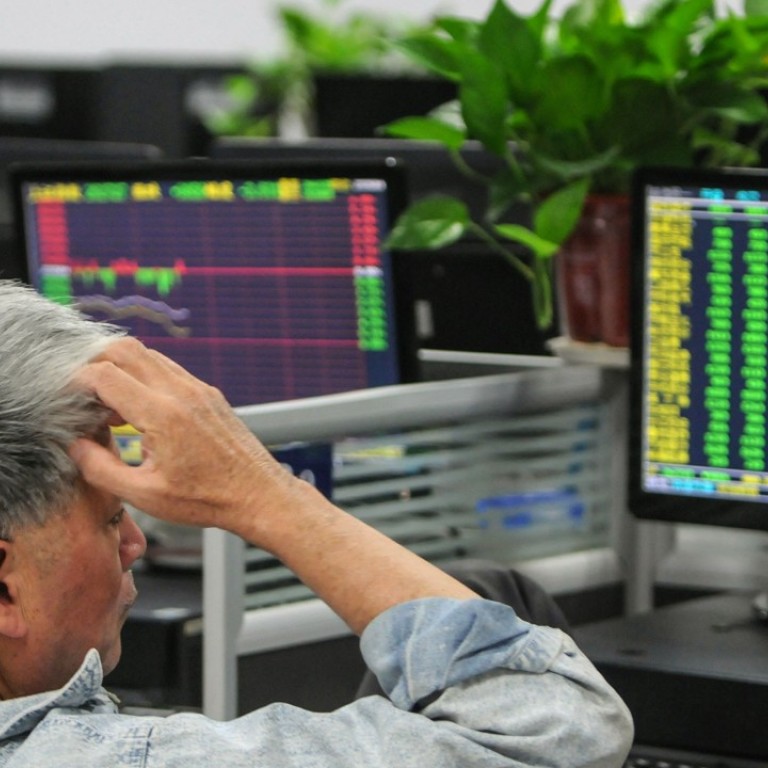 China's stocks fall to 4-year low amid fears of forced selling
Benchmark gauge closes at lowest since November 2014 as fears grow that shares pledged as collateral will face forced sales, fuelling further losses
China's stocks fell to an almost four-year low as fears grew that shares pledged as collateral for loans will face forced sales, fuelling further declines in the world's worst-performing market of 2018.
The unrelenting turmoil in the mainland market has produced a potential trigger for a fresh sell-off, by creating risk for many small companies that have pledged their stocks as collateral for loans in their hunger to fund expansion.
The pledged shares will get liquidated and further drag down the market as they approach critical levels, unless borrowers add collateral to cover the declining value or repay the loans.
The share prices of 666 listed companies have dropped close to the levels that will trigger forced sales, according to data from Tianfeng Securities.
The pledged shares are valued at 4.5 trillion yuan (US$650.1 billion), according to data from Essence Securities. That is almost twice as large as Hong Kong's entire economy, which stood at US$341.5 billion last year.
"It's a vicious cycle: share drops lead to liquidation and liquidation leads to further share drops," said Wang Zheng, chief investment officer at Jingxi Investment Management in Shanghai. "The recent declines, particularly in small caps, are blamed for the problem arising from share pledges."
The Shanghai Composite Index fell to its lowest since November 2014, finishing Thursday down by 2.94 per cent, or 75.19 points, at 2,486.42. The CSI 300 index of larger companies lost 2.37 per cent, or 73.86 points, to 3,044.39, while the ChiNext gauge of small-caps shed 2.18 per cent, or 26.83 points, to 1,205.03.
On Thursday, the 14-day relative strength index, which charts the market's strength based on closing prices over the past two weeks, dropped to a reading of 29.7 for the Shanghai Composite, when below 30 indicates stocks are technically oversold and therefore poised to bounce back. The number of oversold stocks on the bourse rose to its highest this year, according to Bloomberg data, as 60 per cent of the 1,486 stocks fell into oversold territory, while the proportion on the smaller Shenzhen exchange was 57 per cent.
Some companies have already had their shares liquidated.
Last week Shenzhen Feima International Supply Chain said 5.05 million shares, 0.31 per cent of the total, were forcibly sold through the exchange in October, as its biggest shareholder did not repay loans or add more collateral. Property developer Shenzhen Quanxinhao had 2.04 million shares liquidated by force, it said in an exchange filing last week.
Both of the companies' shares have slumped at least 64 per cent this year, almost three times the loss on the Shanghai Composite.
Shenzhen's bourse has borne the brunt of more selling this year because it is dominated by smaller companies with shares pledged for financing.
The Shenzhen Composite Index of all 2,161 stocks on the exchange has fallen by a third in 2018. A gauge tracking its small and medium-sized companies has slumped 35 per cent, and the ChiNext index of start-ups 30 per cent.
Policymakers are taking notice. The Shenzhen government has set aside at least 10 billion yuan (US$1.45 billion) to bail out local companies through loans or equity investment, the Shanghai Securities News reported over the weekend. More than 20 companies have been shortlisted, it said, without naming them.
In Hong Kong, the Hang Seng Index slipped slightly after a market holiday on Wednesday, ending 0.03 per cent, or 7.71 points, down at 25,454.55, while the Hang Seng China Enterprises Index dropped 0.6 per cent, or 61.57 points, to 10,136.76, with trade war fears playing a role.
"The market still has selling pressure – the renminbi is still hacking lower because the US didn't put mainland China on their watch list," said Kenny Tang Sing-hing, chief executive of Jun Yang Securities.
Had the White House chosen to name China as a currency manipulator on Wednesday, investors might have felt pressure to buy the currency, he said, reversing a decline caused by worries about the impact of the trade war. President Trump's decision not to do so has been seen as a possible move by Washington to ease tensions with Beijing over trade.
"Pressure is likely to continue until after the November mid-term elections in the US, and on whether mainland China will introduce more measures to improve liquidity," said Tang.
In a speech in the Netherlands on Tuesday, Chinese Premier Li Keqiang warned of increased downward pressures on China's economy, but said the government will take targeted measures to prevent large fluctuations in growth. He expected economic growth to be "within reasonable range" in the third quarter.
China's National Bureau of Statistics will announce its third-quarter GDP results on Friday – the first since US President Donald Trump began imposing tariffs on Chinese exports in July – with China aiming for full-year growth of about 6.5 per cent.
In Hong Kong, local banks saw their share prices fall, as investors worried about the economy slowing because of the US-China trade war.
Bank of China Hong Kong was down 1.05 per cent to HK$33.15, while Hang Seng Bank dropped 0.49 per cent to HK$202, and HSBC Holdings lost 0.38 per cent to HK$64.55.
Macau's casinos, however, were up amid expectations of an increase in tourist numbers after the Hong Kong Liaison Office said on Wednesday that the Hong Kong-Zhuhai-Macau bridge will open next Tuesday.
MGM China was up 2.75 per cent to HK$12.70, while Wynn Macau rose 1.67 per cent to HK$17.06 and Sands China gained 1.2 per cent to HK$33.70.
This article appeared in the South China Morning Post print edition as: forced selling fears add to market woes