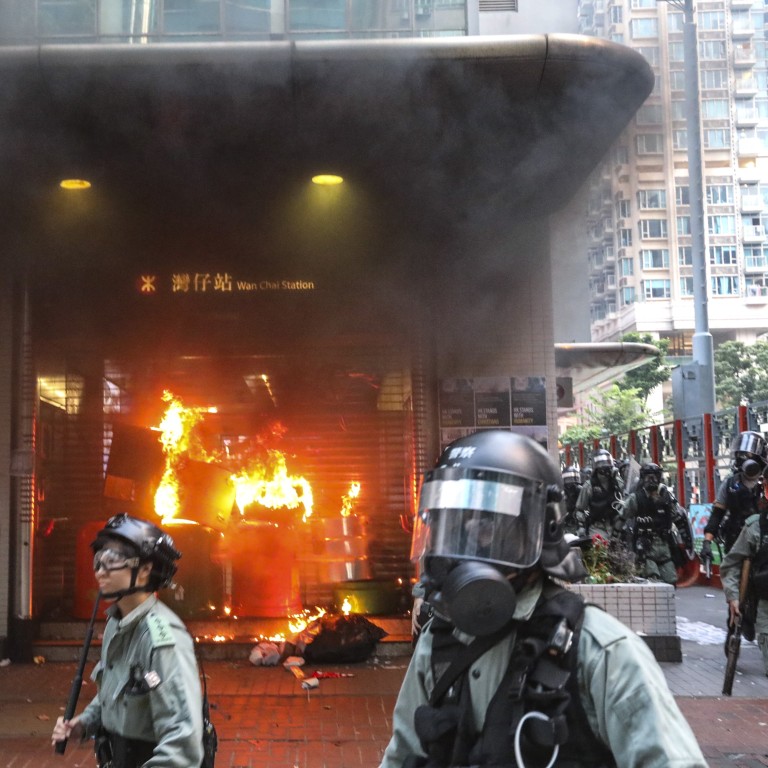 Hong Kong stocks world's worst performers in third quarter, as investors lose 'patience and confidence' amid protests, trade war
Hang Seng Index drops 8.6 per cent in third quarter
Politics 'a core factor' weighing on Hong Kong stock market, asset manager says
It has been a tumultuous third quarter for Hong Kong stocks, with protests in the city and flare-ups in the US-China trade war weighing on the market. More importantly, a reversal of this downward spiral is unlikely any time soon.
"The downtrend is not finished, and this is not the bottom" for Hong Kong stocks, said Hong Hao, managing director at Bocom International Holdings in Hong Kong. "There is no clear solution to the social unrest at hand. The market is losing patience and confidence."
The Hang Seng Index
added 0.5 per cent to 26,092.27 at the close on Monday, but it has dropped 8.6 per cent in the June to September period, making it the worst performer among the world's major stock markets.
By comparison, the Shanghai Composite Index fared better during this period, falling only 2.5 per cent as sentiment swung between hope and despair, thanks to flare-ups in the trade war and expectations of more policy easing. Technology companies, led by small-capitalisation stocks, stood out, buoyed by a recovery in risk appetite and the start of a new stock board in Shanghai to support home-grown technology start-ups.
In Hong Kong, property developers bore the brunt of a sell-off. New World Development and Wharf Real Estate Investment fell at least 17 per cent, as the protests kept homebuyers at home and forced shops to close.
The protests, which started in June against a controversial extradition bill that would have allowed the transfer fugitives to any jurisdiction that Hong Kong lacks a formal agreement with, including mainland China, have led to months of clashes between demonstrators and police, disrupted public life and even grounded flights.
The Hang Seng rallied 3.9 per cent for its biggest gain in nine months on September 4, when Hong Kong leader Carrie Lam Cheng Yuet-ngor
announced the official withdrawal of the bill
. But the positive mood evaporated quickly, as the protesters insisted that all five of their demands be met. The protests have continue as the government has refused to negotiate further.
"Politics is a core factor that's weighing on Hong Kong stocks now," said Dai Ming, fund manager at Hengsheng Asset Management in Shanghai. "The weakness in the stocks will persist until there's a solution to the crisis."
The protests have taken their toll on the city's economy, as well as corporate earnings.
The Hong Kong Monetary Authority, the city's de facto central bank, has lowered its forecast for economic growth to a range between 0 per cent and 1 per cent from between 2 per cent and 3 per cent for this year.
Companies such as cosmetics retailer
Sa Sa International Holdings
and apparel retailer
Esprit Holdings
have issued warnings to investors and blamed the protests for eroding their businesses. Tourist arrivals
fell about 40 per cent in August
from the same time last year, according to Financial Secretary Paul Chan Mo-po. That drop, the biggest year-on-year monthly decline since 2003's Sars outbreak, followed a 5 per cent drop in July.
Swire Pacific
, one of Asia's biggest conglomerates, was the worst performer on the Hang Seng in the third quarter, declining 24 per cent. While the holding company, which runs businesses ranging from aviation to property and beverages, admitted to headwinds arising from the protests, its subsidiary,
Cathay Pacific Airways
, was pulled up by the Chinese aviation authority after its staff members took part in the protests.
Some brokerages are, however, upbeat about the Hong Kong market. Citic Securities was bullish and said Hong Kong stocks' valuations had already been beaten down to attractive levels. China's biggest publicly traded securities firm said it recommended that investors buy stocks whose valuations offered safety margins, such as banks, infrastructure and education companies, but did not naming any specific stock.
The Hang Seng was valued at 10.2 times earnings, lower than its 10-year average of 11.7 times, according to Bloomberg. The multiple was also the cheapest among the world's major equity benchmarks. The S&P 500 Index traded at 19.5 times earnings, while the multiple for the Shanghai Composite was 14.2 times, and that for the Euro Stoxx 50 index was 18.
Sunny Optical Technology Group, CSPC Pharmaceutical Group and Sino Biopharmaceutical were the only stocks that registered gains on the 50-member Hang Seng Index in the third quarter.
Sunny Optical, a maker of camera modules for smartphones, jumped 43 per cent, as margins recovered thanks to progress made in factory automation and product upgrades.
CSPC and Sino Biopharmaceutical both climbed 25 per cent, as traders sought havens in companies that relied on domestic demand amid a resurgent trade war.