Apple
Get more with myNEWS
A personalised news feed of stories that matter to you
Learn more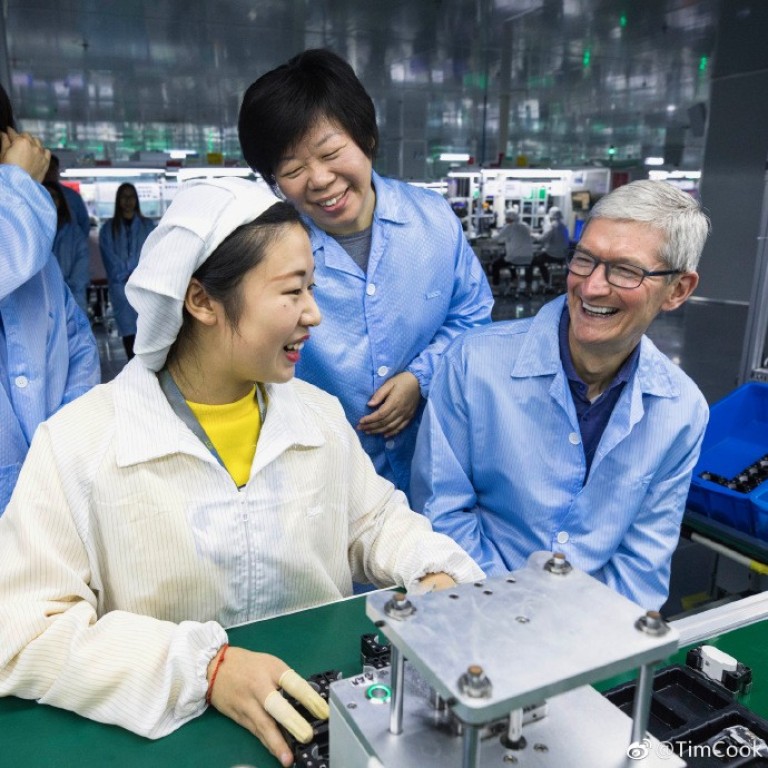 Apple AirPods craze spreads to China, becoming music to the ears of wireless-headset stock investors
AirPods supplier Luxshare Precision Industry is up more than 200 per cent this year
Wireless headset sector is seen as a huge new market
Apple AirPods' runaway popularity is boosting wireless headset and part makers in China – and investors should be listening, analysts say.
The wireless earphones are Apple's second fastest selling product of all time, only behind the iPhone. Now its more expensive AirPods Pro – which include such features as noise cancellation – is a hot seller, too. The stampede into so-called true wireless stereo (TWS) earbuds is in its early stage, analysts say, as consumers ditch their old wires for the cooler look and improved sound.
"True wireless stereo will become the next big thing in consumer electronics," Zhongtai Securities analysts wrote in a new report. It will become the next product that could "create a growth miracle" after the smartphones, which have experienced what seems like a topping-out in output after years of rapid growth.
Chinese companies like Luxshare Precision Industry, the main assembler of AirPods – are benefiting. It's up more than 200 per cent this year.
Meanwhile, GoerTek, which like Luxshare supplies to both Apple and Huawei, is up 193 per cent this year, bringing good fortune to investors like Eric Fei, a 27-year-old part-time stock trader living in northern China's Tianjin city.
The graphics engineer has made a nearly 200,000 yuan (US$28,587) profit on paper off his investment in 24,000 shares of Shenzhen-listed GoerTek, one of the main suppliers for AirPods. Fei first bought the stock at a price of about 9 yuan in late 2018.
"It's my best investment of this year for sure," Fei said. "The extent of the rally is beyond what I expected."
GoerTek, one of China's most competitive acoustic component makers, is one of more than two dozen China-listed electronics makers who are reaping big rewards for their operations related to wireless earphones. Overseas investors together own a 3 per cent stake in GoerTek through Hong Kong's Stock Connect trading link, making them the fourth-largest shareholders in the company.
Investors believe they are witnessing the emergence of a massive market for AirPods – which sells for as much as US$249 for the high-end version – and other brands of earbuds, with consumer demand worth billions of dollars barely tapped yet.
"There are about 900 million to 1 billion iPhone users worldwide, so the saturation ratio of AirPods among the existing users is not even 10 per cent. That represents huge room for growth," analysts Liu Xiang and Liu Shang at Zhongtai Securities wrote in their report.
Analysts say the quality of AirPods – the convenience of its small size and its stable Bluetooth connection to the iPhone – rocketed this type of product to new heights. It single handedly set off a massive trend with its launch in December 2016.
Fast-growing sales in AirPods are a bright spot for Apple. AirPods led the company's wearable products, with sales surging by 54 per cent quarter-on-quarter for the period from July to September, while revenue from iPhones dropped 9 per cent and that from the Mac personal computers weakened 5 per cent.
Shipment of AirPods skyrocketed by 150 per cent to 35 million units last year from 14 million in 2017, data from consultancy Counterpoint Research shows.
"Apple is leading the technology advancement in wireless earphones," said Alex Ng, analyst at CMB International Securities who specialises in technology sector. "It's a whole new market."
What is even more stunning, Ng said, is how Apple was able to hike prices at such a fast pace – the latest AirPods Pro is 56 per cent more expensive than the first generation, priced at US$159.
As smartphone sales slow, more phone makers will join the race to tap the fast-growing demand for wearable devices, he said.
The potential for Apple rivals is also huge.
AirPods accounted for three-quarters of the global shipment of wireless earbuds last year, according to Counterpoint Research. More players such as Chinese giants Xiaomi and Huawei Technologies are rushing into the field to fight for a share in the lower-end segment, as Apple prices its product at the highest-range among the market competition.
Already, knock-offs have sprung up from the famous Huaqiangbei electronics marketplace in the southern tech hub of Shenzhen to online shopping platforms.
Traders and analysts have recommended a number of acoustics makers as candidates for investments.
The early decision by Guangdong-based Luxshare Precision Industry, GoerTek's main rival in acoustics, to compete for AirPods packaging and assembling orders has paid off, as its share in the orders rose to 50 per cent last year from 10 per cent in 2017, data from Southwest Securities shows. GoerTek occupies about one tenth of the orders, while Taiwan-listed Inventec owns the rest.
Luxshare is likely to become the major supplier to AirPods with a 60 per cent to 70 per cent share in 2019, Zhongtai Securities said in its report.
CMB analyst Ng has a "hold" rating for GoerTek as he thinks the stock is too expensive now, but recommends investors to buy Luxshare because of its strong Apple relationship.
Among the two dozen listed earphone component makers, analysts also favoured Shenzhen Sunway Communication, which has 16 "buy" ratings according to Bloomberg data, SG Micro Corp, which has as many positive recommendations, Sunwoda Electronic, with 14 "buy" ratings, Will Semiconductor and Avary Holding Shenzhen Co. All of them are traded on the Stock Connect.
Trader Fei continues to be sold on Gettop Acoustic, which manufactures two types of earbuds for Huawei and one product for Xiaomi priced between 99 yuan and 799 yuan. Even though the margins may not be high, its profits could rise if the order volume grows, he said.
"We are still in a very initial phase where the wireless earphones are getting popularised fast," Fei said. "With the costs set to come down in the future, wireless earbuds will become a must-have item for smartphone users."