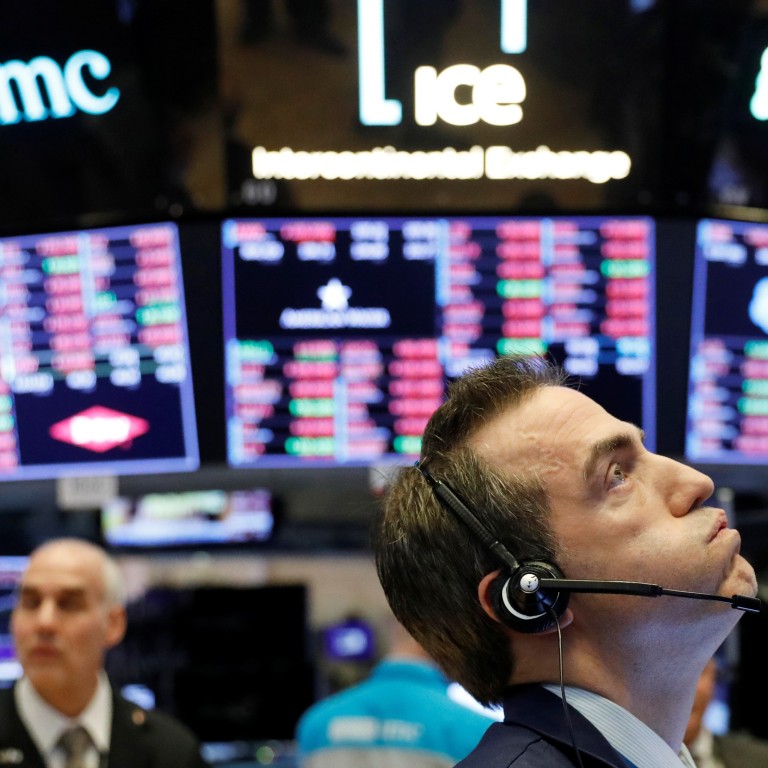 Stock index blood bath extends to Asia-Pacific as widening spread of coronavirus outbreak sets off worst market sell-offs since 2008
In the US, S&P 500 and Dow Jones Industrial Average fell into correction territory
Benchmark indexes fell in every stock market in the Asia-Pacific, from India to New Zealand, except for the KSE-100 in Karachi
Asia-Pacific stock indexes tumbled , extending New York's worst
one-day market slump
in two years across the region, as traders cleared their positions ahead of the weekend amid a deterioration in the
spread of the coronavirus
outside mainland China.
Equity indexes fell across every stock market in the Asia-Pacific region from India to New Zealand, except the KSE-100 on the Karachi bourse. Declines of more than 3 per cent, the usual measure of a major plunge, were recorded on nine out of 20 of the region's stock exchanges.
"Enhanced coronavirus fears have battered global markets this week, especially in Asia," said Adamas Asset Management's managing director Brock Silvers. "Closer to the epicentre of the virus in China and Hong Kong, this has exacerbated the emotional trading pattern, as [market and macroeconomic] fundamentals are increasingly being obscured by transmission and mortality rates."
Dubbed "Black Friday" by the traders of China's yuan-denominated A-shares, the region's bloodbath began overnight with a 4.4 per cent
plunge in the Dow Jones Industrial
Average, the fourth time in Donald Trump's presidency that the benchmark fell by more than 1,000 points after he failed to calm the financial markets. The broader S&P 500 index recorded a similar percentage drop, plummeting from its record high to correction territory in six days, according to data by Deutsche Bank Global Research.
"Every tweet from Washington DC or unverified news from Seoul has the ability to whipsaw Hong Kong and China markets, and emotional responses often lead to over-reactions," Silvers said.
The panic picked up pace when New Zealand and Australia commenced trading in Asian hours. By the time transactions began in Hong Kong, Shanghai and Shenzhen, Tokyo's Nikkei 225 Index had already plummeted by 3.4 per cent. Japan, including confirmed cases on the cruise ship moored in Yokohama, has the world's fifth-largest number of afflictions outside mainland China, with 891 people sick and eight deaths.
In China, the Shanghai Composite Index tumbled 3.7 per cent to a weekly loss of 5.2 per cent. The ChiNext gauge of China's technology hub in Shenzhen plunged 5.7 per cent.
Hong Kong's Hang Seng Index fell 2.4 per cent on Friday, bringing the week's loss to 4.3 per cent. The benchmark has fallen 6.5 per cent since January 24 just before the coronavirus epidemic spiralled over the Lunar New Year holiday.
The world economy may be heading to its worst performance since the financial crisis a decade ago, as major banks and central banks slashed their outlooks for 2020 to factor in the damage caused by the global coronavirus outbreak, Bloomberg reported.
"The economic impact of the Covid-19 outbreak looks more severe than originally expected," Goldman Sachs analysts led by Timothy Moe wrote in a new note. "After cutting numbers at end-January, our economists have again reduced their Q1 GDP growth forecasts for China and the region. The key reasons are evidence of a more severe economic shock in China and a sharp rise in reported cases internationally, notably South Korea and Japan. We now expect [quarter one year-on-year] growth in China of 2.5 per cent (4.0 per cent before), and softer Q1 growth for every other regional economy."
Goldman kept the full year GDP forecast for China at 5.5 per cent based on a recovery beginning in the second quarter and second half of the year. But it reduced its 2020 regional GDP growth numbers to 4.9 per cent, a slowdown from 5.2 per cent growth in 2019.
The pressure on stocks comes as the head of the World Health Organisation said the coronavirus could become a pandemic and is at "decisive" stage.
South Korea's vice finance minister on Friday vowed to deploy "all possible measures" to stabilise financial markets as he sees economic indicators from production to consumption dwindling from the increasing number of new coronavirus infections, Reuters reported.
South Korea reported 505 new coronavirus infections on Thursday, marking the first time a country posted more new infections than mainland China, where the outbreak began.
With 2,337 confirmed infections and 13 deaths at last count, the country has the most number of cases outside of mainland China. The Kospi index fell 3.3 per cent while the technology-heavy Kosdaq index plunged 4.3 per cent.
Globally, deaths have topped 2,800 and there are more than 82,400 cases. Countries reporting the coronavirus include the US, Italy, Iran and Kuwait.
"Based on the drops today, it of course is Black Friday," said Wang Jianhui, general manager at the research department of Capital Securities. "Uncertainty caused by the coronavirus epidemic is exerting pressure on the market, and this is being transmitted globally" like the contagion itself, he said.
This article appeared in the South China Morning Post print edition as: US stock rout increases the pain for Asia-Pacific markets