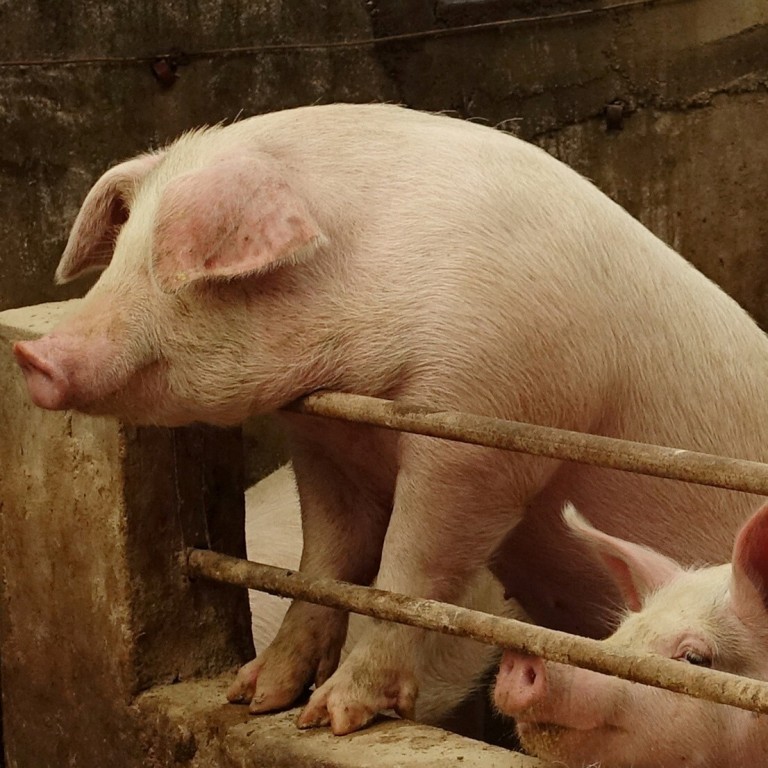 China pork stock expectations on the rise, analysts say, and past success gives investors reason to expect continued growth
Muyuan Foodstuff, other big pig breeders trade at discounts to ever-rising price targets
African swine fever, US meat supply turmoil strain pork supply, boosting Chinese breeders' fortunes
Investors in Chinese top pork stock are used to them bringing home the bacon in terms of high returns. That record is expected to continue, analysts say, as supply stays strained between persistent African swine fever and turmoil in the US meat supply chain due to the coronavirus.
Muyuan Foodstuff and New Hope Liuhe have had their price targets lifted by at least four fold since 2019, only to see their stock prices follow the heels of these upbeat recommendations. Now, analysts have again raised the share-price estimates to levels above where the stocks trade currently, meaning they expect the upside on the already high-flying sector will carry on.
Pig-farming stocks are one of the few bets that can shield investors from tumult at a time when Covid-19 is pushing the global economy toward the
worst recession since the Great Depression
and has rattled financial markets from stocks to crude oil futures. A gauge of mainland-traded companies that are engaged in pig breeding has risen 23 per cent so far this year, extending a gain of 69 per cent in 2019. In comparison, the benchmark Shanghai Composite Index has fallen 5.1 per cent in 2020.
"We expect pork prices to stay at a high level throughout the year and the industry's leading players will benefit most from it," said Sheng Xia, an analyst at Citic Securities. "The leaders are obviously undervalued so we continue to recommend the pig-farming sector."
Shares of Muyuan, the nation's biggest listed pig breeder based in the central Henan province, last traded at 123.30 yuan in Shenzhen. The stock has an average 12-month price target of 143.06 yuan, according to data on the estimate by analysts that is compiled by Bloomberg.
Citic's Sheng set a target of 158 yuan for Muyuan, the second-most bullish call among investment banks. Investors who follow the analyst's all stock recommendations over the past year would return by 24 per cent on the average, higher than 22 per cent from the peers, Bloomberg data showed.
New Hope, owned by billionaire Liu Yonghao, would probably rise to 37.32 yuan in the following year, according to analysts' projections. That implies a 15 per cent gain from the stock's close on Thursday. Smaller rival Jiangxi Zhengbang Technology is trading at a 25 per cent discount to its share-price estimate.
African swine fever, which broke out in the summer of 2018 in China, reduced pork production in the Asian nation by 21 per cent last year and sent pork prices to a record. While the flu is not entirely put under control and an effective vaccine has not been developed yet, the global spread of Covid-19 has added to the squeeze in supply of the meat.
That is coming at a bad time for China, whose growth in pork imports accelerated to 75 per cent last year to meet the domestic shortfall and cool rising prices. Smithfield Foods, the US pork producer wholly-owned by Hong Kong-listed WH Group, is
seeking to reopen its plants
later this month after shutting four from
April 12
to prevent the viral transmission.
Shares of WH have slid 11 per cent since the start of the year, as the Chinese meat processor is struggling with rising hog costs. The bulk of WH's revenues are derived from processed pork, while hog production only accounted for 3.9 per cent of sales in 2019.
Muyuan's net income for the first three months surged 848 per cent from a year earlier, citing tight pork supply and surging prices. Pork prices sold by the company jumped 139 per cent to 31.38 yuan per kilograms in March and 284 per cent in the January-to-February period, it said.
Profit for New Hope rose 676 per cent in the period and that for Jiangxi Zhengbang 319 per cent.
"Pork prices will post a quarter-on-quarter increase in the second quarter as consumption picks up amid work resumption," said Zhao Jinhou, an analyst at Shenwan Hongyuan Group in Shanghai. "Average pork prices may rise to a record high this year. In the long run, prices will stay high because of the African swine flu."
Muyuan is now trading at 8.1 times estimated earnings this year, compared with 17 times for the multiple over the past five years, according to Bloomberg data. Full-year profits may surge 452 per cent to 33.8 billion yuan (US$4.8 billion), the data showed. The projected price-to-earnings ratio for New Hope is 9.7 times and that for Jiangxi Zhengbang is 4.7 times.
The metrics are lower than the multiple of 11.6 times for the Shanghai Composite.
A further rise in pork prices will continue to swell breeders' profit margins, according to Pacific Securities. The brokerage predicts that pork prices may rise to as high as a record 35 yuan per kilogram this year.
"Based on the estimates of pork prices, we expect continuing explosive growth in second-quarter earnings for the sector," said Cheng Xiaodong, a Beijing-based analyst at the brokerage, who maintains the overweighting rating on the pig-breeding industry citing cheap valuations.