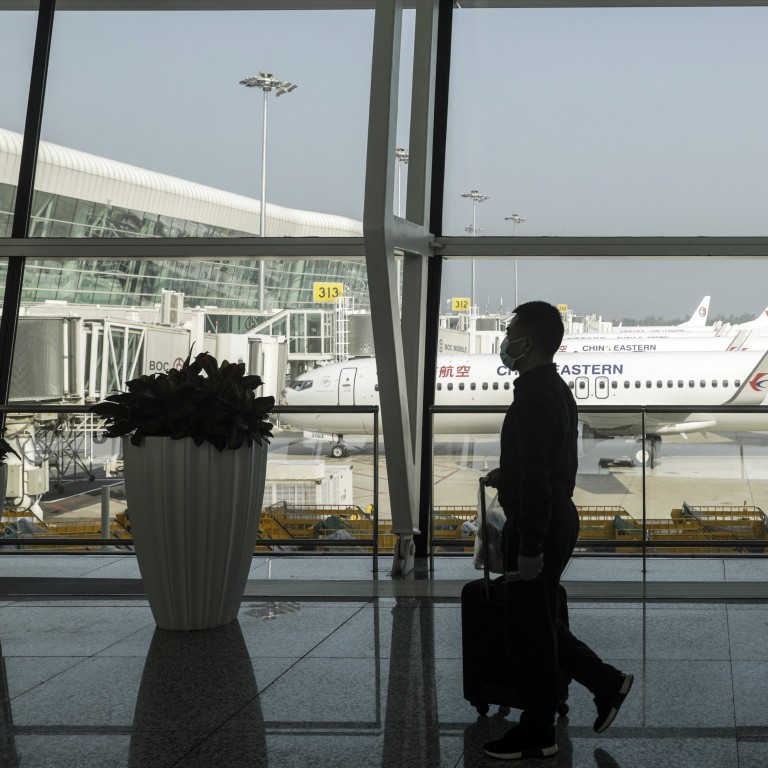 After catastrophic slump, China's travel revival ignites airport stocks, duty-free operators on turnaround bets
An index tracking airport operators has risen 9.8 per cent from its March low, beating the Shanghai Composite Index
Diversified airport operators are better shielded from Covid-19 damage, duty-free shops to gain from spending rebound
The potent rebound in shares of Chinese
airport operators
is captivating investors and analysts who are betting on a quick turnaround from the catastrophic shutdown in the nation's aviation industry earlier this year.
Shanghai International Airport and its domestic peers are leading the comeback as state measures to ease coronavirus pandemic lockdown and other restrictions unleash pent-up
demand for travel
and spending on duty-free products.
A gauge tracking six airport operators traded in the mainland and Hong Kong exchanges has rallied 9.8 per cent from the lowest point in March, outpacing the 3.4 per cent average gain in airline stocks, according to Bloomberg data. The Shanghai Composite Index rose 5.8 per cent in the same period.
While China has maintained strict limits on international flights to curb imported Covid-19 infection, the reopening of domestic routes is underpinning the rally. The number of flights has risen to 60 per cent of pre-pandemic levels on some days this month, according to Western Securities.
"The recovery in demand will be accelerating from May," said Zhao Xinyue, an analyst at China International Capital Corp in Shanghai. "Demand has already troughed and the operating data will start to show a quarter-on-quarter improvement starting May."
More than 115 million
citizens travelled within China
during the recent Labour Day Golden Week holiday, generating 47.5 billion yuan (US$6.7 billion) of domestic revenue, according to local media reports.
Airport operators have held up better during the market onslaught earlier this year as the pandemic ravages the industry, while airline stocks sold off emphatically when travel demand shrank. This quality should endear them to investors, according to Xufunds Investment Management.
Shanghai International Airport and its peers currently trade at 1.7 times their book values, slightly higher than their five-year average multiple. For airlines, their price-to-book value multiple has dived by half to 1.1 times, according to Bloomberg data.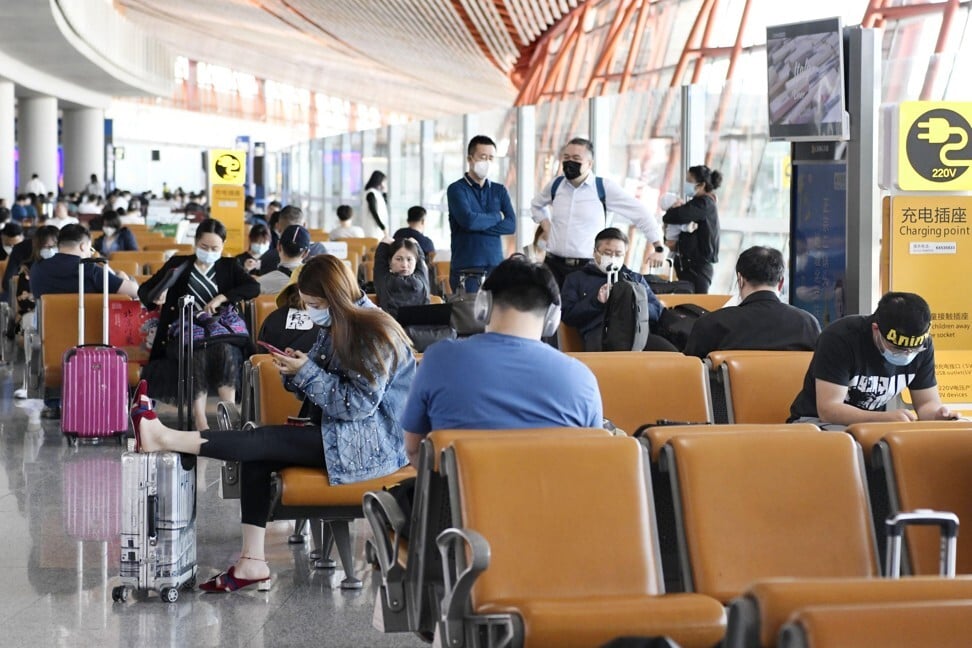 Besides, the higher barrier to entry, regional monopoly and diversified sources of revenues should steer more bets towards airport operators as the industry turnaround gathers momentum, said Wang Chen, a partner at Xufunds in Shanghai.
"Airports face much less competition than airlines" as they have a more diversified business, he said. The many sources of revenue also shielded them from the Covid-19 fallout, as first-quarter reports showed.
"It would be quite impossible to build another airport in southern China to compete with Guangzhou Baiyun Airport, for example," Wang added. "They will not lose market share because of their uniqueness in the regions. They do have a valuation bottom, so the best time to buy them is when the industry is facing its worst time."
Shanghai Airport and Xiamen International Airport both posted net profit in the first quarter, while China's three biggest carriers reported combined losses of 14 billion yuan, the worst three months since the global financial crisis.
Shanghai Airport is the nation's biggest with a market value of US$17.7 billion. It derived only 37 per cent of its sales from aviation-linked operations such as fees charged on take-offs and landings, while 63 per cent came from commercial rentals and catering.
Analysts set a 12-month share-price estimate of 78.85 yuan for the stock, implying a 20 per cent upside, according to Bloomberg data. Among 28 analysts tracking the stock, 25 recommended buying while only one has a sell rating.
Airlines stocks were among
the top picks by CICC
, which said the worst for the industry was already behind it. The slump in their price-to-book values suggests a rebound may be on the cards, the brokerage said.
Domestic flights rebounded to 43 per cent of capacity in April, up from 36.5 per cent in March when large swathes of China remained under lockdown, according to data by the Civil Aviation Administration of China. They may even recover to 75 per cent of the year-ago level next month, according to Huachuang Securities.
Analysts are also attracted by the prospect of duty-free shop operators, especially market leader China International Travel Service, which operates eight in 10 duty-free shops in the country.
The renewed optimism in the sector has also given the company a shot in the arm. The stock has rebounded 28 per cent to 86.17 yuan on Friday from a low in March, taking it within 11 per cent of the all-time high set in October.
The company stands to benefit from the much-vaunted "revenge spending" among consumers, who are expected to splurge on cosmetics, cigarettes and wines on their domestic travels.
Duty-free shop operators are also poised to gain from policy support that will make it easier for domestic tourists to buy tax-free products when departing the island province of Hainan, according to Dongxing Securities.
"The valuation of the aviation industry has already hit the bottom and the investment values of the relevant stocks have been emerging," said Wang at Xufunds.