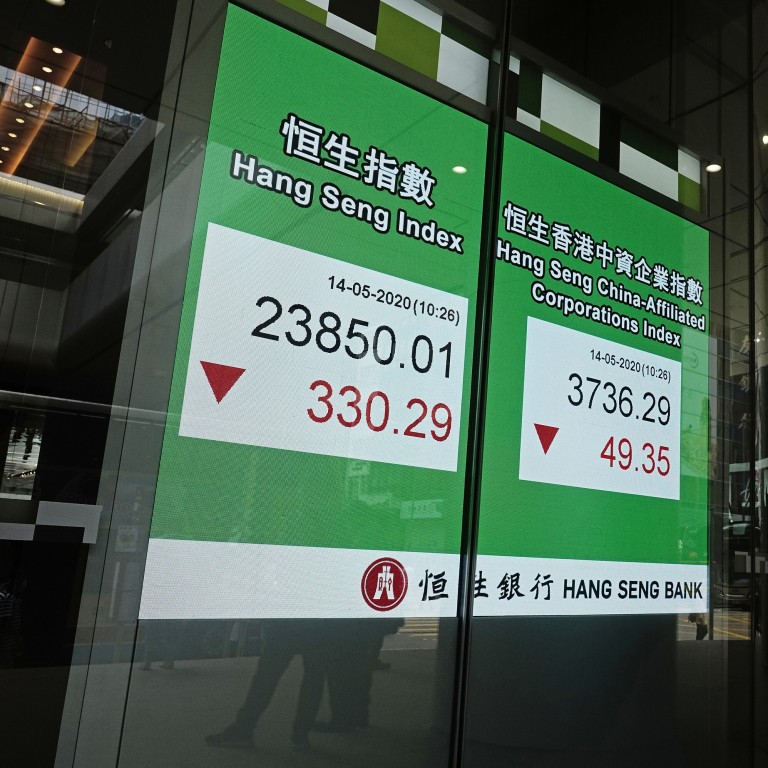 Hang Seng Index rebounds from rout as proposed security law roils sentiment, HKEX surges on Chinese IPO outlook
Hang Seng Index posts a small gain, after losing as much as 1.8 per cent in a market roiled by proposed security law
HKEX surges by the most in 18 months on optimism more Chinese companies will list in the city to escape Sino-US tensions
Hong Kong's Hang Seng Index
rebounded from
its worst rout in almost five years in a market troubled by rising political tensions after China proposed a security law aimed at cracking down subversive acts in the city.
The Hang Seng Index rose 0.1 per cent, or 22.10 points, to 22,952.24 at the close, reversing an intraday loss of as much as 1.8 per cent. The Shanghai Composite Index added 0.2 per cent to 2,817.97, finishing higher for the first time in four days. Hong Kong Exchanges and Clearing (HKEX), the bourse operator, surged as more Chinese companies signalled plans to relist in the city amid Sino-US hostility.
Hong Kong's stock market had lost more than HK$1.6 trillion (US$210 billion) in value on Friday, after the benchmark i
ndex slumped the most since July 2015
as Beijing unveiled the proposed law tailor-made for the city after years of deadlock in the local legislature.
The Hang Seng's volatility index remained near ia seven-week high amid concerns further social unrest will jeopardise the city's status as a global financial centre even as
top officials attempted to allay
those fears. The city is also caught in the middle of rising US and China hostility on trade and pandemic fronts.
The controversial security law heralds a rocky road for investors leading up to Hong Kong's Legislative Council election in early September. The opposition bloc is seeking to win control of Legco for the first time since Hong Kong returned to Chinese rule in 1997, emboldened by a landslide victory in November's district council elections.
That unrest, which last year sent the market into one of its worst quarters in four years, could undermine the government's efforts to rebuild the recession-hit economy, following a record contraction of
8.9 per cent in the first quarter
amid the coronavirus pandemic.
"With more riots in the street amid the knockdown effects of Covid-19 and a possible exodus of jobs from the financial centre, surely things will get much worse" before they get better, said Stephen Innes, a strategist at AxiCorp.
In a mixed trading, HKEX rallied the most in 18 months, while Henderson Land Development and the city's biggest property developers fell further on speculation social unrest will spur capital outflows and weaken asset prices.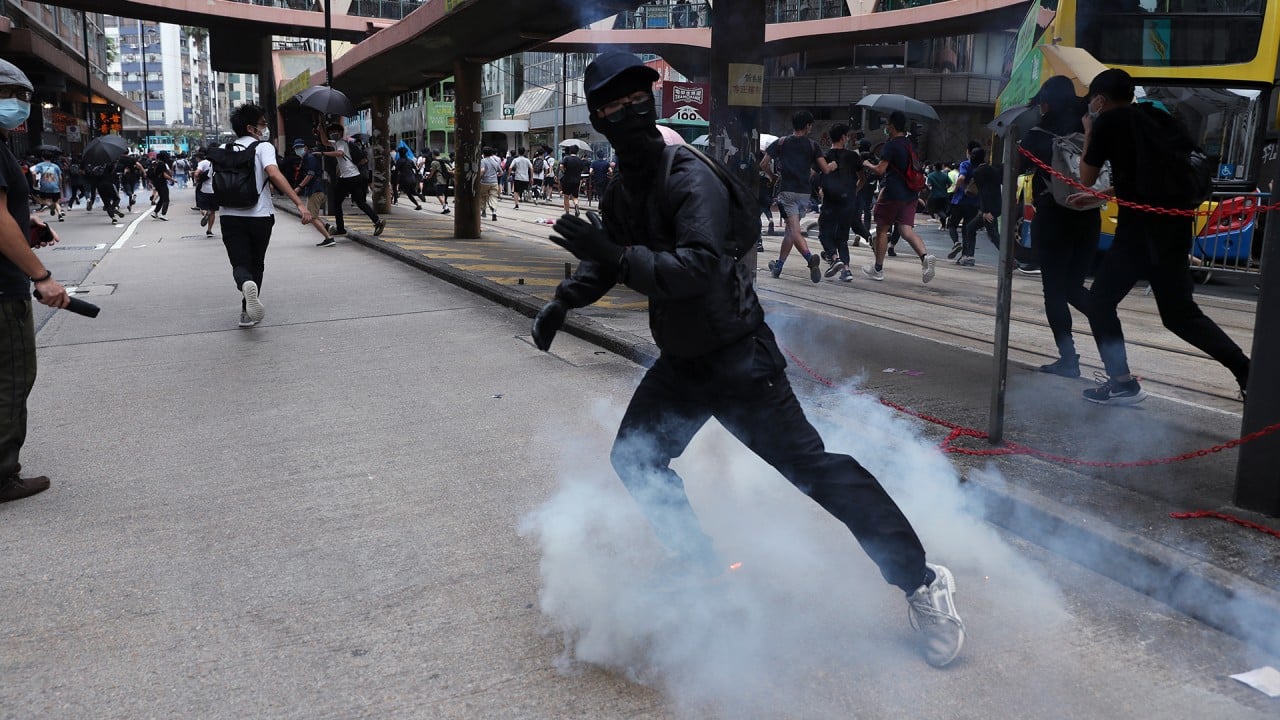 04:52
Tear gas fired as thousands protest Beijing's planned national security law for Hong Kong
Tear gas fired as thousands protest Beijing's planned national security law for Hong Kong
The mild gains in Hong Kong and Shanghai contrasted with resilience in other markets in the Asia-Pacific region, as Japan is set to lift the emergency status in Tokyo and Hokkaido and schools reopened in Australia. The Nikkei 225 and the S&P/ASX 200 Index advanced by at least 1.7 per cent.
Hong Kong police
arrested at least 180 people on Sunday
and fired multiple rounds of tear gas to break up protests in the Causeway Bay shopping district, as thousands of demonstrators took to the street in a fresh round of protests against the proposed law.
The unrest came hours after Vice-premier Han Zheng, Beijing's top leader in charge of Hong Kong affairs, said the central government would implement the security law "till the end."
In another sign of further escalation of the tension between China and the US, the Trump administration slapped sanctions on
33 Chinese companies
and institutions for either supporting procurement of items for military end-use or violating human rights, putting them on two so-called entity lists that will make them more difficult to access US technologies.
HKEX surged 6.2 per cent to HK$275 for the biggest gain since November 2018. In Recent week, US-listed Chinese firms including JD.com and Baidu Inc have signalled their intention to raise capital in Hong Kong as US and China ramped up their hostility.
Meituan Dianping, China's biggest online platform of bookings and food delivery firm, rose by 6 per cent to HK$125.80 before its first-quarter earnings report. It probably posted a net loss of 1.1 billion yuan (US$155.5 million), according to the estimates of analysts polled by Bloomberg.
Hong Kong developers remained unloved. A sub-index tracking the biggest developers on the Hang Seng Index retreated 0.8 per cent, adding to a 7.7 per cent slump on Friday. Henderson Land shed 2.7 per cent to HK$26.95 and CK Asset lost 2.5 per cent to HK$41.55.
In the mainland market, Fiberhome Telecommunication Technologies slumped 9.9 per cent to 29 yuan as a unit of the fibre cable maker was named on the entity list by the US on late Friday.