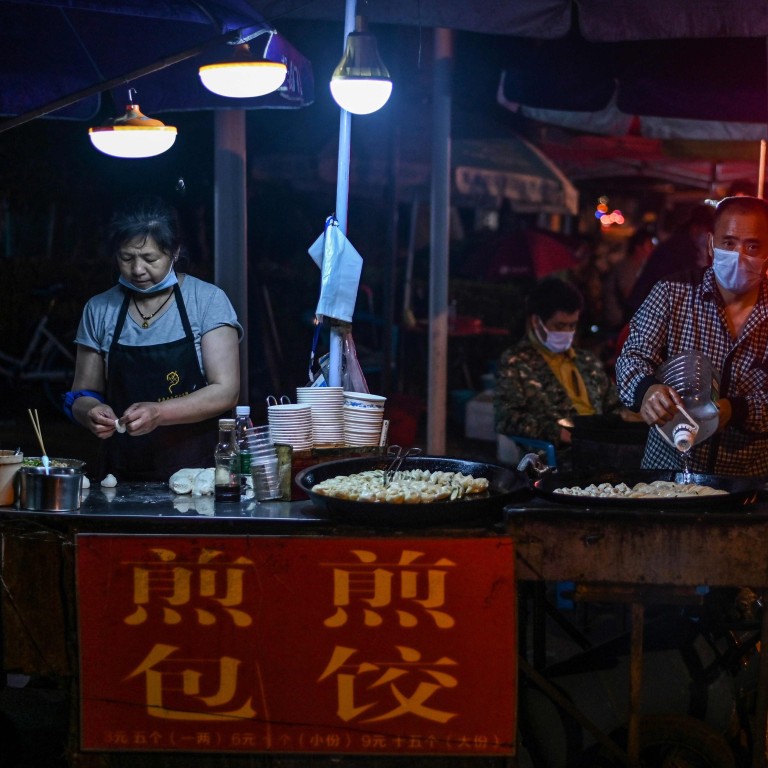 Beijing's change of heart on street vendors sparks stock market frenzy as traders predict surging demand for vans, kitchenware, umbrellas
Investors believe products of use to hawkers, like vans and umbrellas, will be in high demand after the government signalled its support for stall owners
Beijing is now touting tiny street vendors as vital to a floundering economy, a dramatic U-turn from its previous attitude
China's street vendors are officially flavour of the month, and the share prices of related companies reflect their new-found status.
A policy U-turn by the Chinese government to support the tiny retailers it now regards as the lifeblood of the economy has sparked a stock market frenzy. Investors believe there will be a run on things the average street-level entrepreneur might need, such as vans from which to sell their wares, frying pans to prepare delicious snacks, and umbrellas to protect them come rain or shine.
Consequently, shares of companies from vehicle makers to kitchenware and umbrella producers are skyrocketing.
Chinese premier Li Keqiang lit the fuse when he visited a street stall selling spicy chicken in the eastern province of Shandong on Monday, and praised street hawkers for being an important source of jobs that should be supported by the country.
Hawkers and small shops make up "the liveliness of China, as much as the bigger and higher-end businesses," said Li, according to state media. His comments stood in sharp contrast with the government's previously harsh attitude towards such vendors, and came as Beijing seeks to create new jobs and shore up an economy hammered by the Covid-19 pandemic.
A few days earlier, a top party agency issued a new city management guideline with relaxed rules regarding street vendor. It signalled an end to years of crackdowns on street hawkers – for reasons cited by officials including hygiene and aesthetics – by the so-called
chengguan
, or urban inspectors, who are infamous for their bullying tactics.
"In the short-term, the 'street vendor economy' will be the focus of the market," said Yang Delong, chief economist at Shenzhen-based First Seafront Fund Management. "It's part of the government's measures to tackle weak consumption."
Investors in Hong Kong and Chinese stocks rushed to find companies likely to benefit from a revival of street vendors. Among the most stunning gainers, Hong Kong-listed carmaker Wuling Motors soared by 217 per cent over this week to finish Friday at HK$0.63.
The mouth-watering returns came after Wuling Motors marketed a new minivan developed by a subsidiary as a perfect tool for starting a street stall in a social media post on Tuesday. The Guangxi-based company subsequently sold hundreds of units of the van priced at 56,800 yuan (US$8,006) in just one day, a representative of the firm told local Chinese media.
The surge in Wuling Motors mirrored gains in other carmakers, whose products include minivans, recreational vehicles and pickup trucks. Chongqing Sokon Industry Group soared 43 per cent this week, while Dima Holdings climbed 14 per cent.
Other high-fliers include Shanghai-listed Yindu Kitchen Equipment, which makes everything from commercial fridges to griddles and fryers. Shares of Yindu jumped by the maximum 10 per cent limit for a fifth consecutive day on Friday, to 14.32 yuan. The stock advanced 61 per cent over the week.
Yotrio Group, a Shenzhen-listed maker of outdoor furniture including giant umbrellas that could be used for street markets, also soared, by 28 per cent this week.
The frenetic rally has prompted some listed companies to warn investors of potential risks in chasing the sky-high stocks, while analysts also cautioned against trading based on speculation.
"Investors shouldn't trade blindly on speculation, and need to study whether street vendors can actually bring about earnings growth," said Yang.
Street vendor-related clients only make up a small portion of Yindu Kichen Equipment's revenue, the company said in a stock exchange filing on Wednesday night. "We expect it will not create a substantial impact on the company's future revenue and profit growth," it said.