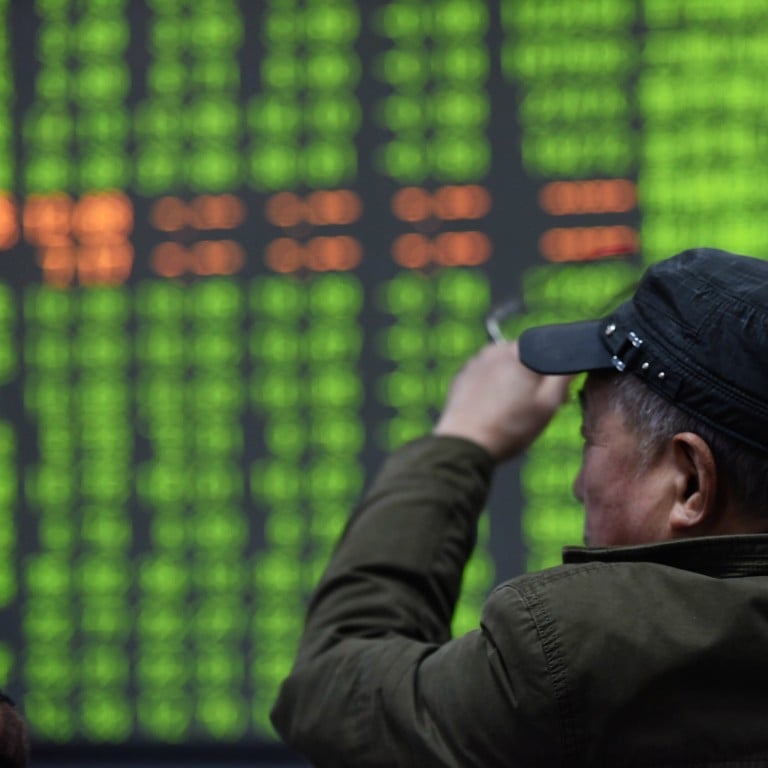 Hong Kong, China stocks tank as Beijing closes US consulate in Chengdu, the 'last straw' for spooked investors
Shenzhen stocks plunge 5 per cent, while Hong Kong's Hang Seng tumbles 2.2 per cent
One analyst says bad US jobs news and China tightening trend makes consulate closing 'last straw' for worried traders
Hong Kong and mainland stocks tanked after Beijing ordered the US to close its consulate in Chengdu, a retaliatory move that added to escalating US-China tensions and became what one analyst called the "last straw" for spooked investors.
On the mainland, where stocks have been soaring of late, the sell-off on Friday was fierce.
The CSI 300 of large caps in Shanghai and Shenzhen plummeted 4.4 per cent, the Shanghai Composite Index fell 3.9 per cent, and the Shenzhen Composite Index fell 5 per cent. In Shenzhen, with more than 2,000 stocks on the benchmark, only 177 stocks posted any gains at the close. All three benchmarks posted their second consecutive week of losses due to Friday's collapse.
Hong Kong's Hang Seng Index fell 2.2 per cent, or nearly 560 points. That left it with its second straight week of losses. It lost 1.5 per cent this week -- with a 2.3 per cent slide on Wednesday on news that the US was shutting down China's consulate in Houston, Texas -- on top of 2.5 per cent the previous week.
"All bad news all around," said Alan Li, portfolio manager at Atta Capital. "Weekly US unemployment rose for the first time in four months. The second US stimulus package was delayed. [China's central bank] tends to tighten liquidity in the second half. US and China tensions escalating is the last straw to the market."
The market sell-offs could continue in Hong Kong and China if tensions between the world's two largest economies do not cool down over the weekend, said Stanley Chan, director of research at Emperor Securities.
"If there is no further escalation, then the markets will stabilise. But if tensions continue to mount, then the markets may need to go down a bit more to test lower levels," he said.
Before the latest spike in US-China tensions, mainland stocks had been shooting up for weeks on upbeat sentiment about the mainland's economic recovery, as the nation became the first in the world to successfully contain the coronavirus and then show steady signs of economic recovery.
In Hong Kong, new economy stocks broadly fell, after traders had piled into the sector on excitement earlier this week.
Index heavyweight Tencent dropped 5.2 per cent, Alibaba, the Chinese e-commerce giant and owner of the South China Morning Post, fell 3.1 per cent, while Meituan Dianping tumbled 4.2 per cent.
Investor telemedicine darlings were not spared. Alibaba Health Technology plunged 6.7 per cent, while Ping An Good Doctor dropped 5 per cent.
Gold, a safe haven asset, continued to rise, heading ever closer to an all-time high. It rose 0.4 per cent to US$1,894.81 per ounce. Gold hit a record high of US$1,921.17 per ounce in 2011.
Meanwhile, in the US, futures pointed down, with tech stocks under continued selling pressure.
"Say something from the facts, this is the basic requirement for diplomats," Cai Wei said. "I know [Americans] call that the rule of law and that you are not guilty until you're proven [guilty] … where's the proof?"
Cai said Beijing has asked the US to rescind its order to close the consulate, an order that China argues runs afoul of international agreements governing diplomatic relations.
Kweichow Moutai, one of the most popular stocks on the mainland as well as on the Stock Connect, fell 4.8 per cent to 1,595.30 yuan, contributing the most to the Shanghai benchmark's fall.
But a debuting stock in Shenzhen, Hangzhou Shenhao Technology, which produces electrical power equipment, rose by the limit, 44 per cent, to 43.79 from its listing price of 30.41 yuan.
One positive stock in Hong Kong was Great Wall Motor, which rose 13 per cent before narrowing gains to close ahead by 7.2 per cent.
Daiwa Capital Markets raised its target price to HK$8.50 from HK$5.70 and reiterated an "outperform" rating, after the SUV and truck maker's second quarter results "were better than our expectations due to margin enhancement."
Great Wall Motor's net profit for the second quarter grew 142 per cent to 1.8 billion yuan compared to the same period last year.
"We see its solid product pipeline bolstering Great Wall Motor's sales volume from 2H20," said analyst Kelvin Lau.
The company, which owns the Marco Polo Hong Kong and The Murray, incurred a net loss of HK$1.28 billion through June 30, versus a net profit of HK$268 million a year earlier. Revenue dropped 18 per cent to HK$654 million.