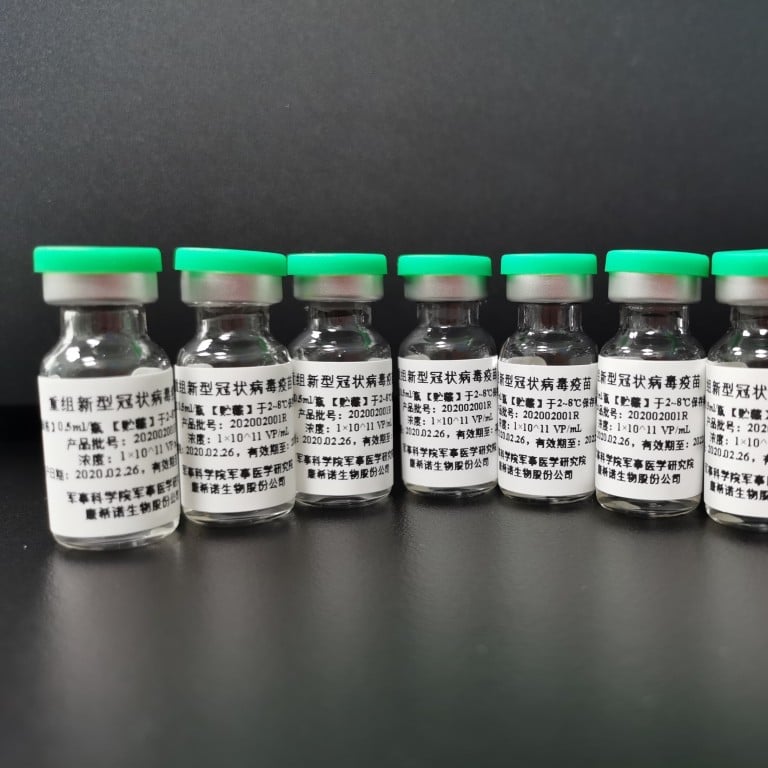 Explainer
Covid-19 vaccine, treatment hunt sends Chinese biopharmaceuticals soaring. What investors need to know
Share prices of Chinese biotechs targeting Covid-19 have soared
Covid-19 is an especially virulent type of virus that makes coming up with a vaccine even harder
Chinese biopharmaceutical players have run ahead to be among the world's most promising contenders in the race to treat and prevent Covid-19, earning them a close look by risk-tolerant investors despite run-ups in their share prices, analysts say.
Investors should divide the field between companies vying to create vaccines that stimulate the body to generate antibodies by injecting the body with a dead or weakened virus or part of a virus, and companies that manufacture "neutralising" antibodies and inject them into the body to directly tackle the virus.
Covid-19 is a so-called RNA virus, a type of virus that is highly mutable, adding to the usual difficulty of creating a vaccine. That is why Citi's head of China health care research Cui Cui says she favours companies on the hunt for effective antibody treatments over ones focused on vaccines.
"Vaccines may not be the best vehicle for investors in the Covid-19 sphere, because RNA viruses tend to have a higher mutation frequency, which makes it challenging to develop a vaccine that has long-term effectiveness," Cui said. "Neutralising antibodies, on the other hand, could potentially be more effective."
Chinese players in the "antibody" realm include Hong Kong and mainland-listed Shanghai Junshi Biosciences, Shanghai-based I-Mab Biopharma, which is listed in the US. Those focused on vaccine development include CanSino Biologics and Shanghai Fosun Pharmaceutical (Group), both of which are listed in Hong Kong, and WalVax Biotechnology and Chongqing Zhifei Biological Products, both of which are listed in Shenzhen and trade on the Stock Connect.
Covid-19, the disease caused by the coronavirus, has infected nearly 16 million people and killed 600,000 worldwide since its first major outbreak came to global attention in January. Billions of dollars have already been committed to find effective treatments and vaccines, and build manufacturing capacity for the world market, with the most promising players seeing their share prices skyrocket.
The antibodies generated by the body upon stimulation by vaccines recognise, bind to and then kill the virus invader. Antibodies made externally and injected into the body diminish the ability of the viruses to escape treatment and protect cells from being invaded by the virus.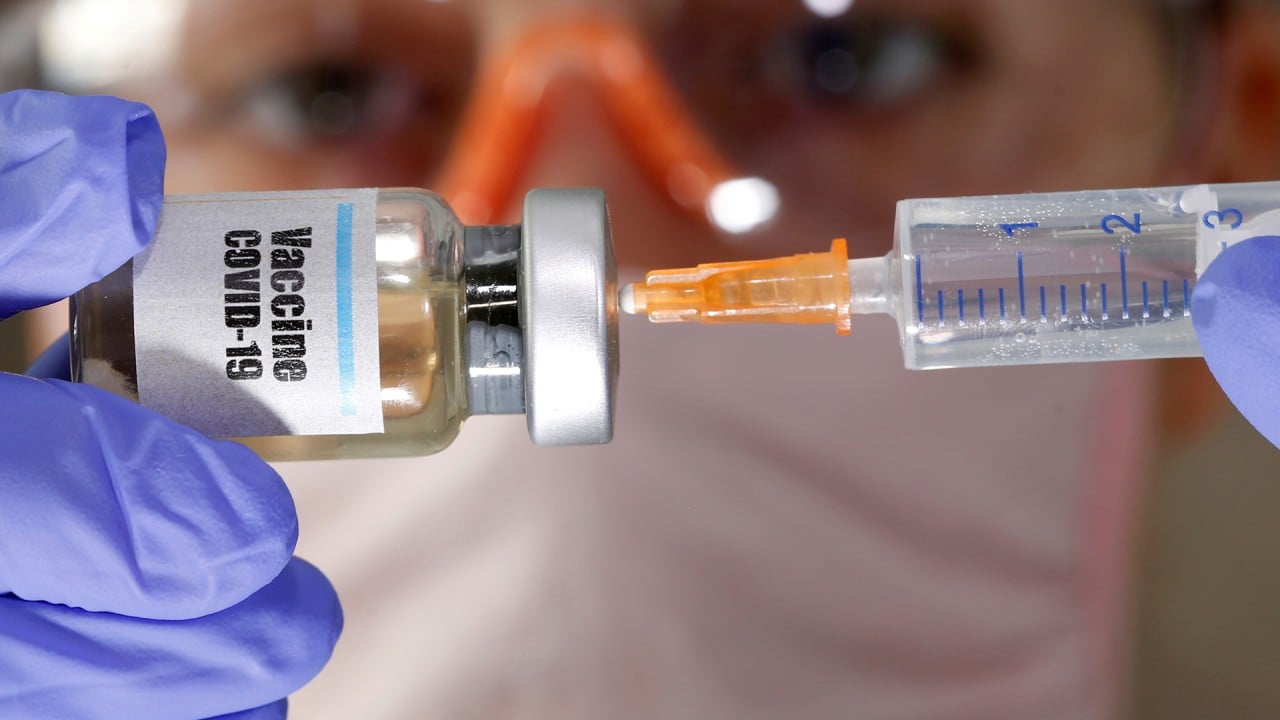 06:17
'Robust immune responses' found in Covid-19 vaccine clinical trials point to 2021 release
'Robust immune responses' found in Covid-19 vaccine clinical trials point to 2021 release
The promise of antibody cocktails was underscored this month by actions in the US and China. The US government signed a US$450 million contract with Regeneron Pharmaceuticals, an American biopharmaceutical heavyweight, to buy its potential Covid-19 antibody cocktail. Beijing, not wanting China left behind, sped up the timetable for clinical trials for Shanghai Junshi Biosciences' antibody treatment, Cui pointed out.
Shanghai Junshi's H shares were rated a new "buy" by Jefferies last week, with the highest target price ever on its shares – HK$70, or about 45 per cent higher than its Friday close at HK$48. Of the eight analysts covering it and tracked by Bloomberg, all rate it a "buy".
Regeneron's cocktail contains an antibody manufactured by it and another isolated from recovered Covid-19 patients, which can be delivered to people via injection, although they must be re-administered to remain effective over time.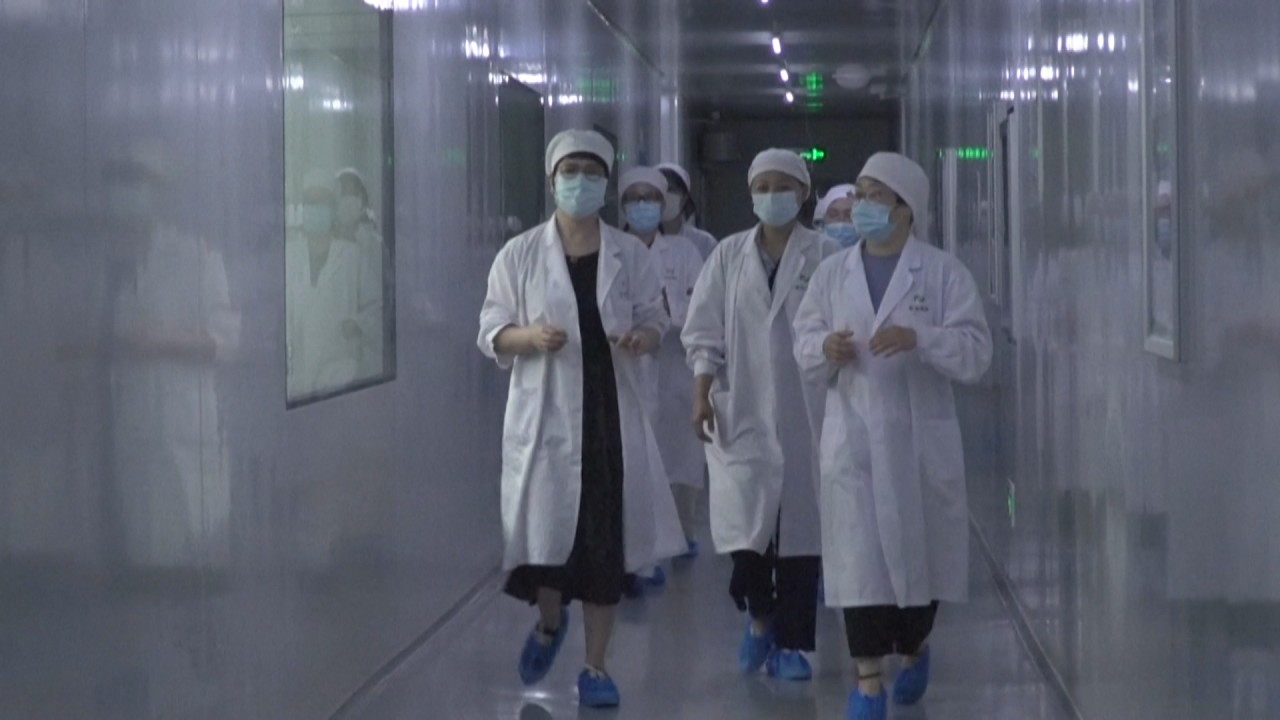 01:57
Coronavirus: Inside a Chinese lab joining global race to find a vaccine
Coronavirus: Inside a Chinese lab joining global race to find a vaccine
Shanghai Junshi last month started the beginning phase one study in China on its neutralising antibody – co-developed with Chinese Academy of Sciences' Institute of Microbiology – which also aims to prevent and treat Covid-19. US partner Eli Lilly will lead trials outside China.
Junshi shares have gained 60 per cent since it announced its collaboration with the institute on March 20.
Also trying to find a magic bullet antibody is Shanghai-based I-Mab Biopharma. It has done a study on 24 severe Covid-19 patients, which found its neutralising antibody "safe and well-tolerated".
Part two will test the drug on 120 patients on efficacy in preventing or curbing so-called "cytokine storm", which can lead to severe pulmonary inflammation and death.
I-Mab has three 'buys', and no "holds" or "sells" on its shares, with a target price of US$31.70, or 12 per cent higher than its Friday close. Its shares have doubled since the initial public offering in the US in mid January.
To be sure, challenges are ahead for the Covid-19 antibody researchers.
"They are far more costly, so they are not intended to treat the entire population," said analyst Jay Lee at Morningstar Investment Management Asia. "They may prove to be effective in treating elderly populations, a group that not only has greater fatality risk but might also be less responsive to some vaccines."
Other target groups are athletes, health care workers, performers and politicians for whom extra protection above and beyond that afforded by vaccines are needed or wanted, considering vaccines are not expected to provide 100 per cent protection.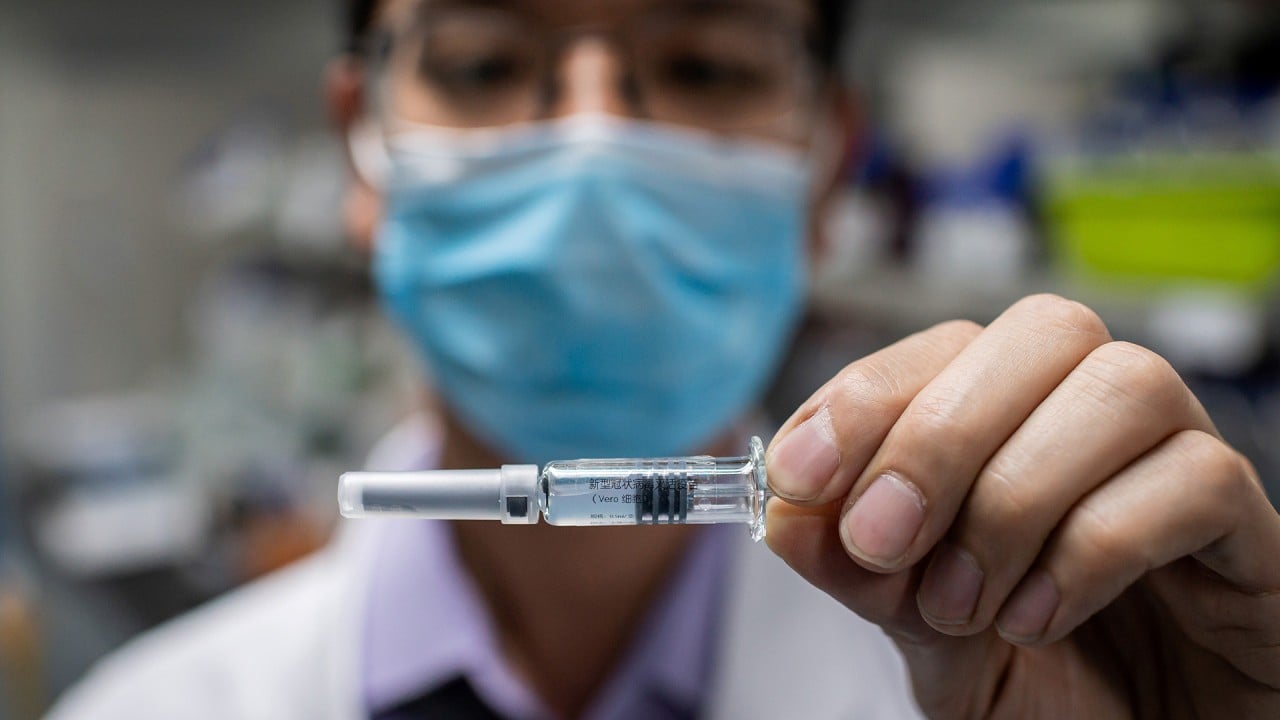 03:06
Chinese firm ready to make 100 million Coronavirus vaccine doses if trials are successful
Chinese firm ready to make 100 million Coronavirus vaccine doses if trials are successful
Ultimately, the potential market size of neutralising antibodies will depend on the number of Covid-19 patients and the effectiveness of approved vaccines, Lee said.
The huge uncertainties of success of both Covid-19 vaccine and antibody candidates have not prevented investors from piling into stocks of their developers, and to the broader biotechnology sector.
Among Chinese vaccine developers, CanSino Biologics leads on clinical progress, having completed a phase-two trial with 508 participants. Its shares are 120 per cent higher than in early March when it first announced it was doing preclinical research on a Covid-19 vaccine. Lancet just published results of the phase two trial, which Brad Loncar, chief executive of Loncar Investments, called "unimpressive".
"The antibody and T-cell responses they are producing in subjects are both low compared to the human data we have seen from other vaccine candidates." Loncar said. "The possible paths to victory for CanSino are either that the level of immunity it offers turns out to be enough, especially for a younger population, and/or that they get a booster shot strategy to work. This vaccine is unlikely to work for people older than 55."
CanSino is the only Chinese developer that has disclosed detailed trial results.
Shanghai Fosun Pharmaceutical (Group), which has received Chinese regulators' approval to start phase one clinical trial on a Covid-19 vaccine, has seen its share price jump 80 per cent in Hong Kong since mid-March, when it was licensed by BioNTech to commercialise its mRNA.
On July 1, they announced favourable data from early stage studies in the US and Germany. The next level of trials start later this month.
Shenzhen-listed WalVax Biotechnology has surged 56 per cent since mid-May, when it unveiled an agreement with Suzhou Abogen Biosciences to develop an mRNA Covid-19 vaccine. It obtained approval to begin clinical trials last month.
Chongqing Zhifei Biological Products has gained 153 per cent in Shenzhen since early February when it announced a deal to license Covid-19 vaccine technology from the Chinese Academy of Sciences' Institute of Microbiology. Phase two trial started this month in Hunan province.
The Loncar China BioPharma Index, which tracks 37 Hong Kong and Nasdaq-listed Chinese pharmaceutical and biotechnology stocks, has risen 30 per cent since the start of the year, compared to the Hang Seng Index's 12 per cent decline.
"The current valuation of the China health care sector is at a historical high," said Zhao Bing, chief health care analyst at Huajing Securities, a unit of China Renaissance. "But this is supported by higher government health care reimbursement which increased 20 per cent last year and 26 per cent in 2018 compared to 10-15 per cent in previous three years."
"While the vaccine developers' share price gains have been stimulated by the development Covid-19 vaccines – which actually is facing challenges – I don't think this is the only reason for their high valuations … They are also supported by fundamentals," Zhao said.
Beijing has intensified its oversight of its biopharmaceutical sector and raised entry barriers, which has boosted confidence in leading players, analysts say.
Morningstar's Lee, however, recommended vigilance.
"The Chinese biotech sector has rallied dramatically during the pandemic. Some companies do look overbought, I would caution investors to take a close look at valuations," he said.
Additional reporting by Deb Price