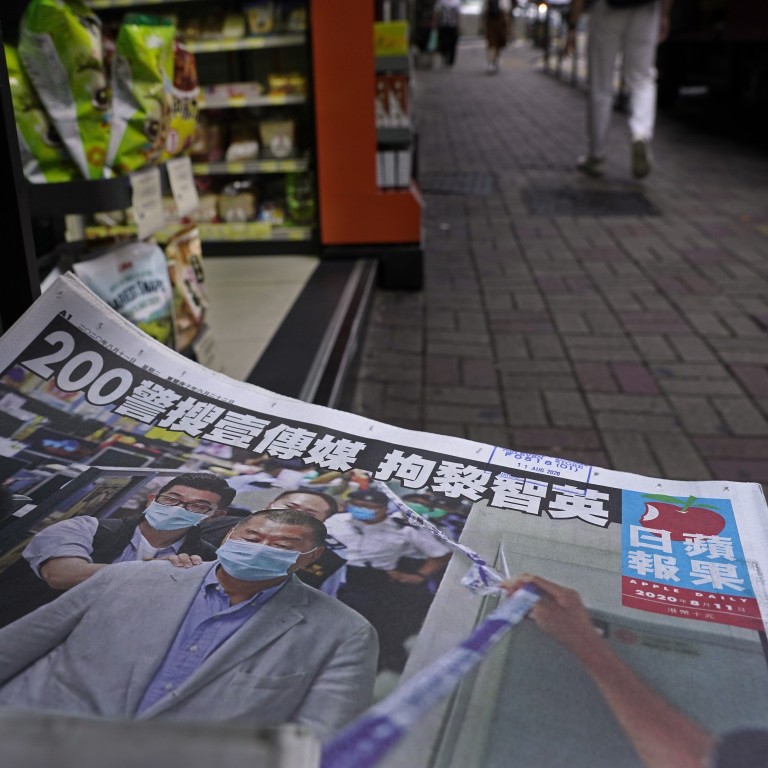 1,200 per cent rally in Next Digital puts Apple Daily's publisher among Hong Kong's biggest media groups, sparks calls for regulatory probe
Shares of the Apple Daily publisher soared for the second day on Tuesday, surpassing TVB in market value at the peak of its rally
The stock jumped in the two days following the arrest of its founder Jimmy Lai, bolstering his paper wealth to HK$2.07 billion (US$266 million)
Next Digital, whose founder was arrested yesterday in Hong Kong under the
national security law
, was the third-most traded stock in the city as traders answered a rallying cry on social media to snap up his shares, a move that provoked calls for the securities regulator to investigate.
Shares of the
Apple Daily
publisher
soared for the second day
on Tuesday, quadrupling from Monday to close at HK$1.10. The stock jumped 1,200 per cent in the two days
following the arrest
of its founder and controlling shareholder Jimmy Lai Chee-ying, bolstering his paper wealth to HK$2.07 billion (US$266 million).
The surge valued his company at HK$2.9 billion, behind broadcaster TVB's HK$3.9 billion and Tom Group's HK$4.9 billion, At the peak of its stock rally on Tuesday, Next Digital's valuation topped at HK$5.2 billion.
Nearly 4.1 billion shares changed hands, almost 10 times what was transacted every day in the past year, as calls sounded out on LIHKG and other social media platforms for Apple Daily's supporters to buy the stock. The rally led to at least two public figures to urge Hong Kong's Securities and Futures Commission (SFC) to investigate.
"The share price of Next Digital saw significant and abnormal movement on the day of [Lai's] arrest and today, but the SFC still has not taken any actions," said Innes Tang, chairman of the political organisation Politihk Social Strategic, adding that he was making an official complaint in his personal capacity. "This is in stark contrast to [the SFC's] approach with companies in the past, and raises the question among the public as to the SFC's management approach and efficiency."
"The board is not aware of any reasons for these price and volume movements or of any information which must be announced to avoid a false market in the stock trading," Next Digital said in a filing to the Hong Kong stock exchange after trading.
In a statement issued late on Tuesday, the SFC said investors were strongly advised to exercise extreme caution when dealing in the shares of Next Digital. "The SFC has been monitoring, and will continue to closely monitor, trading activity in relation to the shares of Next Digital Limited. The SFC, working with the Stock Exchange of Hong Kong Limited, will also require Next Digital to promptly disclose to the market all future developments and information concerning its control, financial position and operations which are likely to materially affect the price" of its shares, and to avoid a false market in its securities.
"We don't comment on individual companies," a Hong Kong Exchanges and Clearing spokeswoman said.
Lai, who turned 72 last November, owned 1.88 billion shares, or 71.3 per cent of the company, based on his filings on March 31 last year.
Most of the Next Digital shares that changed hands were in minimum lots of 10,000 shares, according to Bloomberg data, which corroborates the theory that the stock is being bolstered by many retail traders instead of large institutional funds.
Data by online broker Futu Holdings showed 44 per cent of the buy orders were smaller than the average daily transactions in the past month. The activity surpassed other bellwether stocks in Asia's third-largest stock market, from Bank of China to HSBC. Only WeChat developer Tencent Holdings and meal-delivery company Meituan Dianping generated more.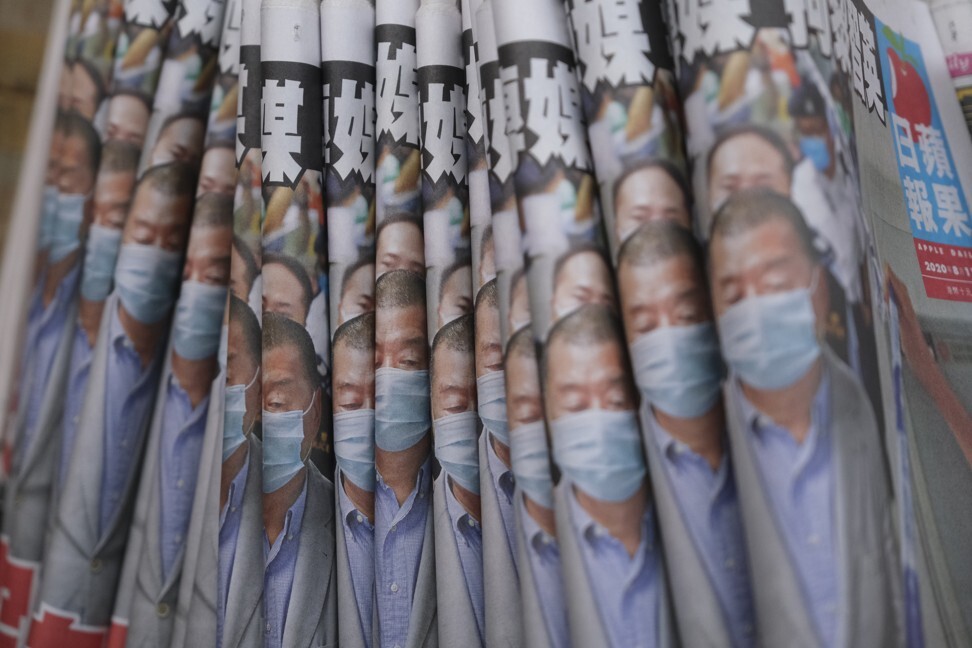 "It's most likely that people are 'stir-frying' the stock given the special condition the company is in," said Gordon Tsui Luen-on, chairman of the Hong Kong Securities Association, using the colloquialism for speculative trading. Some traders may also be betting on a rally and a windfall in the event that Lai is forced to sell Next Digital, Tsui said.
The active transactions raised eyebrows, as well as concerns that inexperienced investors stand to lose if support goes out of Next Digital, with the Hong Kong lawmaker representing the city's financial services sector, Christopher Cheung Wah-fung, calling for trading to be halted in the stock.
The company's second-largest shareholder, with a 4.9 per cent stake, was Hong Kong's gadfly activist investor David Webb, who counted Next Digital as his largest holding out of a portfolio of 22 stocks as of June 2018, according to Bloomberg data. If he had not sold his holdings, the surge in Next Digital's shares would have given him a paper gain of HK$98 million between June 28, 2018 and today. Webb did not respond to emails seeking comment.
"We would add that investors should be aware that by buying shares in the market, they are not supporting the company, they are supporting those who are selling. Just saying,"
according to a blog post on Webb's website
, that reproduced the SFC's statement.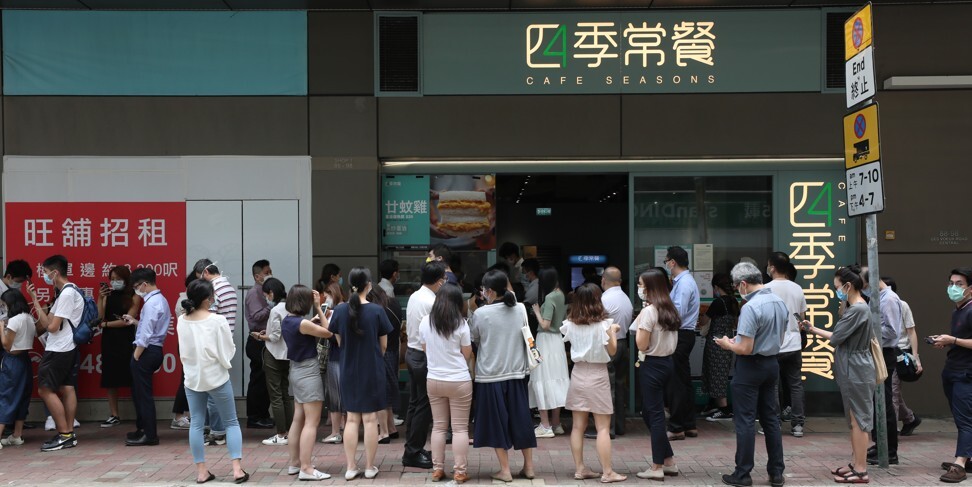 The enthusiasm mirrors that seen at news stands and convenience stores across Hong Kong in the morning, as Lai's supporters bought copies of the newspaper in large amounts. Some even bought dozens to be freely distributed at convenience stores.
The publisher printed 550,000 copies of Apple Daily on Tuesday driven by the strong demand, up from its original schedule of 70,000 copies, according to the newspaper.
Business was also booming at Cafe Seasons, a local cha chaan teng-style cafeteria that operates on cash terms in Central, reportedly run by Lai's second son. Long queues formed outside the eatery from lunch time all the way past 5pm. Patrons at the restaurant, which was raided by police a day earlier, queued in the summer heat while wearing face masks amid the coronavirus pandemic.
Next Digital has been going through a series of financial troubles in recent years, as advertising revenue declined amid rising competition from online media. The company reported a 11 per cent decrease in revenue to HK$1.2 billion for the year ended March 31 from a year earlier. Meanwhile, its net loss widened by 23 per cent to HK$417 million over the period.
The company introduced a paid digital subscription model for Apple Daily for the first time last year, and described 2019 as "a watershed year for Next Digital" in its annual report. "The early performance of our membership model has been very encouraging in Hong Kong," the company said.
Additional reporting by Enoch Yiu and Kathleen Magramo
This article appeared in the South China Morning Post print edition as: Shares of Next Digital surge