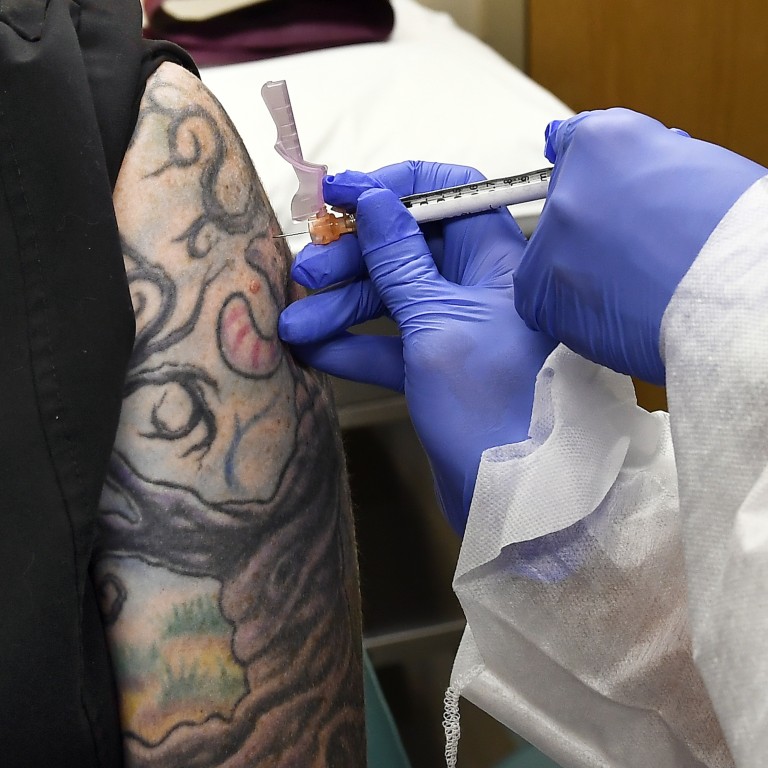 Alibaba and Xiaomi hit record highs, but fail to boost Hong Kong, China markets
Hang Seng Index falls 0.3 per cent and Shanghai Composite declines 0.2 per cent
Delays in development of Cansino Biologics' vaccine candidate affected sentiment earlier on
A surge in technology stocks failed to boost markets in Hong Kong and China on Wednesday, as sentiment remained under pressure from lingering US-China tensions and delays in the development of a vaccine candidate.
The Hang Seng Index fell 0.3 per cent to 25,120.09, while the Shanghai Composite ended 0.2 per cent lower.
"The markets have been under pressure recently. Investors have been slowly selling and taking profits," said Stanley Chan, director of research at Emperor Securities. "There is still some uncertainty over how the US will handle the TikTok transaction, and it may even crack down on other Chinese technology companies."
The US government will go after more Chinese-made apps
following the crackdown on TikTok and WeChat, White House trade adviser Peter Navarro said in an interview with Fox Business on Tuesday. The market will "need some time to digest some of the negative factors, so the Hang Seng will stay around the 25,000 level", Chan added.
The Tianjin-based company managed to contain some of the damage by announcing at noon that it had entered into an agreement with Russian biopharmaceutical company Petrovax for phase three clinical trials of its vaccine candidate in Russia. Its stock closed 1.8 per cent lower after falling by as much as 11.3 per cent in the morning.
South China Morning Post parent Alibaba, meanwhile, rose 3 per cent to a record high of HK$291.20. Xiaomi gained 0.4 per cent to a record high of HK$25.70, after rising by 8.9 per cent to HK$25.60 on Tuesday.
Other technology stocks in Hong Kong rose as well, following an upwards trend in the US. The Hang Seng Tech Index of 30 top technology stocks rose 3.1 per cent on Wednesday. Benchmark heavyweight Tencent Holdings rose 1.1 per cent, while China Literature, the mainland's largest online publisher which is owned by Tencent, jumped 10.5 per cent. JD rose 7.4 per cent to a record high of HK$332.
YTO Express
, one of China's largest logistics services providers, rose 259.3 per cent after Alibaba announced on Wednesday that it had bought another 12 per cent stake in the company.
Chinese education stocks
declined after the country's Communist Party approved guidelines for the standardisation of private schools on Tuesday, and stressed the importance of strengthening regulation of universities and colleges in the central and western regions of China to implement its education policy, according to state-owned news agency Xinhua.
"Stocks in the education sector are also under pressure due to recent policy changes [in China]," Chan said. Hong Kong-listed Wisdom Education International, one of the largest private education groups in southern China, plunged 24.1 per cent. China Maple Leaf Education, which operates international schools in China, dropped 17.9 per cent. Tian Li Education International, a private education services provider in western China, declined 23.4 per cent.
On the mainland,
liquor giant Kweichow Moutai
, which was one of the most heavily traded Chinese stocks on the Stock Connect, fell 0.4 per cent to 1,795 yuan on Wednesday.
A gauge tracking cross-border e-commerce companies compiled by Xuangubao.cn rose by 2.2 per cent. Focus Technology, which provides business-to-business e-commerce solutions, rose by the daily upper limit of 10 per cent.
Three companies debuted on mainland bourses on Wednesday. In Shanghai, Beijing LabTech Instruments, which provides testing services, soared by 91 per cent, while pharmaceutical product manufacturer Chengdu Easton Bio Pharmaceuticals rose 68.4 per cent. Xi'an Manareco New Materials, which manufactures advanced materials, rose 11.8 per cent.
Overnight in the US, meanwhile, the S&P 500 and Nasdaq rose to record highs after American manufacturing indicators expanded, with Institute for Supply Management hitting its highest level in about two years, according to Reuters.