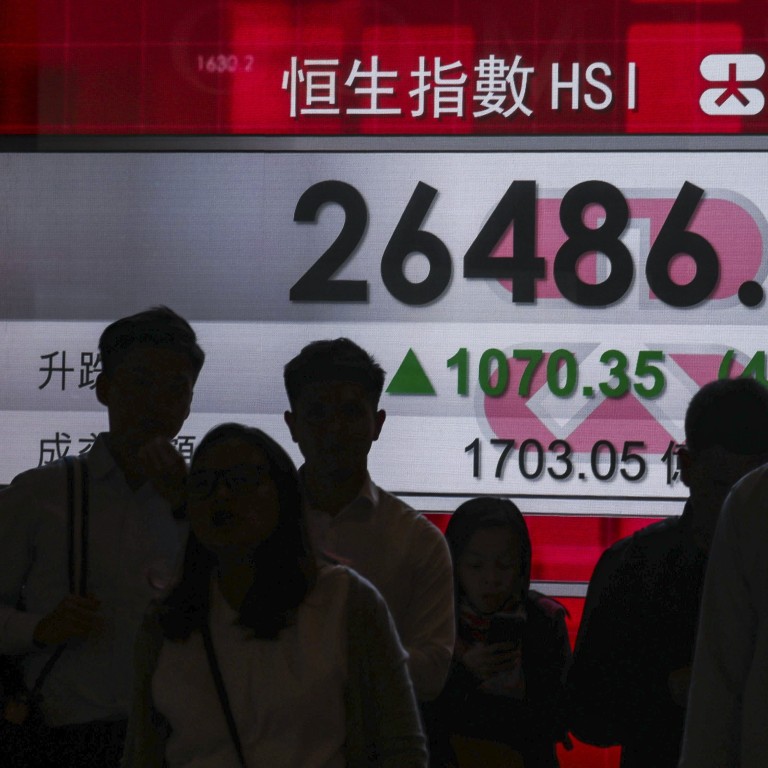 Hong Kong stocks climb to eight-month high as Geely Auto brings market rally to 10 per cent in November
Geely Auto rose to a two-year high on Daimler engine venture, WuXi Biologics surrendered some gains from a stock split
US stock exchange regulator sustains pressure on Chinese companies with comply-or-delist auditing rules
Hong Kong
stocks
rose for a third day after Geely Auto reached the highest level in two years on the back of an engine venture with its German partner while markets around the region held to this week's record run.
The Hang Seng Index advanced 0.5 per cent to 26,544.29 at the close of trading, taking the rally this month to 10 per cent. Stock gauges in mainland China were mixed. The Shanghai Composite Index gained 0.2 per cent. The ChiNext technology board in Shenzhen shed 1.4 per cent.
Geely Auto led gainers in Hong Kong, with a 6.9 per cent to HK$22.55, a level not seen since June 2018. German car manufacturer Daimler announced on Tuesday that it will work with the Chinese automaker to build the next-generation combustion engines for hybrid vehicles.
The tie-up came on the back of
high-flying stock performance
of Chinese new energy car makers this year as sales in the world's largest auto market improved. It provided a shot in the arm for the Hang Seng Index as vaccine-related impact diminished.
Swire Pacific added 5.9 per cent to HK$46.80 and China Mengniu Dairy increased 2.7 per cent to HK$41.55. Among top losers, WuXi Biologics slumped 2 per cent to HK$78.85 after a one-into-three stock split pushed the shares to a record on Tuesday. China Mobile down 1.1 per cent to HK$46.90. as Chinese telcos continue to lose favour with investors over Trump's latest executive order on November 12.
"News on vaccines triggered rotation," said Alex Wong, director at Ample Finance Group. "It will not be as a drastic shift as last week, but investors are reshuffling their portfolio at an acceptable level."
The Hang Seng Index rose on Tuesday to
the highest level since March 5
, after news about progress in experimental Covid-19 vaccines from Pfizer, BioNTech and Moderna lifted markets in the US and Asia-Pacific to new heights. Those rallies paused as Covid-19 cases continue to surge.
"Essentially, we have an incredibly nice narrative set against a horrible Covid-infused sentiment backdrop," said Stephen Innes, a strategist at Axi. "If your time horizon is beyond 2020, it's an incredibly bullish story, but if you are a short-term trader, it's hard to be bullish with the Covid-19 storm clouds lingering overhead."
US stocks fell overnight, as Covid-19 cases continued to surge and retail sales rose 0.3 per cent in October from 1.6 per cent in September.
The Securities and Exchange Commission is
pushing ahead with a plan
that would delist Chinese firms from US stock exchanges if they do not use auditors overseen by the US, a plan first mooted last summer. It came after the Trump administration
announced a ban
on Americans investing in Chinese firms with ties to the military.
Even so, stocks in mainland bourses were buoyed by feel-good reports on the nation's economic outlook. A government adviser at the Chinese Academy of Social Sciences think tank said China should set its average annual growth target at 5 per cent for the next five years. Growth will reach 8.9 per cent in 2021, Citic Securities said at a forum on Tuesday.
Premier Li Keqiang said at a State Council meeting on Tuesday that the government would consider the next step of macro-policies to enhance the effectiveness and continuity of economic policies.
Stocks related to the Fujian free-trade zone surged after China announced plans to establish an innovation base in Xiamen with BRIC emerging-market partners. Xiamen Port Development soared by the daily limit of 10 per cent.