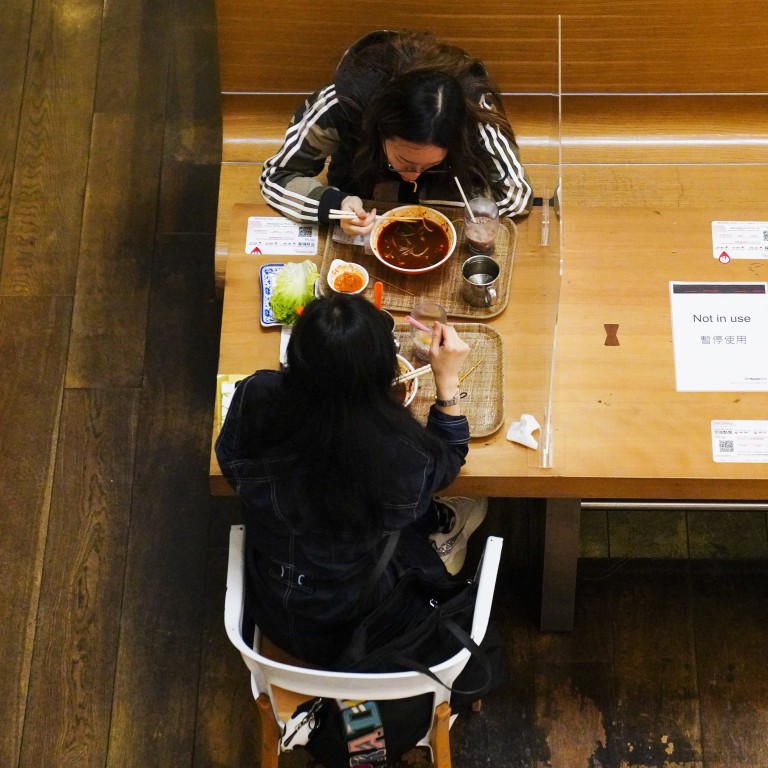 Hong Kong and China stocks drop amid mounting Covid-19 cases, US-China friction
Hang Seng Index declined 0.7 per cent on Friday, ending the week almost flat
Shanghai Composite Index lost 0.3 per cent, but closed the week 1.4 per cent higher
The Hong Kong and China markets closed lower on Friday amid concerns about rising Covid-19 infections and a fresh round of sanctions by Washington on Chinese companies.
The Hang Seng Index declined 0.7 per cent to 26,498.60, ending the week almost flat. The Shanghai Composite Index lost 0.3 per cent to 3,394.90, but closed the week 1.4 per cent higher.
Infections have continued to surge at home and abroad. Hong Kong
expected more than 60 cases on Friday
amid concerns about a quarantine backlog. Deaths and hospitalisations touched single-day highs in the United States overnight, while Germany returned to a strict lockdown for a second time this year, after reporting
952 coronavirus deaths
in 24 hours on Wednesday, a daily record. Australia faced another cluster of infections, while South Korea saw
its deadliest day
.
"Virus resurgence, particularly in Europe and the US, is expected to weigh on consumption," said Ernie Hon, head of research at Essence International Securities in Hong Kong. "Social distancing seems to continue to increase in some countries despite the roll-out of vaccines, which will affect the real economy."
He said sluggish sentiment in the mainland China market had spread to Hong Kong, where investors were doubting the sustainability of recent rallies that followed progress on Covid-19 vaccinations and record gains on Wall Street. The Dow Jones Industrial Average, Nasdaq Composite and S&P 500 all ended with record highs overnight on Thursday.
Washington, meanwhile, continued to apply pressure on Beijing. The Trump administration plans to
add around 80 additional firms
to a so-called entity list, with almost all of them Chinese, Reuters reported on Friday. The US energy secretary signed an order overnight that prohibits utility companies supplying critical defence facilities from importing certain items from China, as the country fights "against attacks and exploitation by foreign adversaries".
Technology stocks retreated in Hong Kong, with the Hang Seng Technology Index down 1 per cent. Semiconductor giant SMIC shed 5.2 per cent, Meituan fell 2.3 per cent and Alibaba Group Holding, which owns the South China Morning Post, lost 0.9 per cent.
"Technology stocks are losing steam due to the Chinese government's recent antitrust actions, and in the short term the market will have concerns," said Willer Chen, an analyst at Forsyth Barr Asia in Hong Kong. The Hong Kong market was being dragged down by the retreat of technology companies, he said.
"Previously strong cyclical sectors are also ending their short-term rallies, and investors lack a specific direction for trading," he added.
A unit of Alibaba, Tencent Holdings-backed China Literature and Shenzhen Hive Box were fined by the State Administration for Market Regulation recently for not properly reporting past acquisitions for clearance. "The internet industry is not outside the antitrust law," the regulator said on Monday.
JD Health International, the health care arm of Chinese e-commerce giant JD.com, however, surged to a record high, advancing 6 per cent to HK$147.9. The stock will be added to five major indexes in Hong Kong on Tuesday.
Meanwhile, four stocks making their trading debuts in Hong Kong, Shanghai and Shenzhen also soared in a sign that investors' enthusiasm for new issues has not been dented by the pandemic.
Shenzhen Sunmoon Microelectronics, a Shenzhen-based producer of integrated circuits and light-emitting diodes, more than doubled to 83.98 yuan from its initial public offering (IPO) price of 38.43 yuan in Shanghai.
Tongxing Environmental Protection Technology, a Hefei-based waste management company, jumped 44 per cent to 57.76 yuan from its IPO price of 40.11 yuan in Shenzhen. The shares of Zhejiang MTCN Technology, a silicon chip producer based in Huzhou, rose by 44 per cent to 20 yuan from their IPO price of 13.89 yuan, also in Shenzhen.
Shares of Vesync, which builds smart home systems, jumped on their trading debut in Hong Kong by 59.4 per cent to HK$8.80 from an IPO price of HK$5.52. The company, which is based in Anaheim, California, and counts Hillhouse Capital as an investor, is the fifth US-domiciled company to raise capital in Hong Kong since 2012.
Oil giants surged on hopes of another round of stimulus in the US, which is expected to boost economic growth and oil demand, as well as strong demand from India and China. CNOOC added 2.4 per cent and Sinopec advanced 0.8 per cent.
Elsewhere, Anta Sports Products dipped 1.9 per cent, leading to a 4.1 per cent loss this week, following media reports that suggested it had shown interest in acquiring sportswear brand Reebok from German industry giant Adidas.