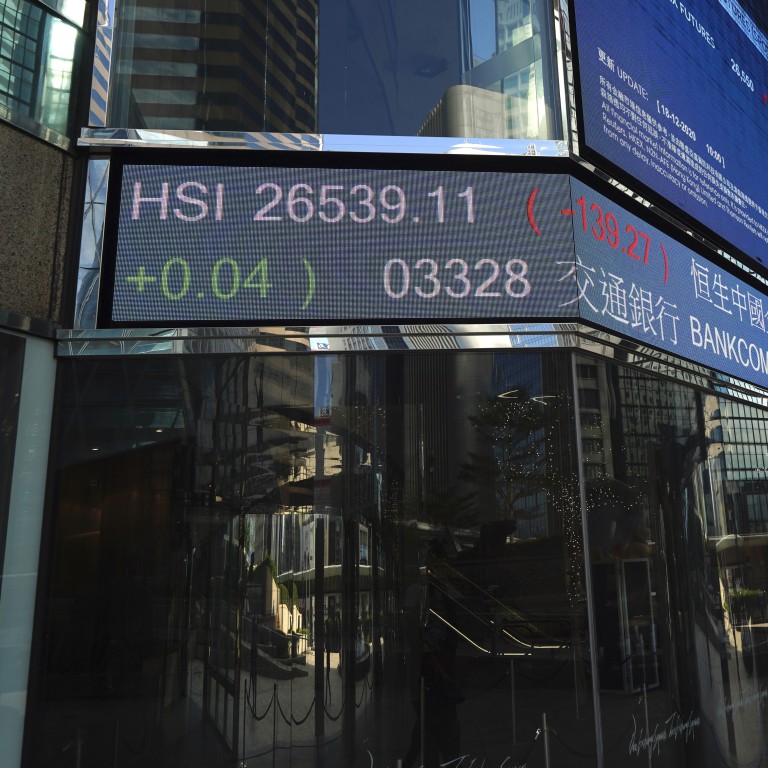 Hong Kong stocks end higher on Christmas Eve amid hopes of an imminent Brexit deal, brush aside Alibaba slump
Alibaba tumbled by as much as 9 per cent, erasing US$56 billion in market cap
UK and EU are expected to announce a trade deal as early as Thursday
Hong Kong stocks closed higher on Christmas Eve, as optimism over a Brexit trade deal outweighed Beijing's investigation into Alibaba Group Holding's alleged monopolistic practices, which wiped out combined US$62 billion in market cap from the e-commerce giant and its two listed affiliates.
The Hang Seng Index added 0.2 per cent to 26,386.56 at the close of a truncated session on Thursday, paring this week's decline to 0.4 per cent for a fourth consecutive weekly loss. The market will be closed on Friday for the Christmas holiday.
Alibaba, the owner of the
South China Morning Post
, tumbled by as much as 8.9 per cent, erasing US$56.4 billion in market value. Main rival
JD.com
and social media giant
Tencent Holdings
slid at least 2 per cent.
China's Shanghai Composite Index slipped 0.6 per cent to 3,363.11. Markets on the mainland will be open on Friday.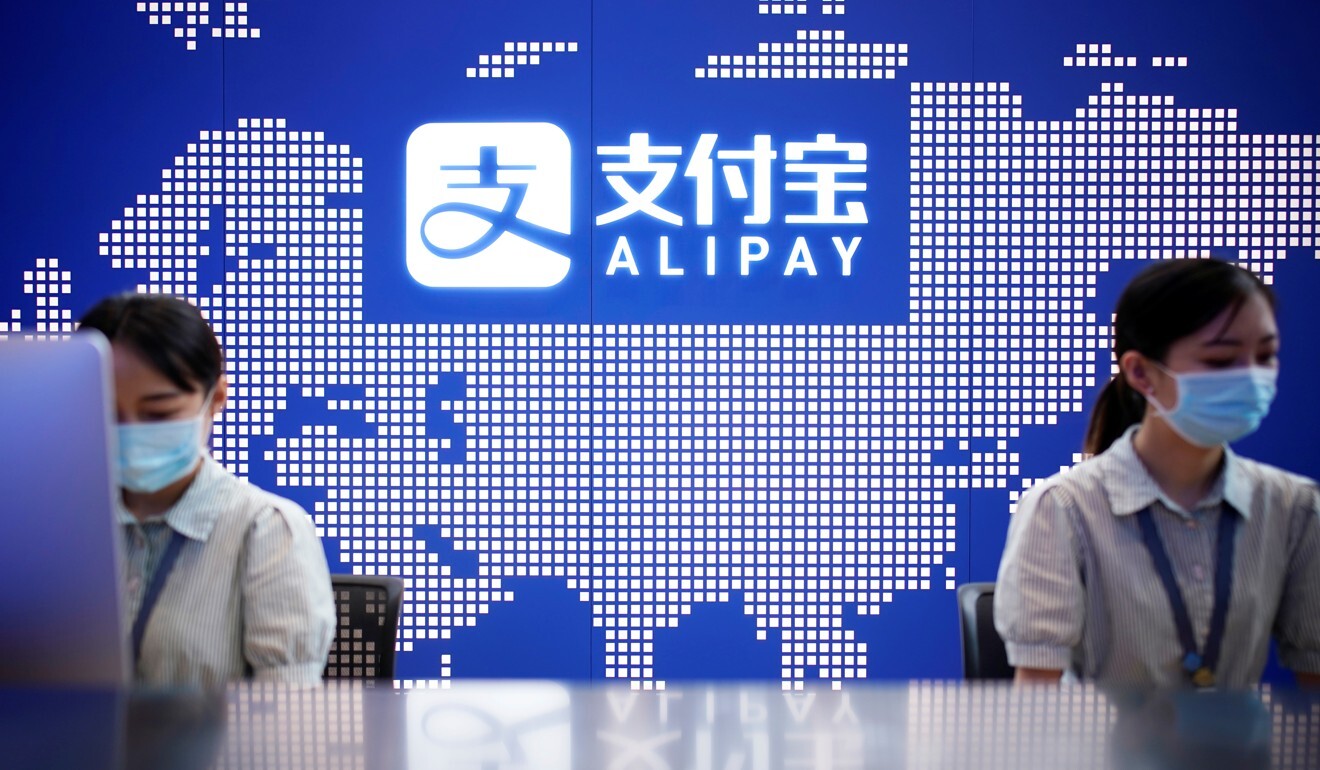 Major markets in Asia-Pacific all rose, with South Korea's Kospi index climbing 1.7 per cent for the biggest gain, as sentiment received a boost from news that the UK and the European Union are close to striking a deal as early as Thursday that will enable the island nation to pull out of the bloc. The agreement, which covers tariffs and quota-free trade, is expected after an outline was endorsed on Wednesday.
"The Brexit agreement will remove a perennial overhang on the market and its removal will take off a major uncertainty facing investors," said Wang Chen, a partner with Xufunds Investment Management in Shanghai. "In the short term, the investigation will chip away at Alibaba's growth as it can no longer take market share so quickly by undercutting smaller rivals. But the real impact may not be that big as expected."
AAC Technologies Holdings surged 7.1 per cent to HK$43.90 after it emerged that it plans to spin off its optics business and list it on the mainland. The stock was the best performer on the Hang Seng Index.
Shenzhou International Group Holdings and Galaxy Entertainment Group were also among the biggest gainers, rising at least 3 per cent.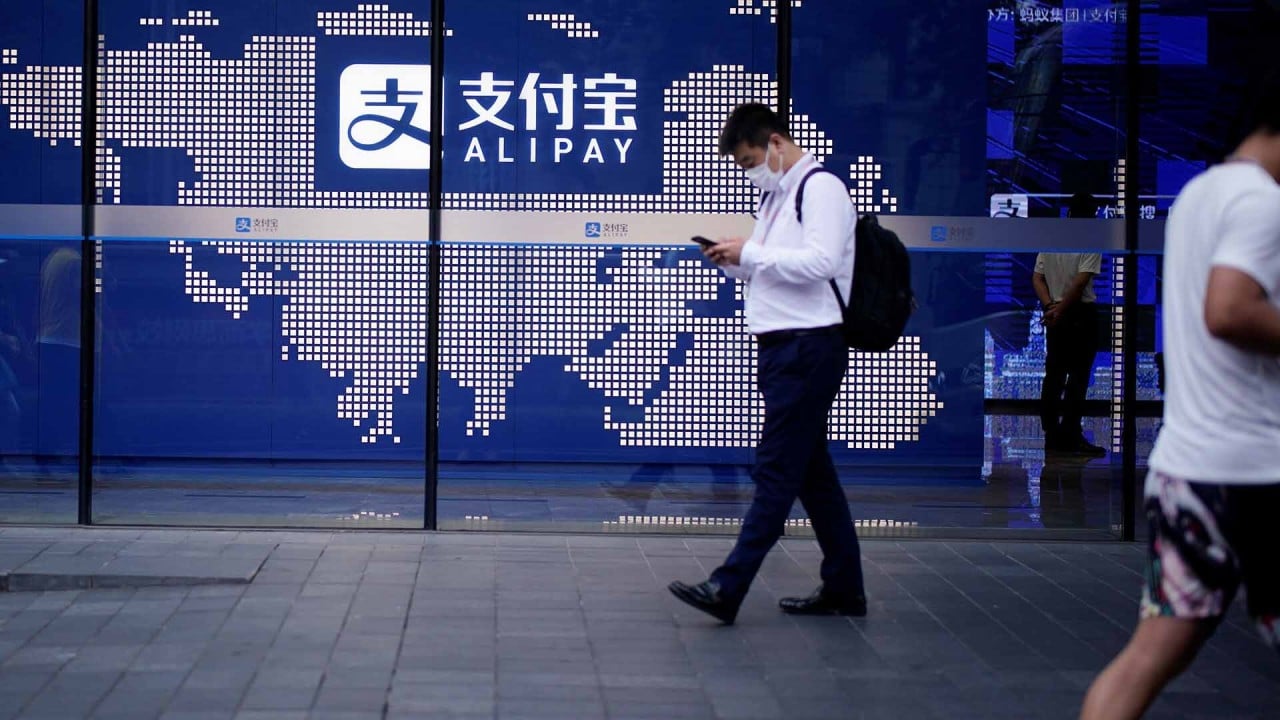 03:04
What is Jack Ma's Ant Group and how does it make money?
What is Jack Ma's Ant Group and how does it make money?
Alibaba finished 8.1 per cent lower at HK$228.20, capping the steepest loss in six weeks. Shares of related companies Alibaba Health Information Technology and Alibaba Pictures Group lost 11 per cent and 2.1 per cent, respectively, erasing a total of US$5.1 billion in combined market value.
The State Administration for Market Regulation recently started an
investigation for suspected monopolistic conducts
, such as allowing merchants to pick only one online platform for sales and distribution, the antitrust regulatory body said in a statement, without providing more details.
Separately, financial regulators including the central bank and banking watchdog will also summon affiliate Ant Group for a meeting in a sign of more stringent regulations governing the fintech industry.
"Alibaba will actively cooperate with the regulators on the investigation," the e-commerce juggernaut said in a statement. "Company business operations remain normal."
Fred Hu, the Hong Kong-based chairman of Primavera Capital Group, said that the global markets will be watching very closely to figure out if such actions are politically motivated or genuine impartial law enforcement, and whether the regulators are only targeting the private sector while leaving state monopolies intact.
"It would be a tragedy if the antitrust law should be seen as 'targeting' successful private tech companies only," Hu said.
Other tech stocks also fell. Tencent dropped 2.6 per cent to HK$556 and JD.com lost 2.3 per cent to HK$325.40. Meituan, China's biggest online platform for food delivery and ticketing, eased 2.7 per cent to HK$279.20.
The combined loss in market caps for the three tech companies, Alibaba and its two affiliates amounted to US$89 billion, equivalent to the capitalisation of Goldman Sachs or the economic output of Sri Lanka.
In the mainland, four companies made successful debuts. Crown Advanced Material, a maker of solar and lithium materials, was the best performer, surging 110 per cent from its initial public offering price to 33.28 yuan on Shanghai's Star Market.
Yeal Electric, a car parts maker, jumped 76 per cent to 49.86 yuan in Shenzhen and Jilin University Zhengyuan Information Technologies advanced 44 per cent to 16.23 yuan. Youcare Pharmaceutical Group saw the smallest gain, rising 30 per cent to 31.64 yuan in Shanghai.