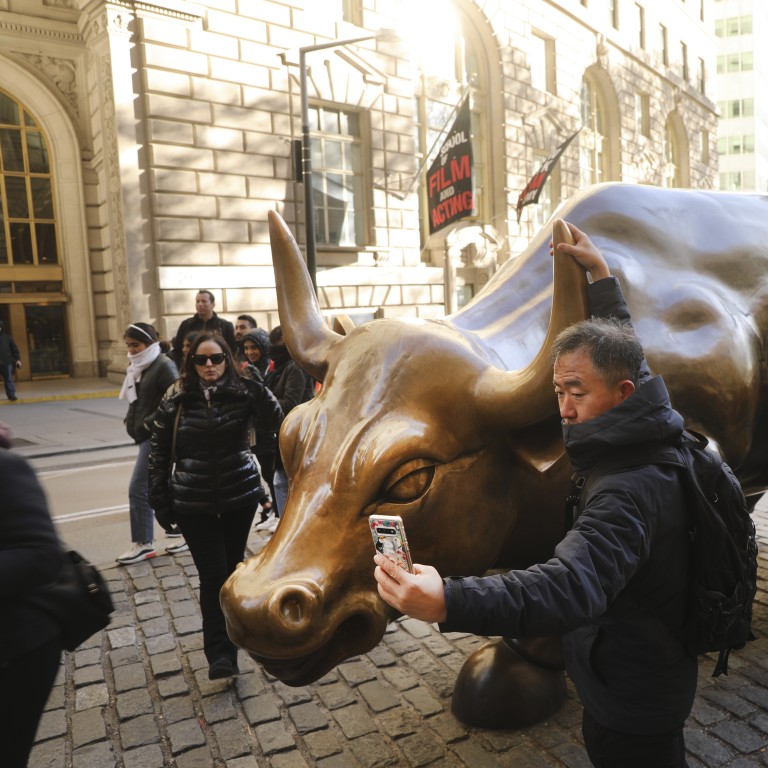 Hong Kong, China markets turn pandemic, sanctions, recession into a momentous year for technology, auto, liquor stocks
The Shanghai Composite Index completed its first back-to-back advance since 2015, ranked among the top major markets in Asia-Pacific
Global sentiment rose to a two-year high in December as risk appetite jumped, a State Street Research report shows
Investors sent
stocks
in mainland China and Hong Kong to a bullish ending in 2020, generating extraordinary gains from technology firms to car and liquor producers, in a year of unprecedented turmoil in financial markets.
Equities rallied in the face of the Covid-19 pandemic,
heightened trade war and sanctions
between the US and China, and deep recession in many major economies. China's quick containment, its swift economic rebound, and global
vaccine deployment
helped shore up sentiment. Policy stimulus elsewhere fuelled risk appetite.
The Shanghai Composite Index rose 1.7 per cent to 3,473.07 on the final day of trading in 2020, Thursday. This year's 13.9 per cent advance, plus 22.3 per cent in 2019, capped the market's first back-to-back winning streak since 2015.
The Shenzhen Component Index rose 1.9 per cent to 14,470.68 and the ChiNext board of start-ups surged 2.3 per cent to 2,966.26, both to record highs. They each climbed 39 and 65 per cent in 2020.
Mainland stocks ranked among the best performers in major Asia-Pacific markets,
a feather in the cap in its 30-year history
. South Korea's Kospi Index topped the league with a 30.8 per cent gain, while Japan's Nikkei 225 climbed 16 per cent and India's BSE Sensex advanced 15.7 per cent.
The Hang Seng Index ended the year with a 3.4 per cent loss at 27,231.13, following a 9.1 per cent gain in 2019. The market rallied hard in the final three months for its best quarter since mid-2009. The Hang Seng Tech Index, however, provided a better reflection as technology stocks surged 79 per cent on a year-to-date basis.
Technology providers profited from the pandemic as businesses and activities turned online during lockdowns and travel restrictions. Alibaba, the owner of this newspaper, gained 12.3 per cent, its advance restrained by domestic antitrust probes. Tencent soared 51 per cent while Meituan skyrocketed by 189 per cent.
Progress in vaccine trials and approvals buoyed market sentiment and sent global stocks to record highs, when several major economies rolled out massive vaccination.
Vaccination plans
in China also lifted stocks in catering and tourism sectors.
Among Thursday's biggest winners, Geely Auto surged 8.4 per cent to HK$26.50 and Brilliance China jumped 7.3 per cent to HK$7.06. Chip maker Semiconductor Manufacturing International Corp jumped 8.3 per cent in Hong Kong to HK$22.10 and 2.6 per cent in Shanghai to 57.94 yuan.
On mainland bourses, some
liquor producers scaled new highs
. Kweichow Moutai, the world's most valuable producer, inched closer to 2,000 yuan per share, added 3.6 per cent to 1,998 yuan, making its market cap at 2.51 trillion yuan. Wuliangye Yibin increased 1.7 per cent to 291.85 yuan.
Confidence among global investors rose to a two-year high in December, according to a report published by State Street Global Markets on Wednesday. Among others, the release of Covid-19 vaccines and prospects of a fresh US stimulus package, boosted optimism.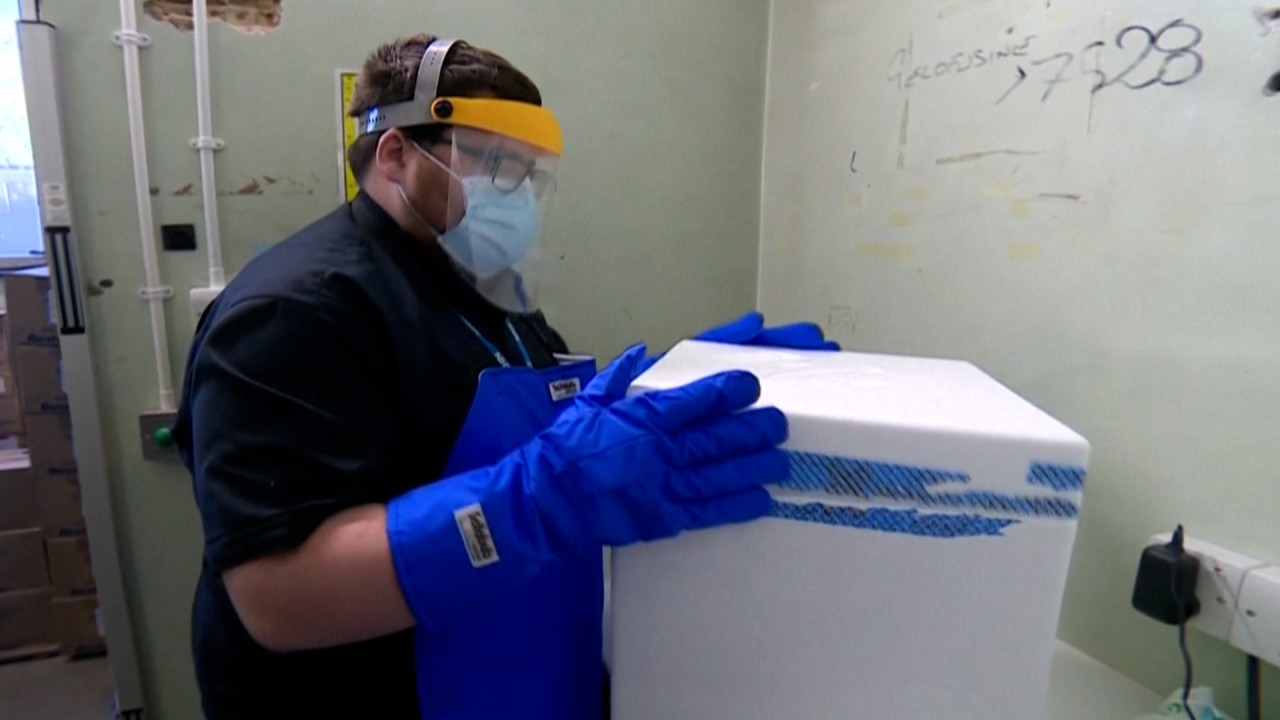 03:09
Coronavirus vaccines arrive at a UK hospital ahead of world's first national vaccine rollout
Coronavirus vaccines arrive at a UK hospital ahead of world's first national vaccine rollout
"We will need to see if the momentum persists into the new year as more data becomes available on the vaccines' overall effectiveness," Rajeev Bhargava, its head of investor behavior research said in a statement. December's reading suggests "we may be heading in the right direction."
Other reports this week showed growth in China's manufacturing and services sectors were sustained in December, efforts to deploy Covid-19 vaccines gained momentum, while China and the European Union concluded talks for an investment deal.
Britain approved the vaccine developed by AstraZeneca and Oxford University on Wednesday with the first shots due in January. Shanghai Fosun Pharmaceutical group is rushing a logistics plan for possible delivery of Pfizer-BioNTech jabs as early as January.
"Investors increasingly think that the pandemic can be controlled, based on the positive news about the vaccines," said Ernie Hon, research head at Essence International Securities. The Hang Seng Index may track gains in A shares in the first quarter next year as the momentum in China's economic recovery strengthens, he added.
This article appeared in the South China Morning Post print edition as: Shanghai among Asia's top stock markets in 2020