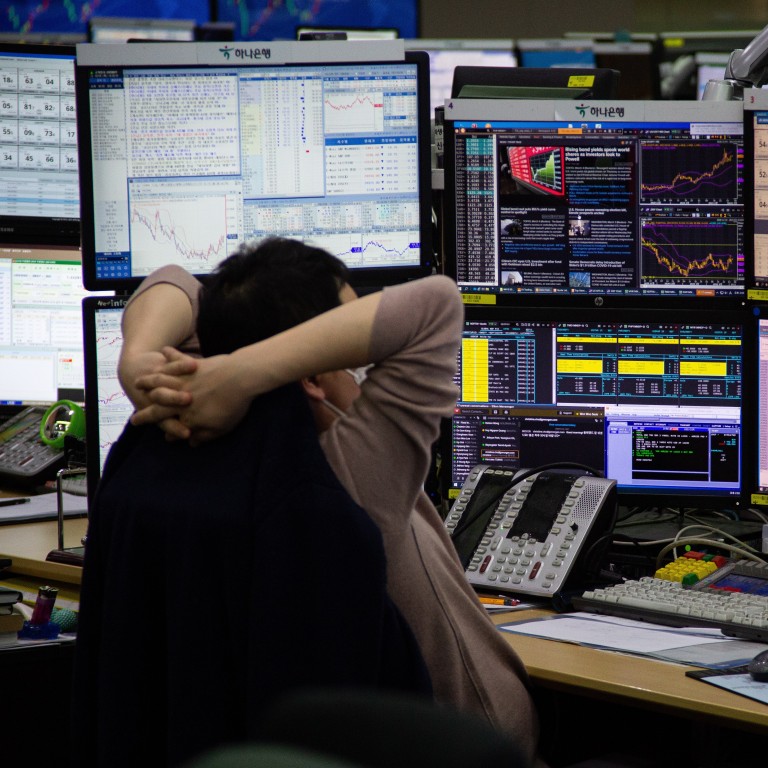 Hong Kong stocks slide as wave of Covid-19 cases spreads among city's bankers, expatriates
The Hang Seng Index fell 2.2 per cent, upending a three-day rally while benchmarks in mainland markets fluctuate near a two-month high
China is concerned about impact and fallout from the US$1.9 trillion US stimulus after raising bubble warning earlier this month
Hong Kong
stocks
slumped after the city's government logged higher Covid-19 cases as a super-spreader cluster emerged and affected a growing list of financial-market executives. Stocks in mainland China pared gains.
The Hang Seng Index tumbled 2.2 per cent to 28,739.72 at the close of trading, the most in two weeks. The benchmark fell 1.2 per cent for the week. The CSI 300 Index of the biggest stocks in Shanghai and Shenzhen gained 0.4 per cent. The gauge ended the week with a 2.2 per cent loss, a fourth straight week of setback.
Hong Kong was expecting about 60 new Covid-19 cases
on Friday, according to a source, with many linked to a "super-spreader" cluster at a popular fitness centre in the city. Precautionary measures have been tightened as one government adviser warned could herald the city's fifth wave of infections.
More than 240 people who visited
Ursus Fitness have been placed in quarantine
, after 17 customers and staff members tested positive in just two days, including some from within the expatriate community and forcing some international schools to shut down. The gym is said to be popular with bankers, lawyers and money managers in the city.
"Everyone expected the coronavirus situation in Hong Kong to stabilise. Now that we have seen a big cluster, investors are getting a bit concerned," said Stanley Chan, director of research at Emperor Securities. "Investors are more cautious as the markets have been quite volatile recently. They may be more inclined to reduce their exposure to the markets."
AIA Group led declines among Hang Seng Index blue chips, crashing by 5.3 per cent to HK$96. The value of new business fell 33 per cent last year, greater than market expectations, the insurer reported in its annual results. HSBC lost 2.4 per cent to HK$45.75 with financial stocks poorer by 2.7 per cent.
HSBC vacated a floor of its main building Thursday for deep cleaning after an employee tested preliminary positive, Bloomberg reported, citing an internal memo to staff. UBS Group told some staff to work from home after one tested positive. Goldman Sachs will return to adopting home and office teams, it added.
MTR Corp dropped 4.3 per cent to HK$46.65. The city's rail operator suffered
a record deficit of HK$4.8 billion
in 2020, saying fare rebates for commuters may be withdrawn. Xiaomi advanced 4.1 per cent, paring gains by half, after unveiling a HK$10 billion (US$1.3 billion) stock-buyback plan.
In Shanghai, China Tourism Group Duty Free rose 2.5 per cent to 309.41 yuan, while China Merchants Bank added 2.6 per cent to 53.32 yuan. Liquor distiller Kweichow Moutai fell 1.1 per cent to 2,026 yuan.
Wuhan LinControl Automotive Electronics, which manufactures automobile and motor parts and accessories, gained 65.1 per cent to 124.50 yuan from its listing price of 75.42 yuan in Shanghai.
The mixed outcome contrasted with a bullish turn in key markets in Asia-Pacific. Japan's Nikkei 225 rose 1.7 per cent, while South Korea's Kospi gained 1.4 per cent. Australia's S&P/ASX 200 added 0.8 per cent.
They rode on the momentum from overnight US rally that lifted the S&P 500 Index by 1 per cent to a new all-time high while technology stocks recouped further losses.
President Joe Biden
signed a US$1.9 trillion rescue package
into law on Thursday, nearly tripling the US government's stimulus spending since the Covid-19 outbreak. Some Chinese officials have described the rescue plan as a
"savage beast,"
repeating earlier warnings about asset bubbles in offshore markets.
Explainer | What's behind China's US$1.4 trillion stock rout. Is a bailout possible?

"The pullback is a healthy adjustment given the run-up in the market," said Hyomi Jie, portfolio manager at Fidelity International. "While in the short term we could see increased volatility, the long-term fundamentals in China, and notably the consumer theme, remain very much intact."
China wrapped up its "two sessions" political gathering on Thursday with Premier Li Keqiang defending its "super-low" growth target for 2021, saying the economy has room for "even faster" expansion and leeway to tackle "considerable uncertainty."
Before this week's rebound, stocks in Hong Kong, Shanghai and Shenzhen benchmark indices lost about US$1.4 trillion in market value following a sell-off from their record-highs on valuations and policy tightening concerns.
China's economy is still underpinned by strong growth and mutual fund investors globally are underweight China, so there remains a lot of opportunities to the upside in the longer-term for equity markets, Fidelity added.