Hong Kong stocks sink by most in 14 months as tech sell-off deepens after China unleashes new measures against Tencent, private education firms
Hang Seng Index tanked by most since May 2020 as tech wreckage leaves investors with huge losses; Chinese stocks suffer biggest slide since March
Education stocks plunge as China bans weekend and holiday lessons and halts new tuition centres; Tencent saw the biggest retreat in most in a decade
Hong Kong
stocks
sank by the most in 14 months as a sell-off in Chinese technology stocks persisted after China unleashed a round of regulatory tightening against private education companies. Tencent Holdings suffered the biggest sell-off in a decade after another punishment.
The Hang Seng Index plunged 4.1 per cent to 26,192.32 at the close of Monday trading, the most since May 22 last year. The gauge declined 3.8 per cent so far this year. The benchmark fell 2.7 per cent last week after a bunch of so-called education technology and tutoring firms crashed again, after losing as much as 41 per cent on Friday following a ban on for-profit lessons and classes.
The Hang Seng Tech Index crashed 6.6 per cent after losing 3 per cent on Friday, the gauge's worst back-to-back thrashing since November. Tencent tumbled 7.7 per cent, the most since a 9.3 per cent loss in October 2011, Bloomberg data showed. Meituan tumbled 14 per cent and Alibaba Health slid 11.5 per cent.
Stocks in mainland China markets also tanked, the CSI 300 Index of biggest stocks in Shenzhen and Shanghai closing 3.2 per cent off in the worst sell-off since March 8. The Shanghai Composite Index declined 2.3 per cent.
China issued
new orders over the weekend
in one of the biggest overhauls of the education sector, banning off-campus holiday and weekend tutoring and halting approvals for new tuition centres. It also separately ordered Tencent to stop its exclusive music licensing deals in another blow to the tech giant.
Koolearn Technology and New Oriental Education led another round of slump in Chinese education stocks as the shares plunged 34 per cent and 47 per cent respectively as JPMorgan slashed its price targets for both stocks, according to Bloomberg data. Both stocks lost US$3.4 billion combined in market value.
Analysts at
China International Capital Corp and Citic Securities
warned of further correction and losses.
"The regulation is getting increasingly tighter, it will be hard for these companies' profit to grow," said Castor Pang, head of research at investment services firm Core Pacific-Yamaichi. "Investors are concerned that the tightening of regulation could be spread to other industries, so they are relatively pessimistic on the market in the short term."
Other edu-tech firms also saw a huge beating. Scholar Education and China New Higher Education both slumped by 45 per cent and 12 per cent respectively, adding to at least US$5.8 billion sell-off of peers on Friday. In mainland markets, Offcn Education Technology, Beijing Kaiwen Education and XueDa XiaMen Education plunging by the daily cap of 10 per cent limit.
The clampdown has prompted some of the
world's biggest money managers
including BlackRock and UBS Wealth Management to step up their short-term defences against new and unexpected policy changes involving internet-platform companies.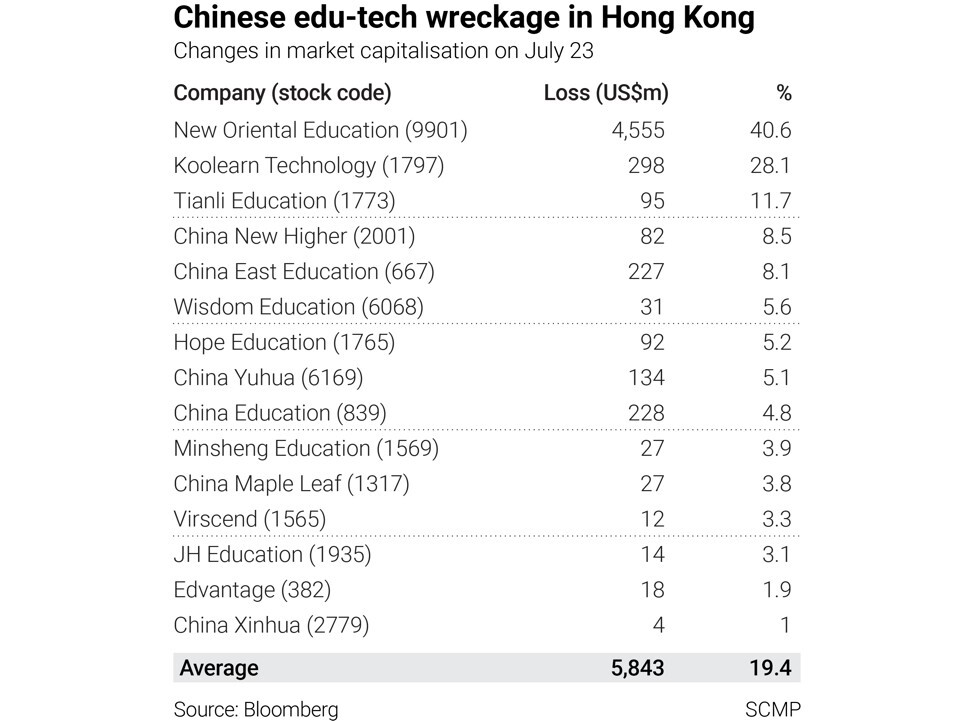 "We do not rule out the possibility that if the policy headwind continues, downside to fair values are possible," Jenny Tsai, senior equity analyst at Morningstar, said in a report. "In the worst-case scenario, we would expect further industry consolidation, with more players exiting the market."
The 30-member Hang Seng Tech Index has lost more than US$600 billion of market value since the gauge peaked in mid-February under the relentless clampdown by regulatory hawks in Beijing. The index has lost 16 per cent since its peak in mid-February, and last week fell
Elsewhere, Chinese hotpot chain Haidilao tumbled 16.7 per cent to HK$34.70 after its interim earnings missed the expectations of the management because of higher operating expenses and slower payback and return on investment.
Additional reporting by Zhang Shidong
This article appeared in the South China Morning Post print edition as: HK stocks decline most in 14 months