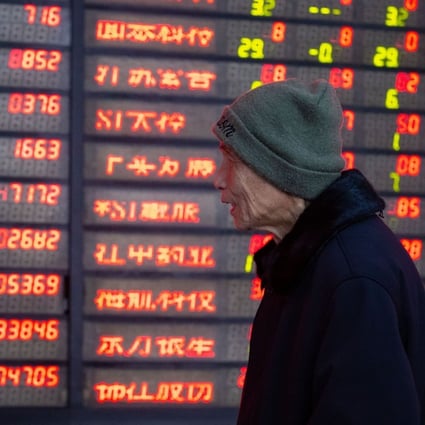 Offshore investors, stunned by the extent of China's punitive regulatory onslaught, are fleeing the mainland markets at their fastest clip in a year. Photo: Xinhua
Global investors dump Chinese stocks by the most in a year amid US$557 billion market meltdown
Offshore investors sold US$2 billion worth of mainland stocks on Monday in the biggest one-day pullback in a year
Chinese and tech stocks slumped after policy tightening took a sudden turn for the worse in latest attack on private education firms
Offshore investors, stunned by the extent of China's punitive regulatory onslaught, are fleeing the mainland markets at their fastest clip in a year. Photo: Xinhua
Offshore investors, stunned by the extent of China's punitive regulatory onslaught, are fleeing the
They were net sellers of 12.8 billion yuan (US$2 billion) worth of A shares on Monday, according to Stock Connect data in Hong Kong compiled by Bloomberg. Their disposal is the largest since a 16.4 billion yuan retreat via the trading link's northbound channel on July 24 last year.
Since foiling Ant Group's jumbo stock offering in November on antitrust grounds, regulatory hawks in Beijing have sent the technology sector into a tailspin. The latest attack on private education firms lopped off US$294 billion from the onshore market on Monday.
The 30-member Hang Seng Tech Index,
"People had expected the direction of upcoming regulations, but it has turned out to be far tighter than expected," said Alan Li, portfolio manager at Atta Capital in Hong Kong. "So it's understandable, no matter if people are limiting losses or are selling out of fear."
The CSI 300 Index, a gauge of the biggest stocks traded in Shanghai and Shenzhen, slumped 3.2 per cent on Monday in its biggest sell-off since March 8. The Hang Seng Index lost 4.1 per cent, the most in 14 months, while the technology gauge tanked 6.6 per cent.
Three stocks bore the brunt of selling by offshore investors. They sold 1 billion yuan worth of stocks in electronic component producer BOE Technology Group, 881 million yuan in home appliances giant Midea Group and 594 million yuan in East Money Information.
Monday's selling has knocked back net inflows this month to just under 406 million yuan. That is still a tiny dent in the cumulative buying spree this year of 224 billion yuan, according to stock exchange data. Over the course of the past 12 months, net purchases amounted to 300 billion yuan.
For now, China appears to be less concerned about steep market losses amid a bigger pursuit of steadying the economy and getting its house in order by taming the influence of its technology billionaires.
"Policymakers are looking at the broader picture, focusing policy encouragement on population growth, self-sufficiency and an innovation driven and sustainable development paradigm," said Bruce Pang, head of strategy and macro research at China Renaissance Securities. They aim to "curb potential risks and income inequality", he added.