A-shares
Get more with myNEWS
A personalised news feed of stories that matter to you
Learn more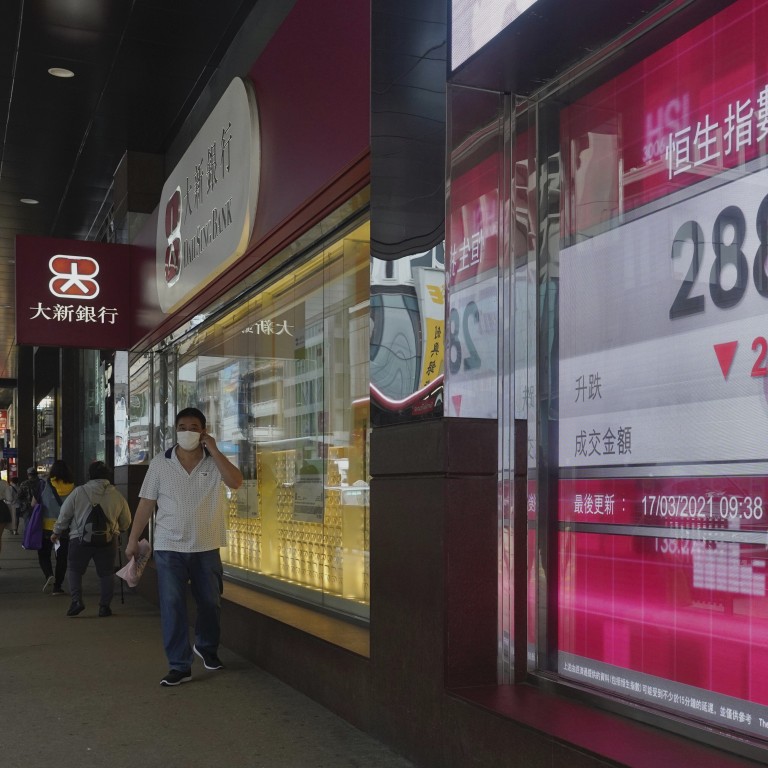 Hong Kong stocks slip as attack on online gaming 'opium and drugs' slams Tencent, NetEase while market awaits Alibaba earnings
Tencent's market value has crashed by US$415 billion from its February peak, about the capitalisation of Louis Vuitton owner LVMH
Mainland investors were net sellers of Hong Kong stocks for 12 consecutive days through midday Tuesday, Stock Connect shows
Hong Kong
stocks
declined after a publication run by the Xinhua News Agency slammed internet gaming addiction, heightening concerns that the industry could become the next target of Beijing's regulatory wrath. Losses narrowed after the daily pulled the article.
The Hang Seng Index dropped 0.2 per cent to 26,194.82, after losing as much as 1.8 per cent. Gaming operators Tencent Holdings and NetEase tumbled by at least 6 per cent, among the market's worst performers. Alibaba Group Holding erased losses before its quarterly earnings report. China's Shanghai Composite Index lost 0.5 per cent.
Traders scrambled to unwind their holdings of gaming stocks after the
Economic Information Daily
, a newspaper of state-run Xinhua, blasted addiction among children to online games, likening them to "spiritual opium" and "electronic drugs" and
singled out Honour of Kings,
Tencent's top-grossing and most popular games.
The Hang Seng Index recouped some of the earlier setbacks after the daily retracted the article from its website and WeChat account on speculation it did not represent the official view of the government.
The controversy added to jitters around Beijing's regulatory storm, which provoked a
US$1.2 trillion wipeout in market value
in July. Beijing last month tackled the after-school tutoring industry after earlier trampling on technology firms. Policymakers have pointed to expensive property prices, tutoring fees and medical expenses as the major financial burdens on families.
"The uncertainty surrounding Chinese tech firms will remain high in the near term," said Aleksey Mironenko, managing director at The Capital Company. "Investors' anxiety on regulatory uncertainty will mean that the required risk premium on Chinese stocks is now higher. The authorities will have to clarify their true intentions to win back market confidence."
Tencent slumped 6.1 per cent to HK$446, erasing US$60 billion of market value. The firm's capitalisation has shrunk by US$415 billion from its February peak, an amount equivalent to the size of LVMH, the owner of the French luxury brand Louis Vuitton.
NetEase, a video game developer, crashed 12 per cent to HK$145.90. Meituan, which is under the government's antitrust probe, fell 2 per cent to HK$211.60.
Mainland Chinese traders dumped HK$3.7 billion (US$481 million) worth of Hong Kong-listed stocks for a 12-day net-selling streak by midday Tuesday, according to the Stock Connect southbound trading links compiled by Bloomberg. Last month, they sold HK$63.5 billion of stocks, the first monthly retreat since March.
"The regulatory clampdown is likely to go on for years, yet its intensity will fluctuate," BlackRock, the world's biggest money manager, said in a report. "China's leadership sees regulatory tightening in sectors such as tutoring and technology as necessary to rein in the industries that have been rapidly growing and lightly regulated, which has led to concerns about control of data, inequality, and the rising costs of education, housing and health care."
Elsewhere, Alibaba added 0.8 per cent to HK$193.50. The owner of this newspaper may offer investors a clue on how Beijing's clampdown will erode corporate earnings. Net income for the quarter probably declined 4.4 per cent from a year earlier, according to the estimate of analysts surveyed by Bloomberg.
Standard Chartered rose 0.6 per cent to HK$47.75. The lender said that net income more than doubled in the second quarter, beating estimates. It also announced an interim dividend of 3 US cents a share and a share buy-back plan worth US$250 million.
Other major markets in Asia all headed south except Taiwan following an overnight pullback in US stocks, where declining Treasury yields added to concern that the economic recovery will lose traction.