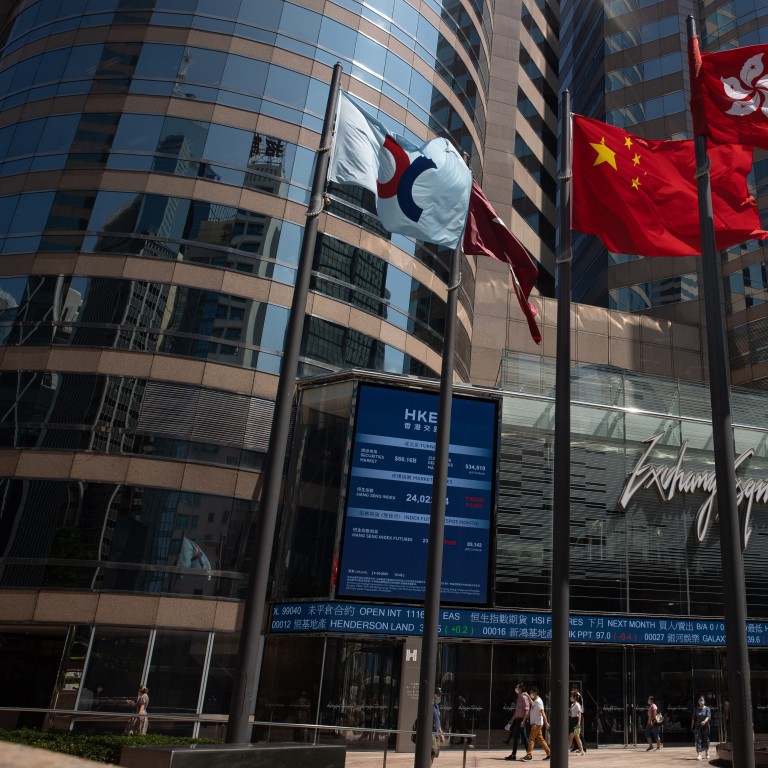 China stocks erase losses on policy easing bets while Hong Kong cancels trading due to typhoon Kompasu warning
Stocks advanced for the first time this week as consumer companies attract buyers on valuations appeal
Financial markets in Hong Kong were closed because of typhoon Kompasu, and will also be shut on Thursday for a public holiday
Stocks in mainland China
rose for the first time this week as consumer companies attracted buyers on valuation appeal and traders bet even as traders bet the government will loosen policies to counter an economic slowdown. 
The Shanghai Composite Index added 0.4 per cent to 3,561.76 at the close, reversing an earlier loss of as much as 0.9 per cent. The CSI 300 Index, which tracks the biggest companies on the Shanghai and Shenzhen bourses, jumped 1.2 per cent.
Hong Kong cancelled trading because of typhoon Kompasu warning, and will remain shut on Thursday for a public holiday.
Liquor distiller Luzhou Laojiao paced gains among consumer stocks, providing the biggest push to the broader market. Offcn Education Technology surged by the 10 per cent daily cap to lead the pack of vocational education tutors after the State Council encouraged listed companies to engage in the industry.
03:17
Scaffolding collapses as heavy wind and rains lash Hong Kong amid typhoon warning
Scaffolding collapses as heavy wind and rains lash Hong Kong amid typhoon warning
China's September data foreign trade data offered a mixed picture, with exports rising by faster-than-estimated 28.1 per cent and imports growing 17.6 per cent that trailed projections. BlackRock, the world's biggest money manager, said this week that
China can no longer ignore slowdown signs
without easing policies.
"Both numbers [on imports and exports] need to perform though, or else the China slowdown gremlins will win the day," said Jeffrey Halley, an analyst at Oanda. "The governments "shared prosperity" drive will continue to be a headwind for China equities going forward."
A gauge of consumer staple stocks on the CSI 300 surged 3.1 per cent, making it the best performer among all the 10 industry groups, after valuations fell close to a five-year low of 23 times estimated earnings, according to Bloomberg data. Luzhou Laojiao surged 5.8 per cent while Shanxi Xinghuacun Fen Wine and Kweichow Moutai gained at least 3.2 per cent.
Stocks opened for trading on weaker footing after energy producers from oil to coal stocks slid as an energy crunch receded, with top officials in Beijing calling for more power supply to meet industry demand. China Shenhua Energy, Shaanxi Coal Industry and PetroChina slumped at least 3.2 per cent.
Springsnow Food Group, a maker of chicken products based in the east province of Shandong, jumped by the 44 per cent daily limit from its initial public offering price to 16.99 yuan on the first day of trading in Shanghai.
Most major markets in Asia retreated, with that in South Korea being the only gainer in the region. US stocks also fell overnight as traders waited for the start of the corporate earnings report season.