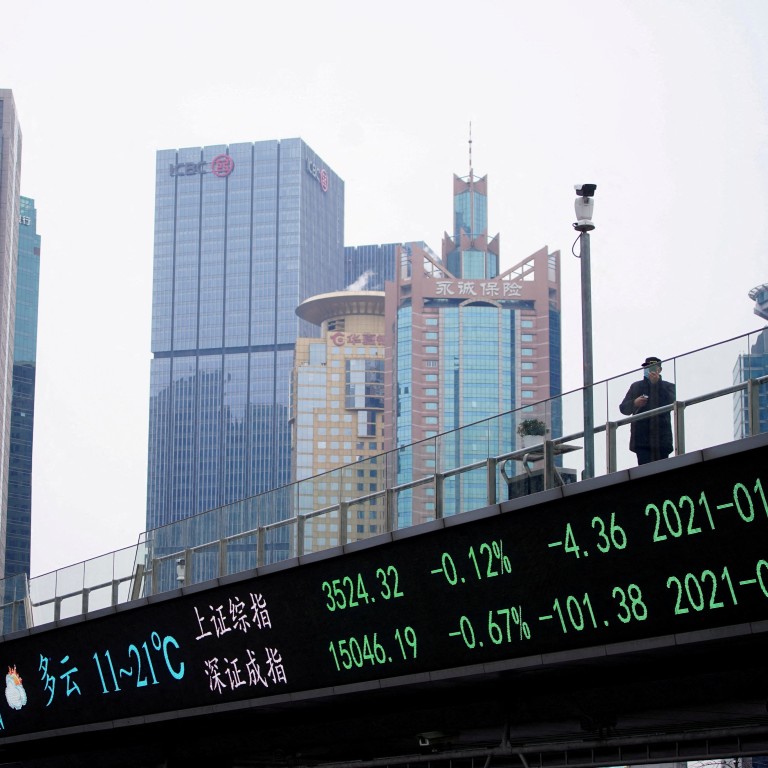 JD.com, Tencent drag Hong Kong stocks as China slowdown dents earnings, BlackRock cuts view on market outlook
Alibaba, Tencent, JD.com led losses as Covid-induced lockdowns hit corporate earnings
Money managers at BlackRock predicted more downside to China economy after downgrading views on local, developed market stocks
Hong Kong
stocks
fell for the second day as investors braced for more signs of weaker corporate earnings from tech companies, while China's Covid-induced slowdown forced more strategists to turn cautious on the economy and equities.
The Hang Seng Index declined 1.8 per cent to 20,112.10 at the close of Tuesday trading, its first back-to-back losses in two weeks. The Tech Index retreated 3.5 per cent, while the Shanghai Composite Index fell 2.4 per cent.
Alibaba Group Holding slipped 1.8 per cent to HK$83.60 and JD.com slumped 5.3 per cent to HK$201.60. Tencent Holdings dropped 2.6 per cent to HK$338 after Barclays downgraded its US-listed shares, citing stalling growth in key businesses.
"We expect China's deteriorating economic outlook to be a drag on global growth and we think consensus forecasts for China's 2022 GDP growth are likely to get revised down," global strategists including Wei Li at BlackRock wrote on Monday.
Video-sharing platform Kuaishou and online gaming group NetEase are set to announce their quarterly results on Tuesday. Kuaishou fell 3.9 per cent to HK$63.35. NetEase weakened 1.9 per cent to HK$151 after first-quarter profit stalled at 4.4 billion yuan versus a year earlier.
Separately, Chinese electric-vehicle start-up XPeng slumped 9.1 per cent to HK$82.55. Net loss widened to 1.7 billion yuan (US$255 million) from 786.6 million yuan a year earlier and was slightly worse than analysts' estimate of 1.67 billion yuan.
Economists including those at Goldman Sachs, UBS and JPMorgan have trimmed their growth forecasts for China this year as the cost of Covid-19 lockdowns snowballed. BlackRock, the world's biggest money manager, downgraded its view on China and developed markets stocks this month.
Goldman cut its forecast to 4 per cent from 4.5 per cent, while UBS lowered its full-year target to 3 per cent from 4.2 per cent, citing the impact of zero-Covid policy, according to Bloomberg data.
Two stocks started trading in Shenzhen. Chongqing Yuxin Pingrui Electronic Co surged 115 per cent to 55.09 yuan, while Hubei DOTI Micro Technology Co soared 83 per cent to 41.96 yuan.