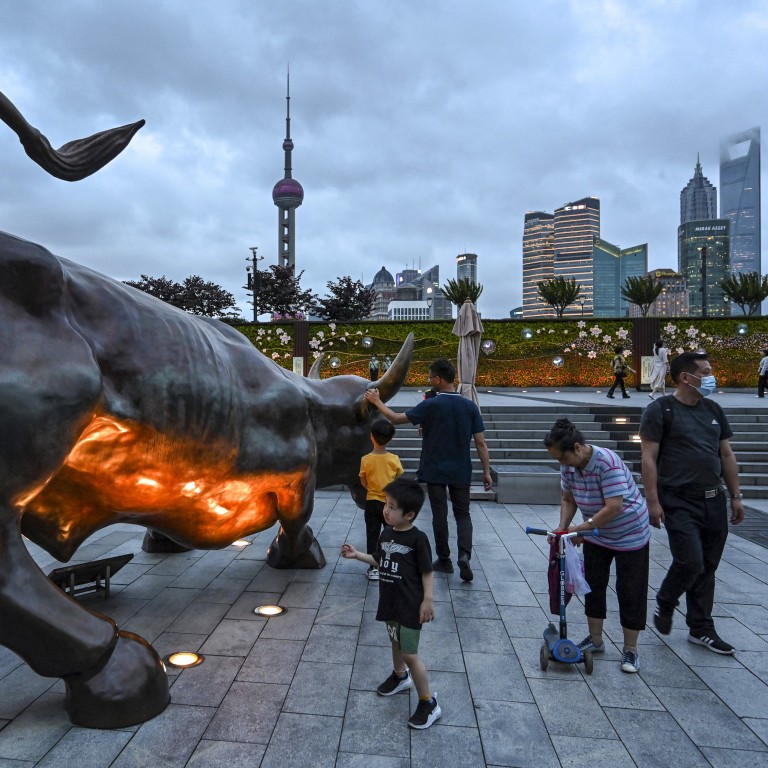 China-focused funds reload Alibaba, JD.com stocks to defy 'uninvestable' tag as Goldman's worst-is-over view gains traction
Funds managed by Fidelity, Amundi and BlackRock have been picking up Chinese tech stocks before and during the March storm
Stock selection is a dominant driver for performance for the rest of the year and performance is likely to be earnings-led, Fidelity says
Chinese
tech stocks
in Hong Kong are coming back with a vengeance after being abandoned as "uninvestable" three months ago. Any sell-off may open another window of opportunity as Citigroup became the latest to join the bullish camp.
Funds run by the world's biggest money managers including BlackRock, Amundi SA, JPMorgan and Fidelity have profited by picking up tech stocks in Hong Kong during the March storm and riding the rebound from there, according to fund data. Goldman Sachs said the March low likely marked the market bottom, given historical precedents.
The Hang Seng Tech Index has risen 34 per cent from a multi-year low on March 15, adding back US$397 billion of market value and helping these funds trim their year-to-date losses. Investors should be looking at the brighter side ahead, according to Citigroup, which turned overweight on Chinese stocks on June 10.
"Much regulatory risk has already crystallised" with the digital economy being endorsed by policymakers, Pierre Lau, the US bank's China equity strategist in Hong Kong, said on June 17. "Markets seem to be able to forecast their earnings, we have high predictability and a better idea of their intrinsic value."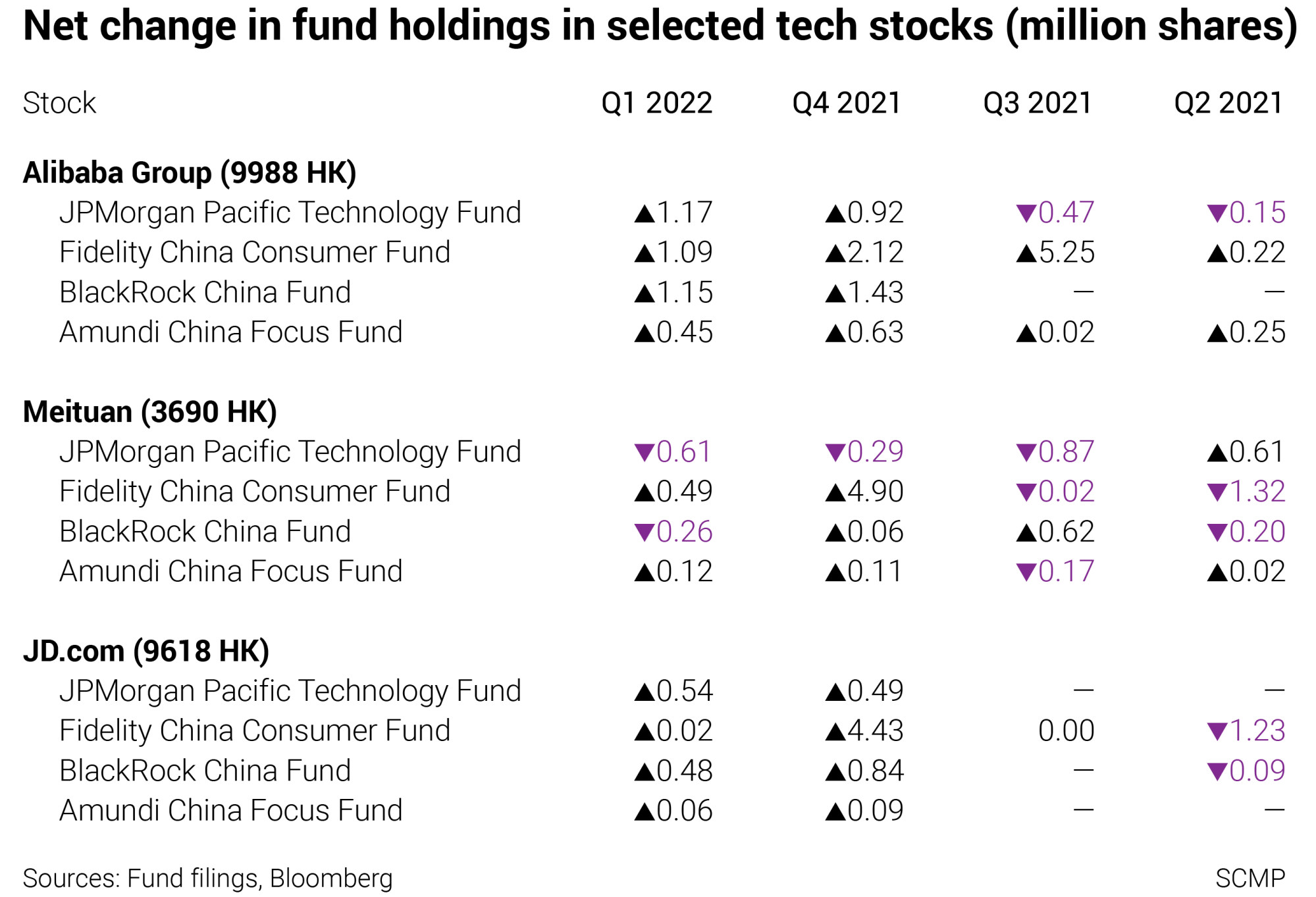 Fidelity's US$4.3 billion China Consumer Fund added 1 million Alibaba shares in the first quarter, adding to purchases in the preceding three quarters. Managed by Hyomi Jie, the fund made Alibaba the second-largest bet with 7.6 per cent of net assets, according to its May 31 fund fact sheet.
"China's latest set of policy-easing measures signals more stimulus is likely," Catherine Yeung, investment director in Hong Kong at Fidelity, said in an email comment. Fidelity's China fund metrics "clearly reflect the strong income angle that is on offer at attractive valuation levels."
At Amundi, Nicholas McConway has been topping up his US$638 million China Equity Fund with Alibaba in each of the past four quarters, according to Bloomberg data, while also loading up Meituan and JD.com along the way.
The US$1.2 billion BlackRock China Fund, managed by Lucy Liu and Nicholas Chui, added 1.2 million of Alibaba shares in the most-recent filing on April 30. The stock was its biggest bet with a 9.7 per cent weight at the end of May, according to the fund fact sheet. They also added JD.com.
The US$987 million JPMorgan Pacific Technology Fund, managed by Oliver Cox and Joanna Kwok, added Alibaba and JD.com in the preceding two quarters, according to data compiled by Bloomberg.
The turnaround since March is a major feat given the citywide lockdown in Shanghai through late May, and the turmoil in global risk assets induced by rate increases in the US and other developed markets. JPMorgan analysts last month
reversed their "uninvestable" call
on China's internet sector, while other more cautious ones have taken a
speculative punt.
Alibaba, the owner of this newspaper, has jumped 47 per cent from the lowest point of HK$71.25 on March 15. The stock carried a 6.5 per cent weight in the Hang Seng Index, making it the fifth biggest index constituent. JD.com surged 61 per cent while Meituan rallied 88 per cent over the same period.
Still, the post-March spike has not gone far enough to overturn the deficit incurred by the China-focused funds this year. Amundi's China Equity Fund is still 9.2 per cent below the level at the start of the year, while the BlackRock China Fund narrowed its setback to 22 per cent.
Fidelity's China Consumer Fund managed to reduce its loss to about 17 per cent, while JPMorgan's US$987 million Pacific Technology Fund is 31 per cent under water. Benchmarks tracking Chinese tech stocks in Hong Kong and New York are 17 per cent in the red this year, while the MSCI China Index is 15 per cent poorer.
The March-to-June rebound has not been all too surprising given the beaten-down valuations, for Alexandre Tavazzi, head of CIO office and macro research at Pictet Wealth Management. The question is whether it will be sustainable or not.
"Do we have actual numbers that allow us to think that on the earnings side, the worst is over," he said at a media briefing on June 8. "You need to have the Q2 numbers, where we have the largest of Covid lockdowns on company earnings."
Undemanding valuations are still a magnet for Chinese tech stocks, according to Lau at Citigroup. The 30-member Hang Seng Tech Index trades at about 11 times current price-earnings multiple, versus 38 times when the market peaked in February 2021. Members of the Nasdaq Composite Index fetched 35 times.
Chinese onshore and offshore firms have reported an average 2 per cent gain in earnings last quarter, Goldman Sachs estimated late last month. It trailed consensus forecasts for an 8 per cent gain among MSCI China Index members, it added.
"Stock selection is a dominant driver for performance for the rest of the year and performance is likely to be earnings-led," Fidelity's Yeung added. "Thus, in this kind of market environment, earnings visibility will be rewarded by the market."