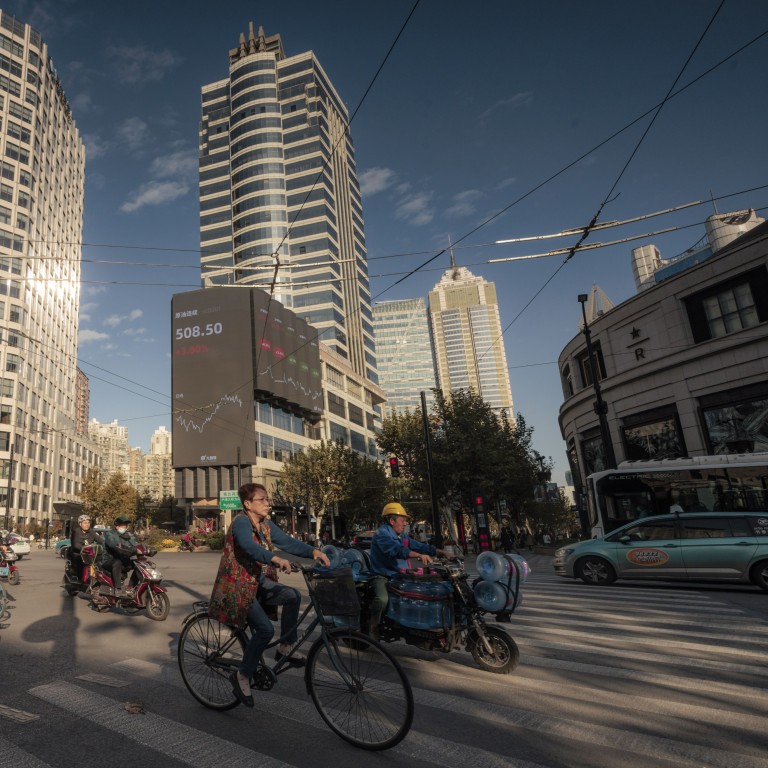 Not too late to chase Chinese stocks 'still near the bottom' for Credit Suisse as others fret about zero-Covid pain
MSCI China Index has risen 6.2 per cent in June, the best month since January 2021, while the CSI 300 is 2 per cent away from bull-market territory
`The fish is still close to the bottom' despite recent sharp rebound, says Jack Siu, Greater China chief investment officer Credit Suisse
More investors are looking at
Chinese equities
in a positive light, with the benchmark MSCI China Index clinching its best month since January 2021. Better regulatory signals and tweaks to Beijing's zero-Covid policy will be key to sustaining the recovery, strategists said.
China made some changes to its anti-pandemic curbs late last month by shortening quarantine days, while
restrictions on intercity travel were also relaxed
. Authorities have also highlighted the role of fintech and internet-platform companies in supporting recovery efforts, giving tech stocks a shot in the arm.
Market bulls were rewarded for picking up the pieces as the MSCI China Index strengthened 5.7 per cent in June, the most in 17 months. Global stocks lost 8.6 per cent, the worst since March 2020, and slipped into a bear market. While the rebound has added US$700 billion of market capitalisation, it's still not too late to join the party, according to Credit Suisse, which re-entered the market right after the mid-March rout.
"The reality is with the market already down some 60 to 70 per cent, depending on the index you use, the fish is still close to the bottom," Jack Siu, Greater China chief investment officer at the Swiss investment bank, said on June 29. "We are still at a level where we do not think these stocks are expensive."
The MSCI China Index,
which tracks 739 stocks listed at home and abroad
, currently trades at 11.4 times price-earnings multiple, according to data compiled by Goldman Sachs, compared with a five-year historical average of 15 times. The US bank forecast the index to climb by about 13 per cent by year-end while the CSI 300 has 11 per cent upside.
While the Chinese economy seems to have bottomed, demand recovery will be gradual and bumpy in the second half, weighed by rolling lockdowns and a struggling housing market, Barclays. The UK bank last month slashed its 2022 growth forecast to 3.3 per cent from 4.5 per cent, against China's official target of around 5.5 per cent.
"Any strong rebound in consumption will be weighed down by elevated unemployment and slower household income growth," economists including Zhou Yinke said in a report last week.
Other speed bumps could come in the form of potential profit warnings from companies in July and more measures to accelerate the delisting of Chinese companies from US stock exchanges, according to Julius Baer.
"The market rebound will be bumpy, because the fundamental recovery is likely to be gradual," said Richard Tang, Asia equity analyst at the Swiss private bank.
JPMorgan Private Bank expects a 1 to 6 per cent downside for the MSCI China Index by year-end, according to its June 27 report. As long as Covid exists and as long as China is pursuing zero-Covid, "weak consumer sentiment and weak business investment are our base case," strategists including Alex Wolf said.
So far, investors are putting more cash to chase the market. Mainland investors were net buyers of HK$128.9 billion (US$16.4 billion) of Hong Kong-listed stocks since the Hang Seng Index hit a six-year low on March 15. Foreign investors separately loaded up 99.5 billion yuan (US$14.8 billion) of onshore stocks over the same period, driving the CSI 300 Index within about 2 per cent of a bull market.
Investors will look to more pandemic-easing steps and measured easing in monetary policy to draw more funds back into the market.
"The fish is a feet away from the bottom of the sea after the rebound, and I feel the fundamental recovery is still ongoing in the internet sector and in the new energy sector," Siu at Credit Suisse said. "It's not too late to get into the market."
Additional reporting by Zhang Shidong