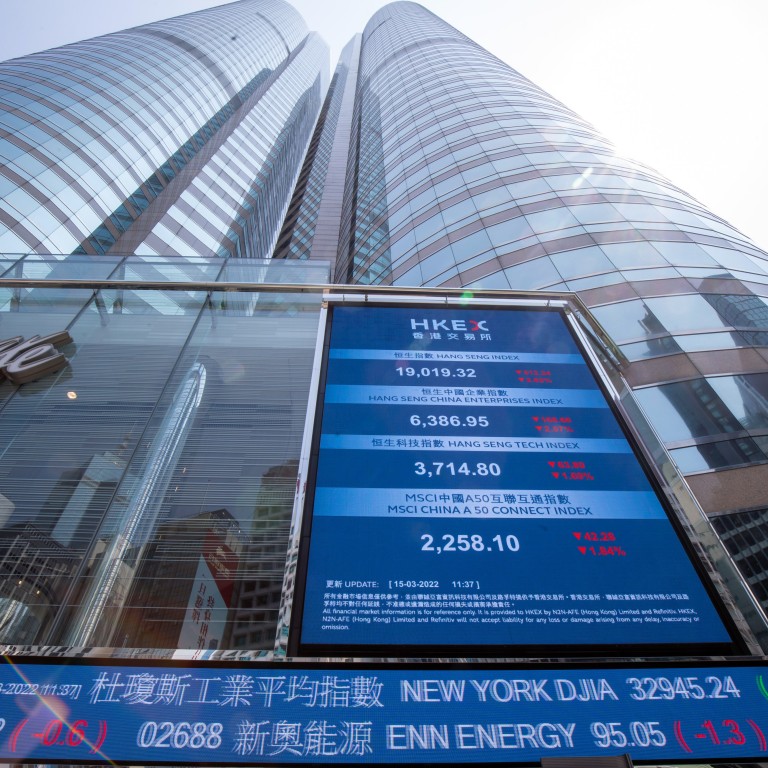 Hong Kong-listed firms from Tencent to SenseTime push stock buy-backs to new heights to defend valuations
Tencent, SenseTime and banks are among the most active companies conducting stock repurchases as valuations sink to near decade-low
The pace of buy-backs may slow as the Fed continues to raise its key interest rate and mainland developers preserve their precious liquidity
Hong Kong-listed firms from Tencent Holdings to SenseTime Group are pushing
stock buy-backs
in the city to a 10-year high after a rocky start to the year as valuations slid to near their lowest in a decade.
Those repurchases have amounted to HK$39.5 billion (US$5.03 billion) this year through July 21, according to data from Wind Information. That has already surpassed the US$5 billion recorded in all of 2021, the most since 2011.
The Hang Seng Index has lost almost 12 per cent in value in volatile trading this year, including a mid-March rout that pushed the benchmark index to the lowest level since February 2016. The 69 index members are trading at an average price-earnings multiple of 7.6 times, near a decade-low, and the second-cheapest among major global markets.
"The general view is valuation in the equity market has declined sharply in the first half, and companies may see this as an opportune time to buy back their shares," Michael Wu, a senior equity analyst at Morningstar, said in an email. They are not limited to any particular sector, he added.
Stock buy-backs are typically deemed a price-support mechanism because of extreme undervaluation or a lack of investment options to deploy excess cash. Strong buy-backs tend to precede positive index returns, strategists at Goldman Sachs wrote in February, noting a similar trend among mainland-listed companies.
More than 60 companies have bought back HK$7.25 billion of their own shares so far this month, a 40 per cent increase over the same period in June. Tencent, SenseTime, Pop Mart and Country Garden Services are among the most active, according to Shanghai Securities News, which earlier reported the buy-backs citing Wind data. Banks like HSBC and Standard Chartered have also got in on the act.
SenseTime, China's biggest artificial intelligence service provider, repurchased 6.7 million shares on July 19, according to an exchange filing. A lock-up period
expired
earlier this month, allowing some investors to sell and plunging the stock 46 per cent below its initial public offering price.
Country Garden Services, which offers property management services, announced on July 15 a plan to buy back up to 10 per cent of its stock. Its shares have slumped more than 20 per cent amid a property market crisis as home mainland homebuyers boycotted mortgage payments.
Still, the pace of buy-backs in Hong Kong is likely to slow as the Federal Reserve increases its key interest rate, which could hit growth and tech shares, according to Brock Silvers, chief investment officer at Kaiyuan Capital in Hong Kong. Mainland developers especially are unlikely candidates, given the tight liquidity conditions.
"Buy-backs usually occur when management places a higher value on a company's shares than does the market," he added. "In HK, the primary cause seems to be poor market performance. This has been particularly evident with Chinese tech shares."