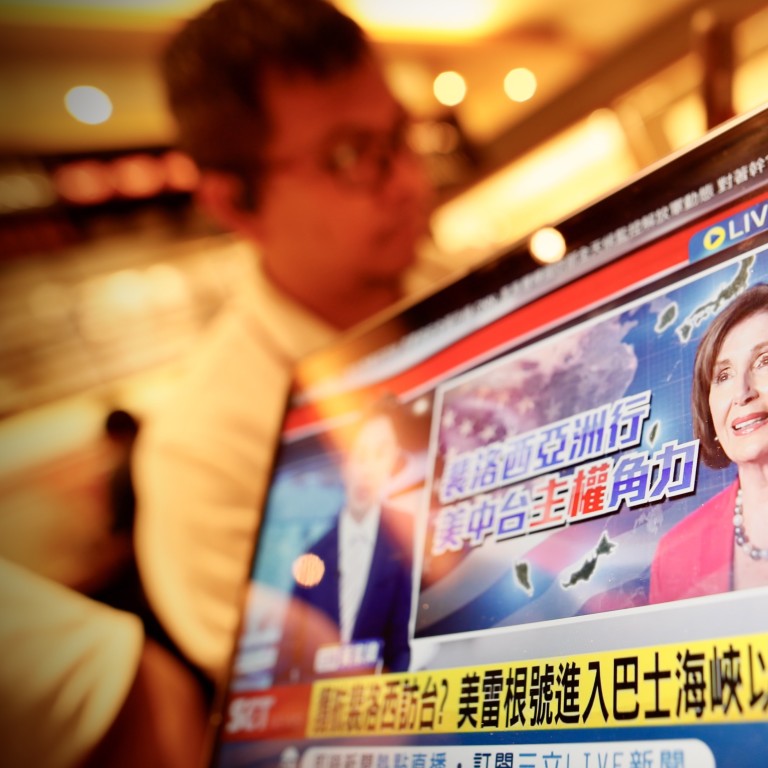 Cross-strait tensions are bad news for Hong Kong, Chinese stocks no matter who's bluffing in Taiwan spat
Stocks in Hong Kong, mainland China and Taiwan suffered one of their heaviest beatings this year amid row over Pelosi's impending visit to Taipei
Xi has forced himself into a corner with stern warnings, while neither Biden nor Pelosi can back down, or they will be viewed as weak in front of China: Alpine Macro
Stocks in Hong Kong, Shenzhen, Shanghai and Taipei suffered one of their heaviest blows on Tuesday as US House Speaker Nancy Pelosi's Taiwan visit fanned cross-strait tensions. The impending stopover will have long-term implications, analysts said.
The Hang Seng Index slumped 2.4 per cent to 19,689.21, the lowest level since May 12, with 67 of 69 members posting losses. The Tech Index tumbled 3 per cent while the CSI 300 Index of biggest onshore stocks sank 2 per cent to the lowest since June 2. In Taiwan, the Taiex slipped 1.6 per cent.
Investors have grown weary over military provocations between China and Taiwan, ever since
Russia attacked Ukraine
in late February. China's top officials from
foreign vice-minister
to
defence chief
have forewarned the US to steer clear of the Taiwan issue, which Beijing sees as a renegade province.
Here's what some investors and strategists have said about the potential market fallout in the coming days from Pelosi's trip.
Alpine Macro:
"In the case of any direct armed conflict between China and the US, risk assets could be hammered, with Taiwan and Chinese assets getting hurt particularly badly," said Chen Zhao, chief global strategist at the Montreal-based research firm. "We believe that the
current political backdrop
makes a military response from China very likely."
Having issued stern warnings, President Xi Jinping has effectively forced himself into a corner. If Pelosi indeed visits Taiwan, "Xi must take hardcore military actions of significant size or he will risk losing his credibility with the Chinese public, the military and within the [Communist] Party," he wrote in a report on August 1.
"If Xi's threat proves to be empty, it would also encourage Taiwan's independence movement. In the US, most politicians believe that China is bluffing. With anti-China sentiment running high from both sides of the island, neither President Joe Biden nor Pelosi can back down, or they will be viewed as weak in front of China."
Kaiyuan Capital: While investors do not expect direct confrontation, worsening US-China relations and cross-strait instability represent growing risks in an already uneasy economic climate, said chief investment officer Brock Silvers in Hong Kong.
"Investors are keenly aware that cross-strait volatility is potentially more impactful than Russia's invasion of Ukraine," he added. "Pelosi's visit and its aftermath could easily cause added downward pressure on regional markets throughout the remainder of the year and into 2023."
IG Asia: The slump in Chinese equities reflects a knee-jerk reaction in light of the uncertainty of how the US-China relations will progress, said Yeap Jun Rong, market strategist at the Singapore-based online brokerage. China may step up its action to protect its interests.
"Retaliatory moves from both sides have to be considered with caution," he said, adding that "any deterioration in relationship could bring long-term implications" including a freeze on negotiations on trade tariff relief.