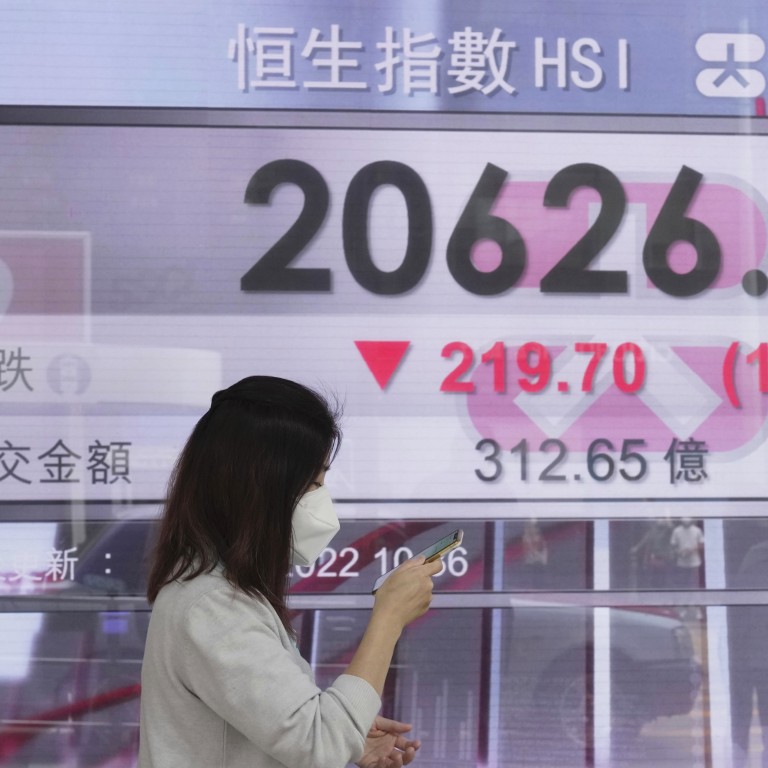 Hong Kong stocks slip as Alibaba, Tencent and Anta lead losses amid new China lockdowns, Fed tightening focus
Alibaba and Tencent retreated by more than 2 per cent after Hainan locked down Sanya resort city, while China Tourism group slid in Shanghai
A stronger than expected US job report for July kept appetite in rein amid concerns about Fed tightening bias
Hong Kong
stocks
fell from a one-week high on concerns new lockdowns in mainland Chinese cities will disrupt efforts to reboot the economy, adding to a widening US-China rift over Taiwan-related issues. A strong job report also put policy tightening in the US back in focus.
The Hang Seng Index retreated 0.8 per cent to 20,045.77 at the close of Monday trading. The Tech Index lost 1.8 per cent, while the Shanghai Composite Index added 0.3 per cent.
Alibaba Group Holding slumped 4.4 per cent to HK$88.80 while Tencent Holdings lost 2.7 per cent to HK$299.40 and Meituan dropped 2.1 per cent to HK$179.60. Anta Sports weakened 2.7 per cent to HK$85.35 and Country Garden tumbled 6.6 per cent to HK$2.53.
"The recent Covid-19 rebound in some provinces or cities, especially in Hainan, might slow down economic growth," analysts at KGI Securities wrote in a note on Monday. "Together with intensified geopolitical pressure, Hong Kong stocks are expected to consolidate today."
Following its 5.7 per cent rally in June, the MSCI China Index has quickly lost all that gains in July and early August. Its June rally came as investors expected a short-term economic recovery and later undone by a rebound in Covid-19 cases and a deepening housing market crisis.
China's top leadership meeting in July also saw a lack of stimulus announcements, while the recent cross-strait tension surrounding Taiwan has heightened downside tail risks for Chinese stocks.
Elsewhere, the US on Friday reported a bigger-than-expected gain of 528,000 jobs in July while the unemployment rate declined to 3.5 per cent, indicating underlying strength in the economy and disappointing traders looking for the Federal Reserve to dial back its hawkishness.
Three stocks started trading. Chongqing VDL Electronics surged 45 per cent to 88.77 yuan, while Hebei Gongda Keya Energy Technology jumped 47 per cent to 37.48 yuan. Guangdong AVCiT Technology gained 44 per cent to 31.26 yuan.
Asian markets were mixed. Japanese and Australian shares added 0.1 to 0.3 per cent, while South Korean and Taiwanese stocks dropped by 0.1 per cent.