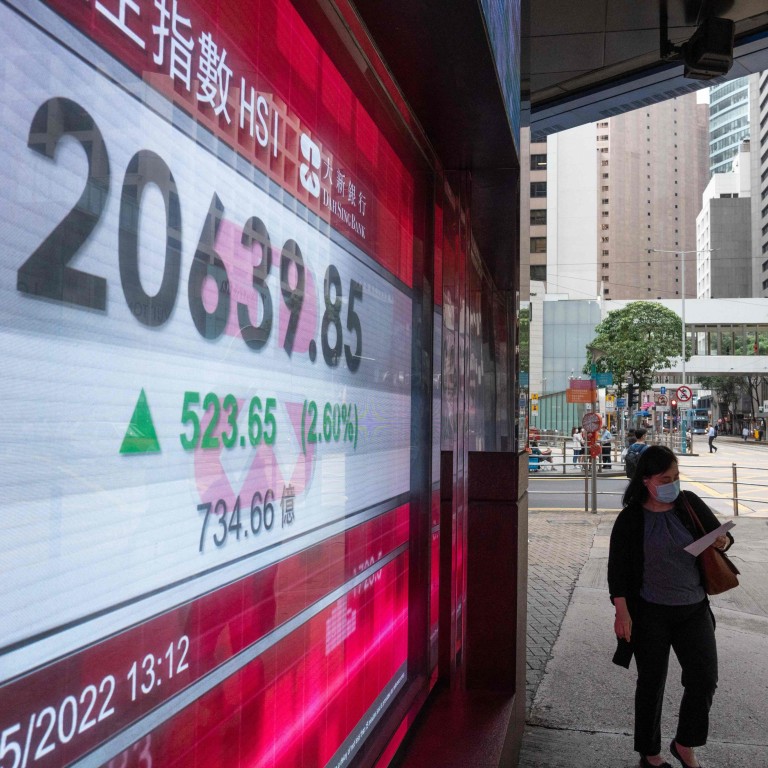 Hong Kong stocks jump by most in three weeks as lower-than-expected US inflation eases rate-hike fears
Worry about an out-of-cycle rate hike receded after US inflation slowed to 8.5 per cent in July, down from a four-decade-high of 9.1 per cent in June
The Hang Seng Index shook off three days of losses, with Techtronic Industries, Sunny Optical, Li Ning and Alibaba among the biggest gainers
Hong Kong
stocks
rose by the most in three weeks following overnight gains in New York, as slower-than-forecasted US inflation lessened the pressure on the US Federal Reserve to conduct an "out-of-cycle" tightening of monetary policy before its next scheduled meeting in late September.
The Hang Seng Index advanced 2.4 per cent to 20,082.43 at the close of Thursday trading, shaking off three consecutive days of losses totalling 3 per cent. The Tech Index gained 3.7 per cent, while the Shanghai Composite Index rose 1.6 per cent.
Alibaba, the owner of this newspaper, strengthened 4.3 per cent to HK$91.75. Sunny Optical added 9.2 per cent to HK$121.50 and Li Ning gained 7.1 per cent to HK$66.90. Haidilao climbed 4.5 per cent to HK$15.72 while Techtronic Industries soared 10.9 per cent to HK$96.45.
US headline inflation was 8.5 per cent in July, down from the four-decade-high of 9.1 per cent in June. That came in below expectations and sent stocks soaring, with the S&P 500 hitting a three-month high.
The data showed that "US inflation is still a big problem, but the problem is perhaps getting smaller", said Peter Esho, co-founder at Wealthi in Sydney, a property investment company. "We think central banks will soon ease, let things level off, maintain talk of more rates coming, but they won't probably have to do as much heavy lifting as they wait for things to adjust."
This makes it "a great time" to buy undervalued, resilient and income producing assets, he added.
Traders are now pricing in a half-point increase at the Fed's September meeting as the more likely option, paring earlier bets of a third straight 75-basis-point hike, according to Refinitiv data.
China's central bank said it would support economic growth and ensure stable prices in its quarterly monetary policy report released on Wednesday, after official data showed inflation soared to its highest in two years. Goldman Sachs economists expect the central bank to maintain a "low-profile, accommodative monetary policy stance" going forward.
Swire Pacific soared 10.4 per cent to HK$49.90, after
declaring interim dividends and a share buyback
of up to HK$4 billion on Thursday. The Asian conglomerate also announced 38 per cent growth in underlying profit to HK$1.7 billion for the first six months of the year.
Longfor Group jumped 5.7 per cent to HK$22.10. Gains came after the property developer said in an exchange filing late on Wednesday it had settled a debt payment. Its shares tumbled 16.4 per cent a day earlier on rumours it had issues repaying some of its commercial papers.
Nanjing Medlander Medical Technology soared 9 per cent to 44.07 yuan on its first day of trading in Shanghai.
Asian markets saw mixed trading on Thursday. Japanese shares lost 0.7 per cent, while Australian and South Korean stocks added 1.1 to 1.7 per cent.