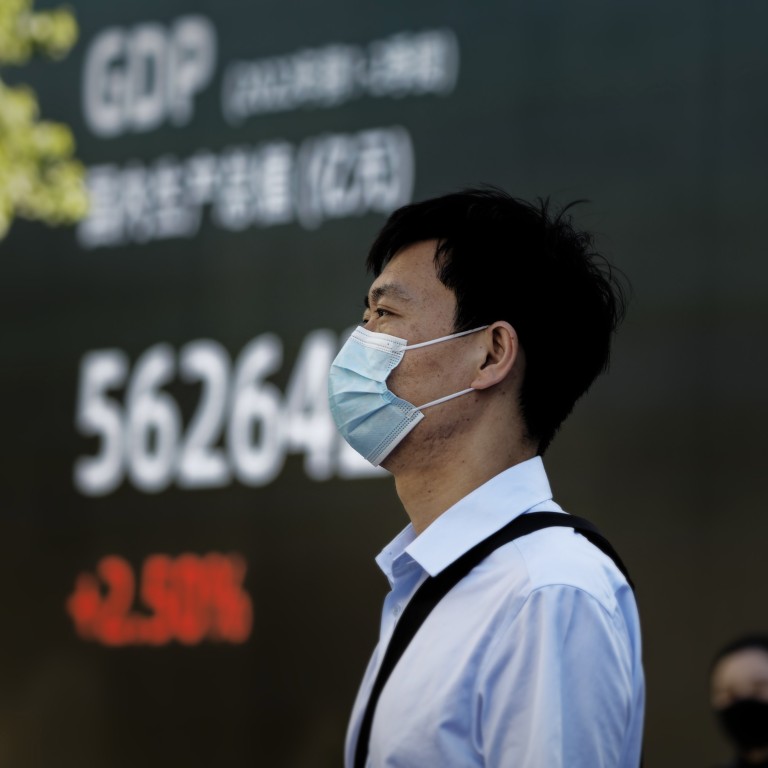 Hong Kong stocks gain as Alibaba, JD.com lead tech group before fresh reports signalling better China economic health
Today's advance added to Thursday's 2.4 per cent rally before reports next week signalling better economic health in China
CNOOC, Sinopec and PetroChina all benefited from stronger oil prices as recession fears diminished
Hong Kong
stocks
advanced, adding to Thursday's hefty jump from before reports next week signalling better growth momentum in China's economy. Oil producers climbed as crude prices strengthened.
The Hang Seng Index added 0.5 per cent to 20,175.62 at the close of Friday trading, reversing an earlier loss. The benchmark rose 2.4 per cent a day earlier, the most in three weeks. The Tech Index gained 0.6 per cent, while the Shanghai Composite Index slipped 0.2 per cent.
Li Ning rallied 4.8 per cent to HK$70.10 and Alibaba Group Holding advanced 1.3 per cent to HK$92.90. China's top oil explorer CNOOC rose 2.5 per cent to HK$10 and Sinopec gained 1.9 per cent to HK$3.73. PetroChina added 1.2 per cent to HK$3.52. Oil prices were set for a weekly gain with recession fears easing.
Among Chinese tech stocks, Alibaba Group Holding climbed 1.3 per cent to HK$92.90 after SoftBank trimmed its stake via forward contracts, easing stock overhang risk in the market. Meituan gained 1.5 per cent to HK$179.10 while JD.com rose 0.6 per cent to HK$222.60.
"Daily market turnover remained low in the recent trading days" showing investors prefer to stay on the sideline, said KGI Securities in a Friday note. The stock market is likely to range-trade at current levels today, it added.
The Hang Seng Index still ended the week with a 0.1 per cent loss. The market has struggled this month after slumping 7.8 per cent in July. The escalation of US-China tensions has added to other risks in the market, including sporadic Covid-19 lockdowns and a property market crisis in mainland China.
Government reports next week may show industrial production growing 4.4 per cent in July versus a 3.9 per cent in June, according to economists tracked by Bloomberg. Growth in retail sales probably quickened to 5 per cent from 3.1 per cent, according to market consensus.
Tianqi Lithium fell 2 per cent while China Merchants Energy Shipping jumped 4.1 per cent in Shanghai. Global index compiler MSCI added the companies and five other yuan-denominated stocks to its MSCI China Index, and removed Hong Kong-listed CIFI Ever Sunshine Services and Logan Group. The changes will be effective after the market closes on August 31.
Hygon Information jumped 67 per cent to 60.10 yuan in Shanghai on its first day of trading, while Chengdu Qushui Science surged 171 per cent to 101.72 yuan in Shenzhen.
Asian markets were mixed on Friday. Japanese shares added 2.6 per cent and South Korean equities rose 0.2 per cent, while Australian stocks dropped 0.5 per cent.