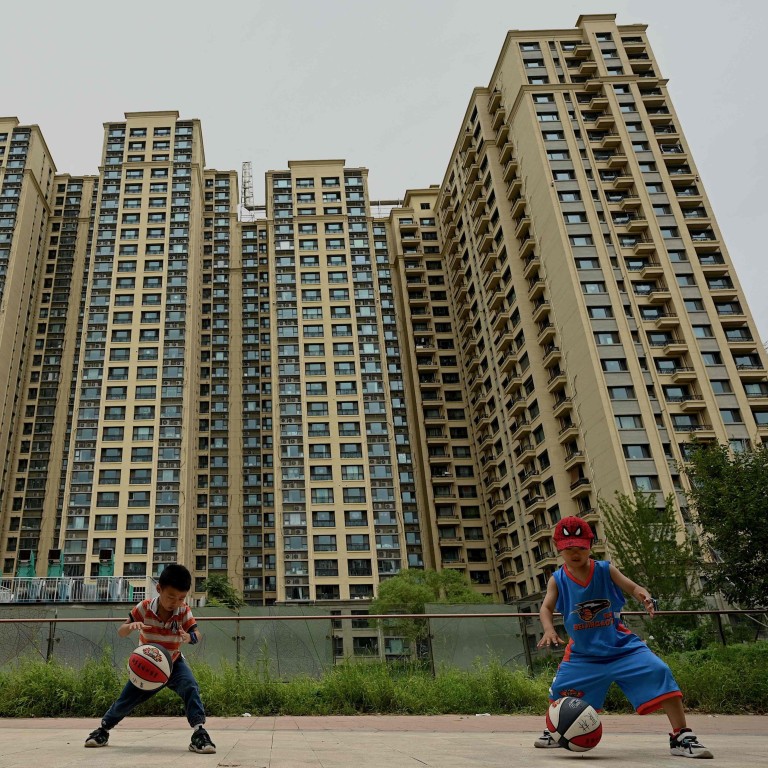 Housing slump threatens 'China Dream' while geopolitics make Chinese assets 'only selectively investable' for Morgan Stanley fund managers
Top leadership is focused on Party Congress to agree on a rescue plan for the housing industry, putting the onus on local governments to fix problems
A more assertive foreign policy will add geopolitical risk premium to assets and make China 'only selectively investable', says Morgan Stanley IM
China's top leadership is pre-occupied with political manoeuvring to agree on a rescue plan to end the housing slump, while intensifying geopolitical risk means
Chinese assets
will be volatile under the current administration and only selectively investable, strategists, said.
Hopes for some sort of intervention by Beijing to overcome a slump in the housing sector is "wishful thinking", said Lawrence Brainard, chief emerging markets economist at London-based research firm TS Lombard. China's more assertive foreign policy has forced investors to add geopolitical risk, making assets "only selectively investable", according to Morgan Stanley Investment Management.
"Beijing does not yet have an agreed rescue plan and is playing for time by asking local governments to keep a lid on the crisis," Brainard wrote in an August 22 report. "Caught up in political manoeuvring ahead of the [Communist] Party Congress later this year, the top leadership is in no position right now to come up with a new housing policy."
The CSI 300 Index, which tracks the biggest onshore companies, has declined about 16 per cent this year through August 23. In Hong Kong, the Hang Seng Mainland Property Index has slumped 47 per cent this year, after tumbling 31 per cent last year. Country Garden and Longfor Group have crashed by 30 to 60 per cent, among the top losers.
China's
"three red lines" policy
since August 2020 to stem systemic risk from overleveraged developers has spawned a liquidity crisis instead by shutting out weak debtors from the loan and bond markets and triggere
d US$20 billion of debt defaults
. The property sector accounts for about one-fifth to a quarter of China's gross domestic product, economists said.
Home ownership is at the heart of the "Chinese Dream" but "against a scenario of the continued decline in housing supply, the lack of a coherent housing policy is discouraging potential homebuyers," said Brainard, who previously co-headed emerging-market debt at Goldman Sachs.
Investors banking on a reversal to China's "three red lines" policy have found little support beyond piecemeal rate cuts and efforts to revive unfinished projects to
placate homebuyers by local governments
. "Concrete support measures need to come from the central government," said Alex Wolf, Asia head of investment strategy at JP Morgan Private Bank. "A plan to slow the downturn has yet to emerge. "Eventually it will, but the longer it takes the larger the risks become."
The end of the China Dream will pose major challenges for President Xi Jinping as he begins his widely expected third term in office later this year at the once-every-five-year change-of-guard later this year.
"Ideologically driven policy agenda appears "ill-suited" to resolving the economy's structural problems," Brainard said. "Our bottom line is that prospects for both the economy and the markets are due thorough downward revisions."
Besides, China under Xi advocates a more assertive foreign policy and is determined to counteract the US- led system, according to Jitania Kandhari, head of emerging markets macro and thematic research at Morgan Stanley Investment Management. The firm manages US$1.4 trillion of assets.
Such ambitions are complicated by domestic weaknesses, such as a stagnating economy, real estate debt and a falling population, she said. Reducing these challenges in the medium term will not be easy, and this is bound to put investors, once keen on China, on edge about the country's trajectory, she added.
"The implications of Beijing's geopolitical challenges are that China in the Xi Jinping era will be volatile and only selectively investable," Kandhari said.