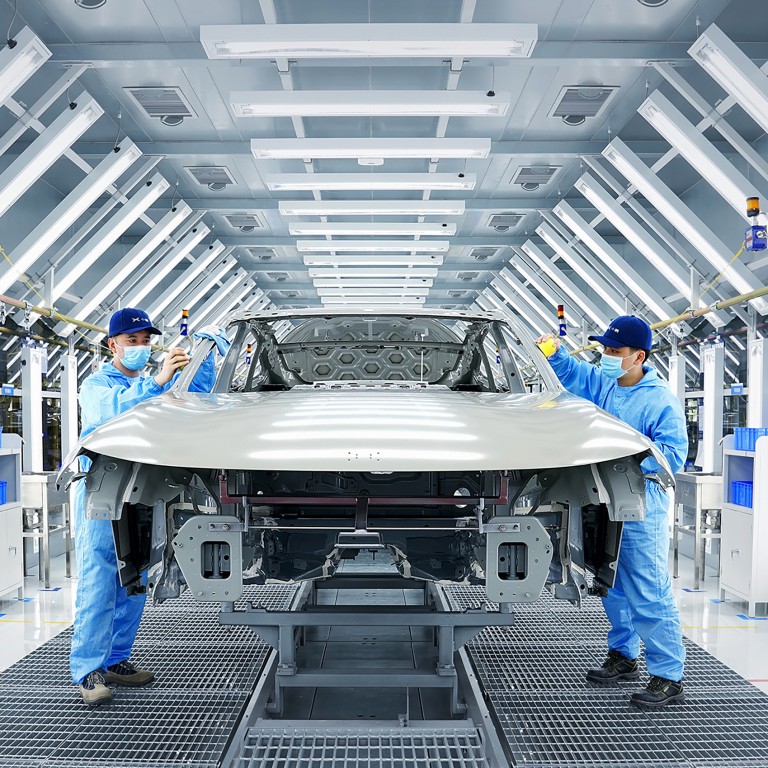 Analysts turn less bullish on XPeng and Chinese Tesla challengers as Covid, heatwave, power crisis undermine EV sales
Consensus price targets for local industry bearers XPeng, Li Auto and Nio have been downgraded as old wounds undermine vehicle deliveries
Concerns about Covid-19 lockdowns, heatwave and power shortages in China have eclipsed recent stock market gains
An MSCI index tracking EV-related stocks surged 36 per cent in May and June, aided by tax incentives to boost consumption and restore confidence in the economy. Since then, industry bearer XPeng has tanked 42 per cent, while Li Auto slumped by 23 per cent while Nio and the broader sector retreated by 10 per cent.
The three EV makers reported a 20 to 25 per cent slide in vehicle deliveries in July versus June. XPeng expects to deliver 29,000 to 31,000 EVs in the third quarter, about 40 per cent below Barclays' forecast, while Li Auto also offered a downbeat assessment. Nio is due to report its earnings next month.
Jefferies slashed XPeng's price target on August 25 to HK$73.70 from HK$85.10 also citing weak delivery guidance, while retaining its hold recommendation. The stock last traded at HK$73.85 in Hong Kong and US$18.92 in New York on Friday.
XPeng's vehicle-delivery guidance reflects the industry entering a "relatively slow season" and in-store Traffic has been slower than what [was] seen before as a result of Covid-19 restrictions, company president Brian Gu said on the group's earnings call last week.
A heatwave baking nearly half the nation, as well as energy rationing in key manufacturing bases, are disrupting the market, Jefferies' analyst Johnson Wan wrote in an August 22 report. Industry sales in August are likely to be flattish, he added.
"The EV supply chain faces production disruptions from the power cuts in Sichuan province, since major battery and auto parts suppliers have production bases there," he wrote. "Demand wise, foot Traffic has been largely affected by the high temperatures."
Chinese carmakers have been tackling higher material costs along with persistent supply-chain disruptions caused by Covid restrictions. During Shanghai's two-month lockdown, thousands of automotive supply-chain vendors had to halt or reduce production, preventing carmakers from churning out enough vehicles to meet consumers' demand.
The latest cutbacks by analysts followed purchases in the three EV stocks by big funds, including those managed by managers at BlackRock and CSOP Asset Management, according to filings compiled by Refinitiv. Bridgewater Associates, Ray Dalio's US$236 billion hedge fund, added Chinese Tesla challengers last quarter, boosting the value of its bets on Nio to US$120 million and XPeng to US$68 million.
"Policymakers globally are committing to a greener and lower carbon world, and China is in the driver's seat," said Alec Jin, investment director of Asian equities at abrdn, in an emailed response to the Post. "Investments in renewable energy, batteries, electric vehicles and related infrastructure, and environment management all have a bright future."
Jin co-manages Aberdeen's All China Sustainable Equity Fund, which did not own any of the three EV stocks
at the end July
among its Top 10 holdings. Instead, it held "green stocks" such as Longi Green Energy Technology and EV battery maker Contemporary Amperex Technology.