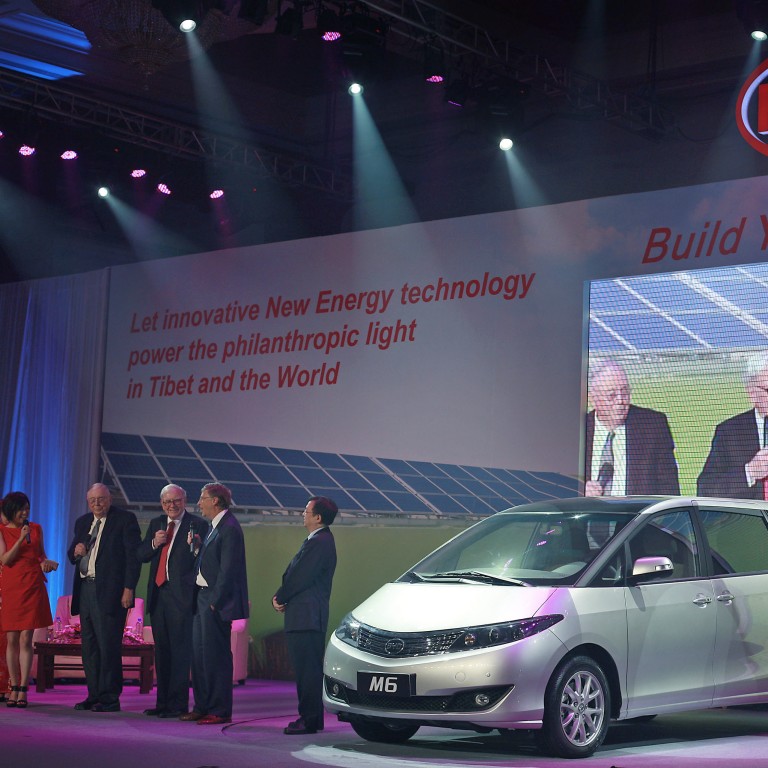 BYD stock plunges after Buffett's Berkshire trims stake in China's biggest electric-car maker
Stock plunges 12 per cent in Hong Kong after the legendary US investor appears to have trimmed stake in BYD for a second time
Buffett's Berkshire Hathaway cuts its holding in H shares on August 24 after weeks of speculation, according to exchange filing
Warren Buffett's Berkshire Hathaway has trimmed its stake in BYD Co, weeks after speculation the legendary US investor was pulling out of its bet on China's biggest
electric vehicle producer
and Tesla's biggest challenger. The stock plunged.
Berkshire sold 1.33 million shares at an average of HK$277.10 apiece, valuing the sale at HK$369 million (US$47 million) on August 24, according to a regulatory filing to the Hong Kong stock exchange. The shares traded between HK$257 and HK$272.20 on that day.
BYD sank 7.9 per cent to HK$242.20 at the close of Wednesday trading, the most in seven weeks, in addition to a 0.5 per cent loss on Tuesday. The two-day rout erased about HK$71 billion of capitalisation from the Shenzhen-based company, according to Refinitiv data.
The sale reduced Berkshire's stake in BYD's H shares to 19.92 per cent from 20.04 per cent,
according to the filing
. The company reported a starting position of 220.5 million shares preceding the August 24 sale, versus its last reported holding of 225 million shares or a 20.49 per cent stake in
BYD's interim report published this week
. That suggests an earlier undisclosed sale of 4.95 million shares by Berkshire.
The sale came amid concerns China's zero-Covid policy will disrupt the industry again after a series of lockdowns in key manufacturing bases hit factories producing electric vehicles and parts for Apple since last year. Power cuts this month have also roiled the industry, putting owners of 1 million EVs at risk as charging stations shut down.
Berkshire first acquired its stake in BYD in the aftermath of the global financial crisis in 2008, paying US$232 million for the block. That investment has multiplied many times over, giving it a market value of US$6.4 billion at the current market price.
"Warren Buffett doesn't really need the cash," said Wang Qi, co-founder of MegaTrust Investment (Hong Kong), a boutique China asset manager. "Maybe he is telling us that there are other stocks with better risk-return payoffs out there."
BYD's shares are certainty not cheap, Wang added. "It now trades at nearly 50 times next year's earnings based on the consensus forecast," he said.
BYD's share price could "come under pressure" in the near term given Berkshire's share sale, said Kelvin Lau, analyst at Daiwa Capital Markets, in a Tuesday note.
Still, Lau raised his 12-month target price for BYD to HK$380 from HK$350, implying a 45 per cent upside based on Tuesday's prices. BYD's consensus price target stands at HK$381.58, based on Refinitiv data.
Lau cited the strong demand for new energy vehicles and potential improvement in profitability for the price upgrade, maintaining a buy rating for BYD.
The Shenzhen-based company started building cars in 2003, evolving to capture almost a quarter of the mainland's new-energy vehicle market in the first half of 2022.
BYD also makes its own batteries, which have been well received by Chinese drivers and car assemblers. It is the world's third largest producer of EV batteries, according to market research company SNE Research, behind rival Contemporary Amperex Technology and South Korea's LG Energy Solution.