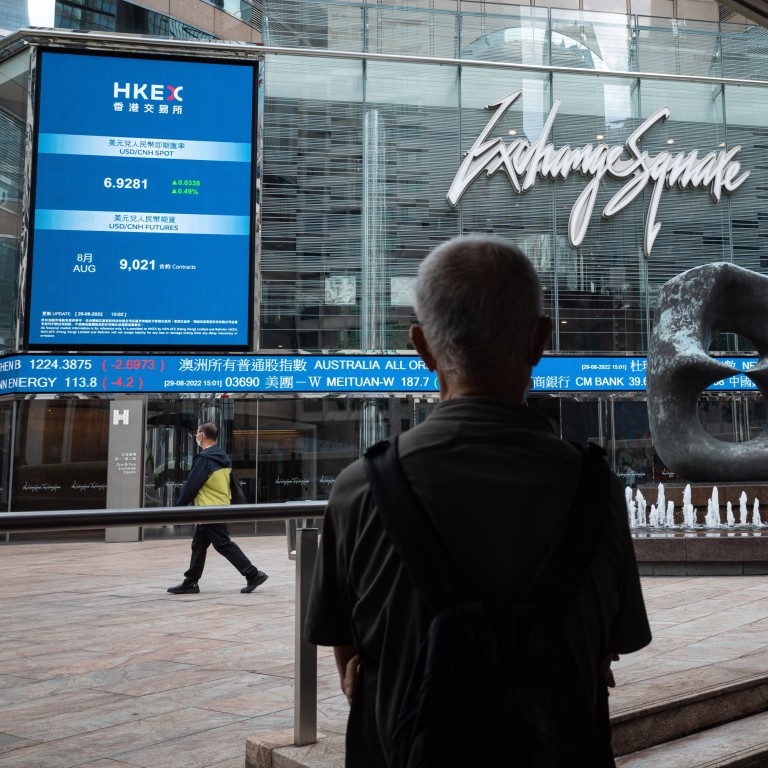 Alibaba, Geely drag Hang Seng to March low on China lockdown concerns, BYD slumps after Berkshire sells again
A lockdown in Chengdu was extended to control an outbreak while a surge in mass testing of residents crashed the electronic system
Berkshire sold 1.716 million BYD shares on September 1 for about HK$451 million on average, to follow after an August 24 sale: filings
Hong Kong
stocks
slumped to a five-month low amid growing concerns about the economic fallout from lockdowns in mainland China and growing tension between US and China on technology exports. BYD tumbled after Berkshire Hathaway trimmed its stake again.
The Hang Seng Index slid 1.2 per cent to 19,225.70 in Monday trading, the lowest level since mid-March. The gauge declined 3.6 per cent last week. The Tech Index retreated 1.9 per cent while the Shanghai Composite Index gained 0.4 per cent.
Alibaba Group Holding slipped 2.4 per cent to HK$88.50 while Tencent Holdings lost 2.9 per cent to HK$319 and Geely Auto slumped 7 per cent to HK$14.08. BYD crashed 5.9 per cent to HK$215 after Warren Buffett's Berkshire sold on September 1. Baidu lost 1.6 per cent to HK$137.10 as the
stock joined
the Hang Seng benchmark family.
"Buffett's selling of BYD shares has impacted the market sentiment negatively so the Chinese tech stocks have also tumbled," said Louis Tse Ming-kwong, managing director at Wealthy Securities.
China's policy actions "can be likened to driving a car with one foot on the gas pedal and the other on the brake," according to strategists at Alpine Macro. "In the end, the best result is a stagnating economy, a key reason the Chinese stock market has been lukewarm to stimulus packages."
Baidu is not alone in trading lower upon index inclusion. Chow Tai Fook Jewellery jumped 0.1 per cent to HK$14.70 while Hansoh Pharmaceuticaldeclined 3.3 per cent to HK$13.60. China Shenhua Energy, the nation's biggest coal miner, advanced 3.8 per cent to HK$25.75.
Meanwhile, the US has also ramped up efforts to stifle China's technological advancement. The Biden administration decided to restrict exports of advanced graphics processing units designed by Nvidia and AMD to China, prompting calls by analysts for Beijing to boost home-made substitutes.
Two stocks debuted on Monday. Shenzhen Highpower Technology rose 44 per cent to 75.15 yuan on its first day of trading in Shenzhen, while Chongqing Hongjiu Fruit Co was flat at HK$40 in Hong Kong.
Elsewhere, markets in Asia-Pacific were mixed. Benchmarks in South Korea and Japan slipped by about 0.2 per cent, while equities in Australia climbed 0.3 per cent.