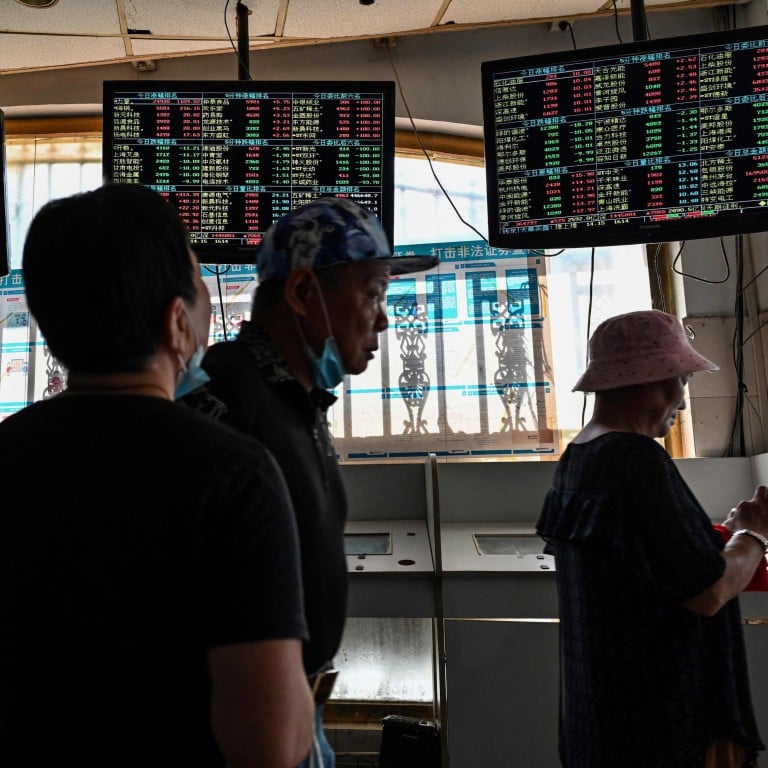 Tencent, Alibaba Health pin stocks at 5-month low as China locks down another manufacturing base while BYD halts six-day rout
Chinese authorities ordered a snap lockdown in Guiyang, a manufacturing base for producers including Geely Auto and battery maker CATL
BYD gains on technical rebound, after stock sales by Berkshire Hathaway triggered a six-day 19 per cent rout
Hong Kong
stocks
struggled at a five-month low after China locked down another key auto manufacturing base, increasing the pain on producers. BYD halted a six-day slump as traders deemed the rout as excessive.
The Hang Seng Index fell 0.1 per cent at 19,202.73 at the close of Tuesday trading, pinned to the lowest since mid-March. The Tech Index was little changed while the Shanghai Composite Index climbed 1.4 per cent.
Tencent Holdings retreated 1.5 per cent to HK$314.20 while Alibaba Health slumped 2.7 per cent to HK$4.31. Water-bottling group Nongfu Spring lost 1.4 per cent to HK$44.40. Auto retailer Zhongsheng Group slipped 1.3 per cent to HK$34.50. In Shenzhen, electric-car battery maker Contemporary Amperex tumbled 2.8 per cent to 455.20 yuan.
"China's zero-Covid policy, with the latest lockdowns, has added pressures to the market as traders expect a negative impact on the economy," said Dickie Wong, executive director of research at Kingston Securities. China might roll out supportive measures to shore up recovery, he added.
Guiyang, capital city of southern Guizhou province, will enter a four-day lockdown until Thursday, potentially derailing factories run by Geely Auto and electric-car battery maker Contemporary Amperex Technology.
The local currency has weakened to a two-year low of 6.94 yuan per dollar from 6.36 at the start of the year, with the economic growth almost stalling last quarter. The central bank moved to
lower banks' reserve requirement
on foreign currencies from September 15, to halt the yuan depreciation.
Limiting losses, BYD gained 2.7 per cent to HK$220.80, as the stock's relative-strength indicator slipped below 30, a reading that signaled it was technically oversold. China's biggest carmaker by unit sales tanked 19 per cent in a six-day rout, after
Berkshire Hathaway trimmed its stake
in successive sales over two weeks.
Markets in the region ended mixed, with equities in South Korea adding 0.3 per cent and those in Australia losing 0.3 per cent. Prices in Japan were little changed.