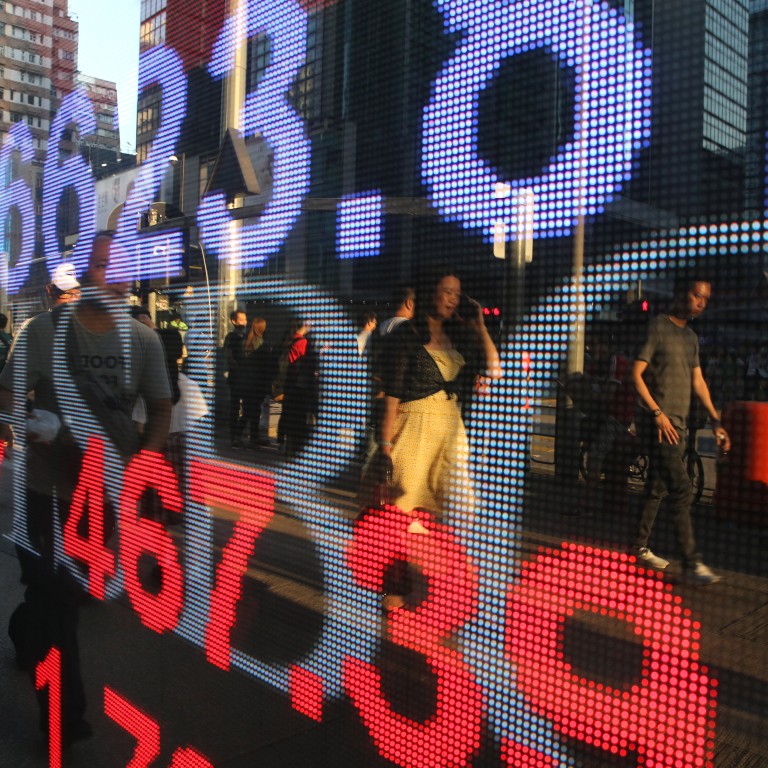 Alibaba leads Hong Kong stock retreat, Tencent sinks to 4-year low before Fed rate decision as HSBC warns of prolonged property crisis in China
Stock traders dialled back risk appetite on concerns the Fed and other central banks are not ready to declare a victory over persistent inflation
HSBC boss has warned of a prolonged slump in China's commercial property market even amid measures to stabilise prices
Hong Kong
stocks
tumbled on concerns the Federal Reserve and other major central banks will overtighten to fight inflation, raising the spectre of global recession. Chinese developers slipped after HSBC warned of more pain in the property market.
The Hang Seng Index dropped 1.8 per cent to 18,444.62 at the close of Wednesday trading, near the lowest level in six months. The benchmark index has lost 7.1 per cent this month, bringing the setback this year to 21 per cent. The Tech Index slid 3 per cent, while the Shanghai Composite Index declined 0.2 per cent.
Alibaba Group sank 3.7 per cent to HK$83.05, approaching the lowest price since late May, while Tencent slumped 2.5 per cent to a four-year low of HK$286 and BYD retreated 2.2 per cent to HK$217.20. Country Garden, the top property developer by sales, lost 3.9 per cent to HK$2.19, while rival China Vanke slipped 1.2 per cent to HK$15.30.
The Federal Reserve will raise its
key interest rate
by at least 75 basis points at this week's meeting, according to Fed funds futures, adding to a total of 225 basis points increase in the past four meetings this year. The Bank of England is also seen tightening, according to a report from BlackRock.
"Central banks are responding with aggressive rate hikes without fully acknowledging the growth damage required," strategists including Wei Li wrote in the report. " We have argued inflation will be persistent and see the Fed hiking through the year-end. We stick with our dialed-down risk stance."
Developers retreated on concerns higher local borrowing costs will cool demand. China Resources Land slipped 2.6 per cent to HK$32.45, while Longfor also fell 2.8 per cent to HK$25.85. The Hong Kong Monetary Authority will follow the Fed decision in lockstep under the city's
linked exchange rate system.
The Hang Seng Mainland Properties Index fell 3.3 per cent, as all its 10 members suffered losses. HSBC CEO Noel Quinn said the
massive correction
in China's commercial property market has another two years to run, according to a Bloomberg report.
Tencent Music Entertainment started trading
for the first time in Hong Kong via a listing by introduction, fetching HK$18.22. The company's American depositary shares closed at US$4.58 in New York, or the equivalent of HK$17.98 per class A ordinary shares. China's biggest music platform operator sold 82 million ADSs en route to its US listing in December 2018.
Four out of five stocks that debuted on Wednesday dropped. InnoCare Pharma lost 15.8 per cent to 9.28 yuan in Shanghai, while Nanjing CIGU Technology retreated 13 per cent to 28.70 yuan. In Shenzhen, Lepu Medical Technology Beijing lost 0.8 per cent to 19.45 yuan and J. Pond Precision Technology dropped 10 per cent to 46.50 yuan. Enwei Pharmaceutical gained 52 per cent to 45.40 yuan.
Asian markets followed overnight losses on Wall Street. Stocks in Japan declined 1.4 per cent and those in Korea dropped 0.9 per cent while Australian equities slid 1.6 per cent.