IPO
Get more with myNEWS
A personalised news feed of stories that matter to you
Learn more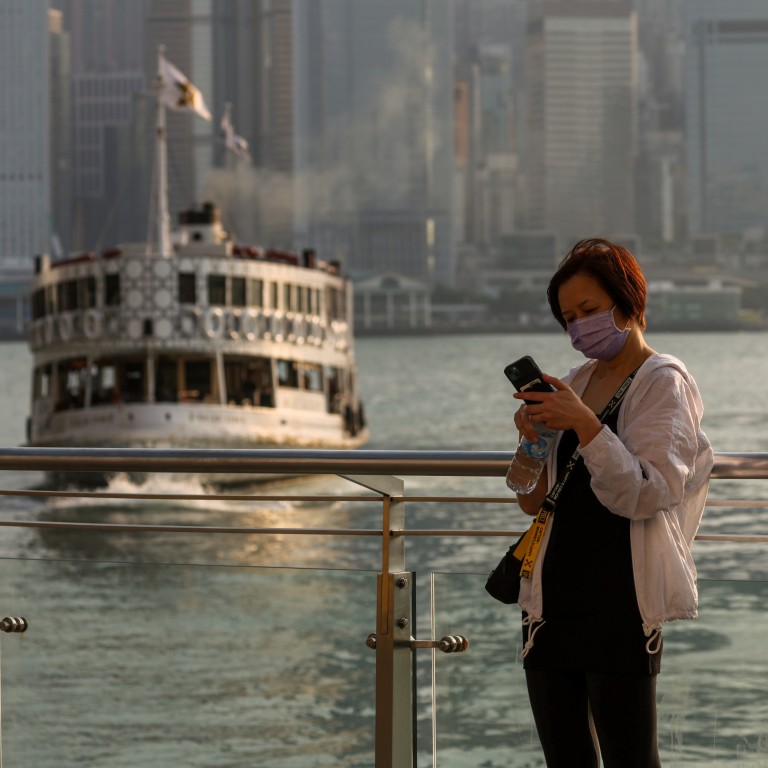 Hong Kong fourth among biggest IPO markets globally, as Shanghai's Star Market takes top spot and Singapore fails to make the cut
Hong Kong improved upon its 10th-place ranking in June, with 47 IPOs that raised US$8.8 billion in the first nine months, according to Refinitiv's data
Shanghai's Star Market was in top spot, while Singapore was excluded from the data because its main board did not host any IPO in the first nine months of 2022
Hong Kong clawed its way back to fourth spot among the world's largest fundraising destinations for the first nine months of the year, Refinitiv data shows, following the return of
initial public offerings (IPOs)
to the city's main board in the third quarter, which kept it ahead of the German market despite Porsche's recent US$7.85 billion stock sale.
Hong Kong ranked behind mainland Chinese exchanges Star Market and ChiNext.
Shanghai-based
Star Market ranked top with 93 companies raising US$25.26 billion in the first nine months, while Shenzhen-based ChiNext in second place saw 117 companies raise a total of US$20.54 billion.
"Hong Kong's IPO market became more active in the third quarter due to
blockbuster listings
by mainland Chinese companies such as
China Tourism Group Duty Free
," said John Lee Chen-kwok, the Hong Kong-based vice-chairman and head of Greater China global banking at UBS. "We expect more IPOs will come to the market, assuming the market stabilises in the fourth quarter."
China Tourism's IPO in August was Hong Kong's biggest listing and the sixth-largest worldwide, this year. It raised US$2.3 billion.
Despite its showing in the third quarter, Hong Kong's main board – the world's largest IPO market seven times in the past 13 years – is in the doldrums. IPO funds raised in the first nine months of this year are 76 per cent lower than the corresponding period a year ago.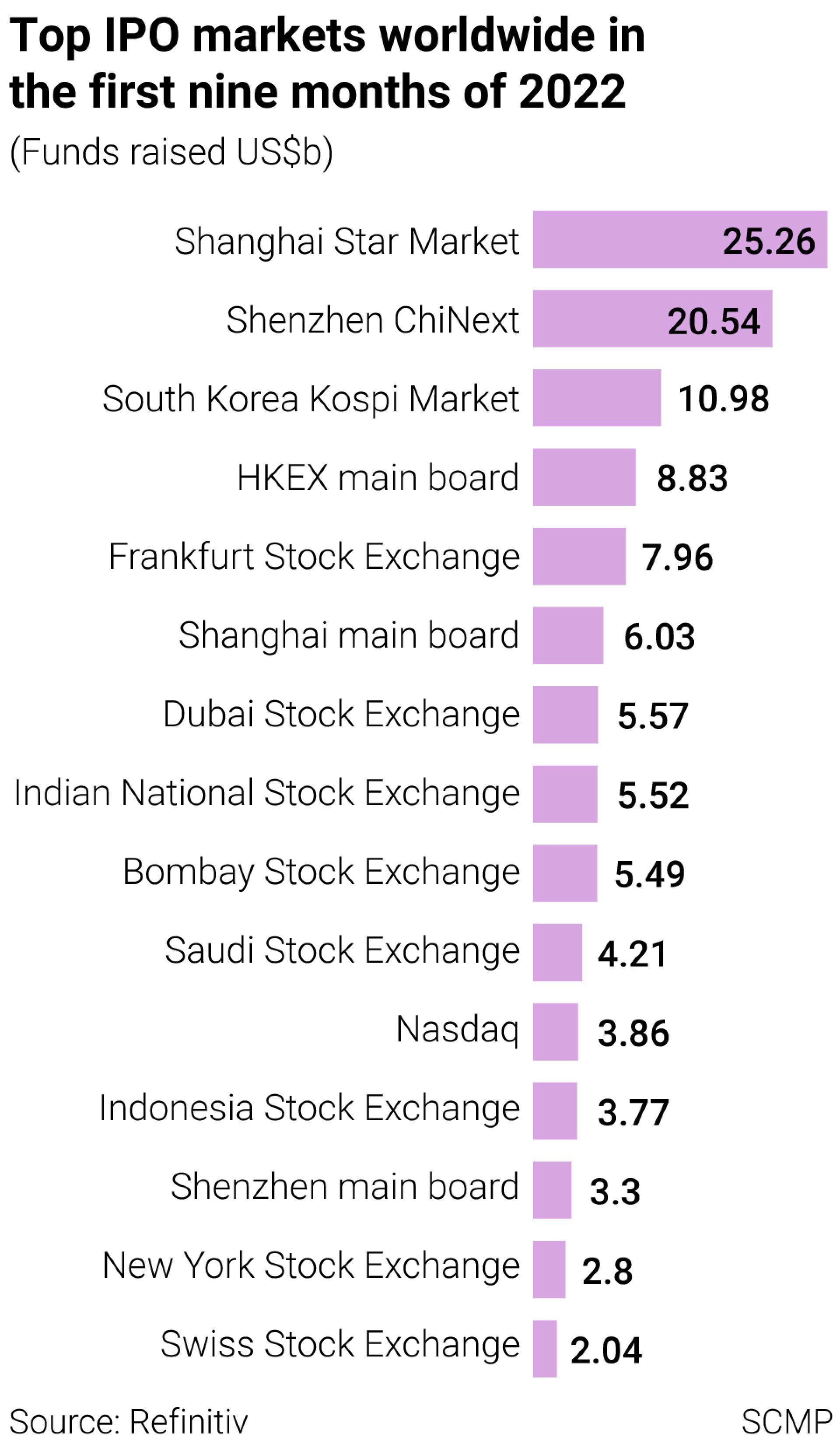 During a dry spell in the first half of 2022, the number of new IPOs dropped by more than 90 per cent year on year. New listings, however, resumed in the third quarter with 24 IPOs raising a total of US$6.47 billion, almost three times as much as the US$2.37 billion raised during the first six-month period. But this number is still 6 per cent lower than a year earlier.
The city did fare better than its two traditional rivals in the United States.
Nasdaq
and the
New York Stock Exchange (NYSE)
are both out of the top 10 after a 94 per cent year-on-year decline in funds raised, Refinitiv data shows.
Nasdaq, the top IPO market last year, ranked 11th with 74 companies raising US$3.86 billion, while NYSE dropped to 14th with only 4 new listings raising U$$2.79 billion.
"The US markets have felt the impact of technology stock valuations," said Paul Go, global IPO leader at EY. "A lot of technology IPOs came to the US market in the past two years, but their share prices didn't meet expectations. It is affecting investor appetite for IPOs."
Singapore, which pipped Hong Kong for the third place
in the Z/Yen Global Financial Centre Index
, was not even included in Refinitiv's data set because the Lion City's main board did not get a single IPO in the first nine months of 2022. Catalist, established by the Singapore Exchange for fast-growing companies, hosted six IPOs for a total haul of US$32 million, ranked 59 out of the 104 global markets tracked by Refinitiv.
South Korea's Kospi market ranked third with US$10.98 billion raised. LG Energy Solution raised US$10.75 billion in an IPO in January, in the biggest listing globally so far this year.
"We are now behind Shanghai and Shenzhen by quite a long way, but we are not that far away from South Korea," Go said. "There is a strong chance that we will get back into the top three, as we have a good pipeline of IPO candidates in Hong Kong."
Just behind Hong Kong in the Refinitiv rankings is the German market, following Porsche's Frankfurt listing. Its IPO was the second-largest worldwide this year.
The fourth quarter will continue to be a challenging time for IPOs due to market volatility, said EY's Go.
"As the Hong Kong stock market trades at its lowest point in more than 10 years, it is very difficult to price an IPO amid a volatile market and poor investor sentiment. Some companies, even after getting listing approvals from the stock exchange, have decided to postpone their IPOs, as they do not want to list at low valuations," he said.
High inflation and interest rates in the US and Europe, geopolitical tensions and the current turmoil in the UK markets all mean that the global financial markets will continue to be volatile. Global IPOs declined by 44 per cent to 992 in the first nine months of the year compared with the same period in 2021, with proceeds declining by 57 per cent to US$146 billion, EY data shows.
The IPO outlook for Hong Kong and mainland China is, however,
more positive
than for other markets, Go said, as Hong Kong has already started relaxing its tough Covid-19 restrictions, while China may take steps in the same direction further down the road.