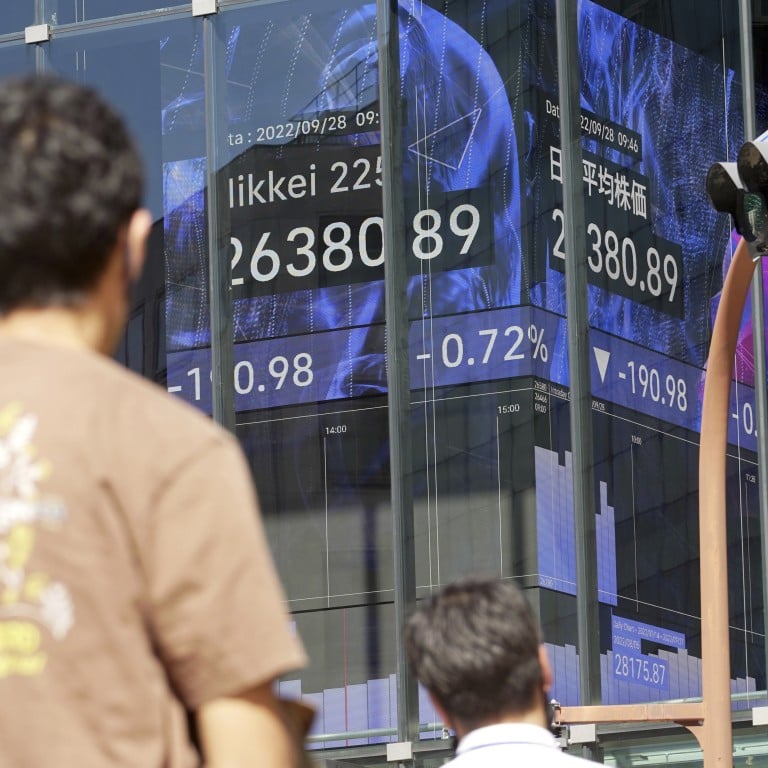 Global funds are pulling their money from Asia faster than during the 2008 crisis, remain net buyers of Chinese stocks in 2022
Foreign institutional funds have pulled US$111 billion from Asian markets excluding China, surpassing the US$93 billion during the 2008 crisis
Despite an outflow in September, they remained net buyers of US$8 billion of Chinese onshore stocks in 2022
Global institutional funds pulled more money from regional equity
markets
last week, with India, Taiwan and Southeast Asia suffering the biggest setback. Investors, however, bought more Chinese stocks before the local markets paused for holidays.
Money managers withdrew US$1.8 billion last week, taking the cumulative net selling in September to US$11 billion, analysts at Goldman Sachs wrote in a report on September 30. That overturned a net buying of US$10 billion in August, which was the only positive month in 2022. India, Taiwan and the Asean markets each recorded US$1 billion of withdrawal.
The latest data also brought the cumulative net outflows to US$111 billion in emerging Asia excluding China since the market peak in January. The exodus of portfolio capital from the region has now exceeded the net selling of US$93 billion in the same markets during the global financial crisis in 2008, Goldman said.
"Asian currencies and equities are under mounting pressure faced with a strong US dollar, thus many funds are flowing out of the region to avoid the risks," said Dickie Wong, executive director at Kingston Securities. Asian economies that are highly affected by US dollar are now also facing looming recession risks, he added.
Asian markets suffered one of their heaviest blows in the past two decades, with the Hang Seng Index sliding 22 per cent and CSI 300 losing 14 per cent last quarter. The five quarters of losses in Hong Kong, which erased US$1.3 trillion of market value, is the longest streak since the 2008 crisis. The yuan, Hong Kong dollar and regional currencies also weakened against the US dollar.
Foreign funds appeared to be more optimistic on the outlook for A shares. They were net buyers of about US$800 million last week through the Northbound link of the Stock Connect trading scheme. Despite a US$1.6 billion outflow in September, they remained net buyers of US$8 billion in 2022.
Liquor producer Kweichow Moutai was the favourite stock among overseas investors last week with a US$337million net buying, according to data compiled by Goldman. Its peers Wuliangye and Luzhou Laojiao also featured on the list of the most actively traded stocks during the same period.
In Hong Kong, Tencent Holdings, WuXi Biologics and Meituan were the favourite picks among mainland investors via the Southbound link. They sold the Tracker Fund, Jinke Smart Services and CNOOC.