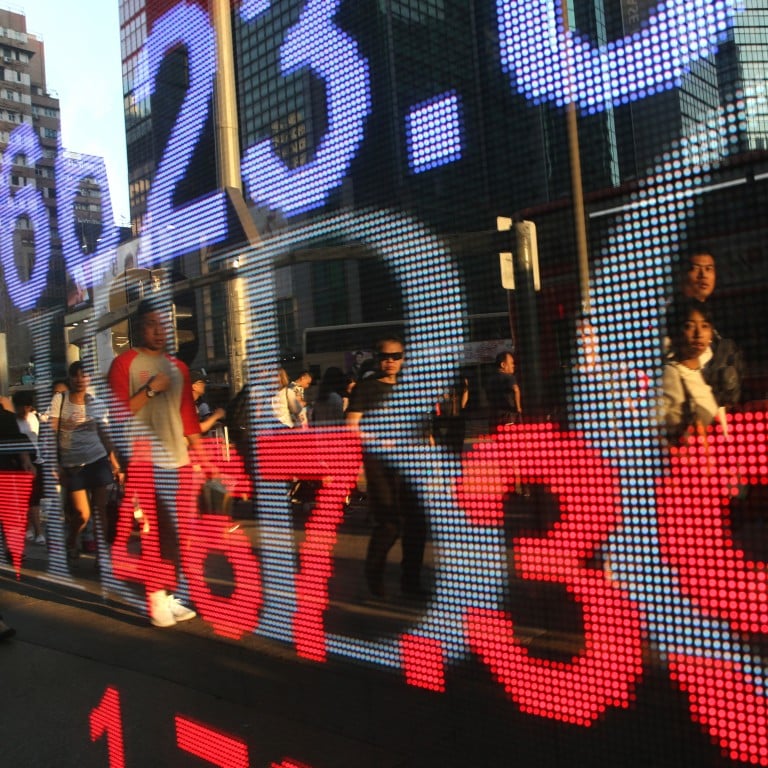 Hong Kong stocks sink as Alibaba, BYD suffer on Fed hike bets, while China's zero-Covid pain slams holiday spending
The Hang Seng Index erased all of last week's 3 per cent gain as bets for another jumbo rate hike are priced in after a US employment report on Friday
China is doubling down on its zero-Covid plan to stem any flare-up in cases going into the Communist Party's congress this weekend
Hong Kong
stocks
sank, extending a sell-off to the lowest level in 11 years, after a strong US employment data strengthened bets for another jumbo rate hike. Chinese onshore stocks retreated as higher Covid-19 cases hurt holiday spending.
The Hang Seng Index lost 3 per cent to 17,216.66 at the close of trading on Monday, adding to an almost HK$5 trillion (US$637 billion) rout among its 73 members this year. Today's setback erased all of the rally last week. The Tech Index slid 4 per cent, while the Shanghai Composite Index retreated 1.7 per cent.
Alibaba Group tumbled 3.4 per cent to HK$78.60, Tencent weakened 2.8 per cent to HK$263, while Meituan plunged 6.5 per cent to HK$161.70. Top electric-car makers fell, with BYD sliding 3.9 per cent to HK$189.80 and Xpeng tumbling 6.8 per cent to HK$37.70.
Casino operator Sands China slumped 9.2 per cent to HK$19.66 while sportswear makers Li Ning and Anta Sports plunged 8.8 per cent and 5.3 per cent respectively.
A US labour data released on Friday shows that employers added higher than expected 263,000 jobs last month, while unemployment surprisingly sank to a five-decade low of 3.5 per cent. The robust report crushed hopes for a Federal Reserve pivot from its current hawkish bent.
"Friday's market panic over lower unemployment rate hints at market's confusion about the outlook of US inflation," Hong Hao, chief economist at Grow Investment Group, wrote in a report on Sunday. "The US will continue to be a source of volatility for China's [onshore] and offshore markets."
Chipmakers also stumbled, following a US move to
block China's access
to American technology. SMIC, China's largest, lost 4.5 per cent to HK$16.42 while Hua Hong Semiconductor sank 9.2 per cent to HK$16.42.
The threat of US sanctions also triggered a rout in China's onshore markets, with Advanced Micro-Fabrication Equipment and Hangzhou Changchuan Technology nosediving nearly 20 per cent in Shanghai. SMIC also slid in Shenzhen, losing 4.2 per cent to 15.03 yuan.
"Hong Kong is truly, madly, deeply oversold," Hong added in the report, saying that a lot of bad news is in the price despite challenges such as rate hikes and rising US-China tensions.
Stocks in the Asia-Pacific region also pulled back, with the benchmarks in South Korea losing 0.3 per cent and those in Japan and Australia sliding by 0.7 per cent to 1.4 per cent.
The Hang Seng Index members have suffered a HK$4.3 trillion drubbing in market value last quarter, according to Bloomberg data. The broader Hong Kong stock market has lost HK$10.7 trillion this year.
Elsewhere, China reported 1,939 new Covid-19 infections across 31 provinces on Monday, surging from 548 on October 1. Spending and trips both
sank
during the national holiday amid curbs and lockdowns, with travel revenue shrinking 26 per cent from a year ago, government data showed.
The Chinese government has
doubled down on its zero-Covid
policy during the golden week holiday to stem potential flare-up in cases going into the Communist Party's 20th national congress from October 16.
Four stocks debuted on Monday. Shenyang Fortune Precision Equipment surged 71 per cent to 120 yuan in Shanghai. China Hefei High-tech Innovation Industrial Zone Close-end Infrastructure Fund jumped 30 per cent to 2.85 yuan per share in Shenzhen. In Hong Kong, GC Construction Holdings climbed 24 per cent while Jenscare Scientific Co. was little changed from its IPO price.