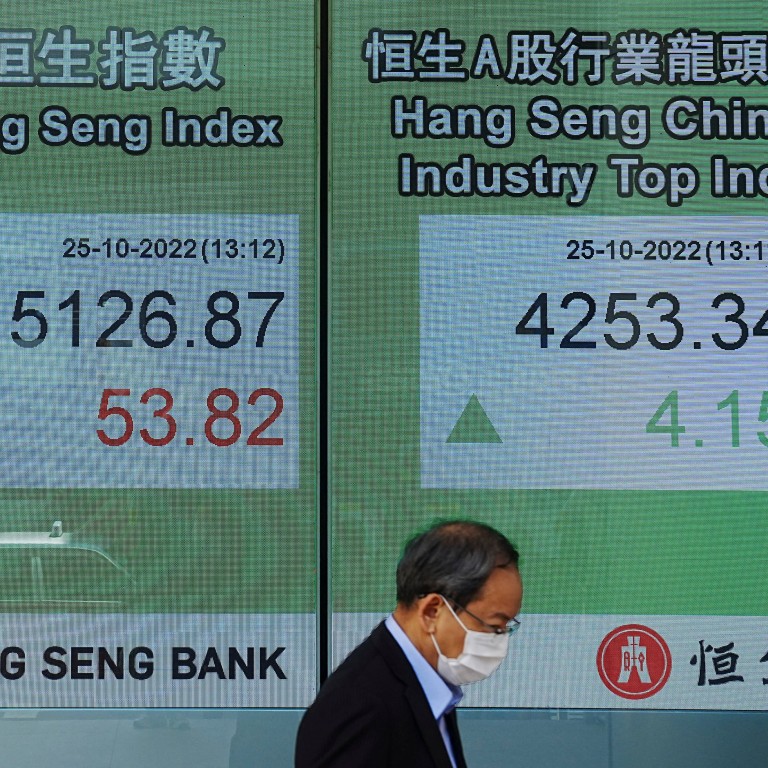 Hong Kong stocks tumble for third day on market downgrade as traders trim bets before US inflation data, midterm results
BCA analysts cut Hong Kong-domiciled companies to underweight, citing a 'triple assault' on economy in a report on Wednesday
US inflation likely remained elevated in October, according to forecasts, holding near a four-decade high that is unlikely to alter the current tightening path
Hong Kong
stocks
dropped for a third day as some analysts downgraded the city's market and traders trimmed bets before a US inflation report and midterm elections, while a rout in cryptocurrencies hurt risk appetite.
The Hang Seng Index fell 1.7 per cent to 16,081.04 at the close, completing a 3.1 per cent loss within three days. The Hang Seng Tech Index slumped 3.3 per cent while the Shanghai Composite Index retreated 0.4 per cent.
Alibaba Group lost 4.6 per cent to HK$63 before the annual November 11 Singles' Day gala. Tencent fell 2.3 per cent to HK$231.40 while JD.com slipped 3.7 per cent to HK$165.80. Apparel maker Shenzhou International tumbled 4.5 per cent to HK$56.95. Geely Auto weakened 5.6 per cent to HK$9.74 and car dealer Zhongsheng slumped 3.5 per cent to HK$34.65.
Stocks retreated after a US$430 billion rally this month on the back of zero-Covid policy speculation, with strategists at BCA Research downgrading Hong Kong-domiciled companies in the MSCI Hong Kong Index to underweight, citing a "triple assault" from the Federal Reserve's tightening policy, China's economic slowdown and shrinking global trade.
The market "will still require more signals on easing pandemic curbs from China and cooling US inflation before valuations can recover," China Merchants Securities said in a research note.
Some 19 companies on the Hang Seng Index have released third-quarter earnings so far, and they posted an average 1.2 per cent decline from last year, trailing analysts' estimates by 26 per cent, according to Bloomberg data.
Elsewhere, bitcoin plunged below US$16,000 to a level not seen since 2020, and crypto exchange operator Binance scrapped its plan to take over its cash-strapped rival FTX.com.
US consumer prices probably rose 7.9 per cent in October from a year earlier, versus 8.2 per cent in September, according to consensus tracked by Bloomberg, before a government report later today. The midterm elections have been mixed, with the Republicans likely to control the House with a slim margin, with the Senate race in progress.
AAC Technologies, which makes acoustic products including speakers and microphones, jumped 4.6 per cent to HK$17.40. The Apple supplier reported third-quarter revenue and profit that both beat analysts' estimates during the noon trading break.
Property management firm Country Garden Services gained 0.7 per cent to HK$10.90 after agreeing to buy a 21.5 per cent stake in real-estate agency Hopefluent Group for HK$233.1 million (US$29.7 million). Hopefluent slid 7.4 per cent to HK$1.12.
GRINM Semiconductor Material, which makes silicon wafers, jumped 92 per cent to 19 yuan on the first day of trading in Shanghai.
Other major Asian markets all headed south. Japan's Nikkei 225 slipped 1 per cent per cent, while South Korea's Kospi retreated 0.9 per cent and Australia's S&P/ASX 200 lost 0.5 per cent.