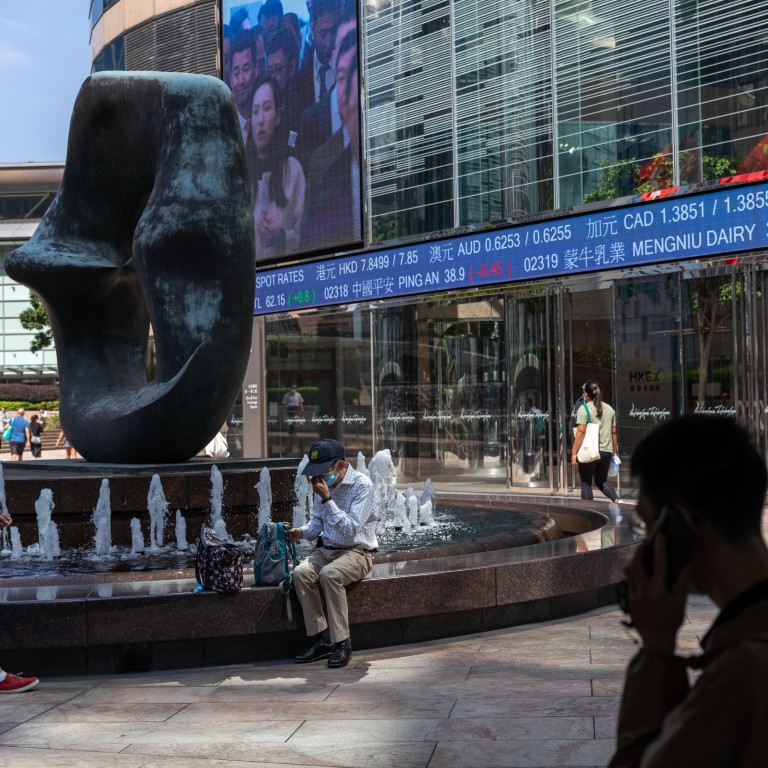 Hong Kong stocks jump to 7-week high on signs of thawing China-US ties while Beijing moves to stimulate economy
Signs of thawing relations between the US and China are giving fresh hopes to investors while Beijing unveils more measures to revive economy
Gains limited by official reports showing China's key economic data trailed market consensus in October
Hong Kong
stocks
rose for a third day, lifting the benchmark index to near a seven-week high and technically entering a bull market amid signs of thawing in China-US relations and growing optimism Beijing will roll out more measures to revive the economy.
The Hang Seng Index climbed 4.1 per cent to 18,343.12 at the close, its highest level since September 21. The Tech Index surged 7.3 per cent, and the Shanghai Composite Index added 1.6 per cent.
Tencent Holdings jumped 11 per cent to HK$288 and Alibaba Group surged by the same percentage to HK$78.90 before both companies announce their
third-quarter results
later this week. Macau casino operator
Sands China
advanced 6.1 per cent to HK$19.88 and Ping An Insurance climbed 5.4 per cent to HK$44.15 while HSBC added 2.4 per cent to HK$44.70.
"The easing of the tensions between China and the US has alleviated concerns among overseas investors, which will help to repair stock valuations," said Cheng Yu, a fund manager at HSBC Jintrust Fund Management in Shanghai. "We are seeing a turnaround in corporate earnings" after a slew of policy-easing measures, he added.
The US said it will resume cooperation with China on areas ranging from climate change to food security following the
first in-person meeting
between President Joe Biden and his counterpart Xi Jinping in Bali on Monday. The US will also send Secretary of State Anthony Blinken to visit China to further warm bilateral ties.
Separately, China's banking regulator said on Monday the nation's developers will be allowed to use some of their presale funds in escrow accounts to keep their operations afloat, adding to measures to tackle a liquidity crunch that has been plaguing the industry over the past two years.
The Hang Seng Index has risen 25 per cent from an October low, pushing blue-chip stocks into bull-market territory as it became the top performer among global benchmark stock indices, according to Bloomberg data. The rally contributed to a US$665 billion recovery in the city's market capitalisation.
Property management firm Country Garden Services surged 18 per cent to HK$19.74, and China Vanke added 2.5 per cent to HK$14.18. Longfor Group gained 1.7 per cent to HK$21.55 while China Overseas Land and Investment rose 1.3 per cent to HK$20.30.
Elsewhere, traders shrugged off reports today showing China's key October economic data trailing analysts' estimates. Industrial production increased 5 per cent from a year earlier, falling short of the 5.3 per cent consensus estimate. Retail sales fell 0.5 per cent, missing the forecast of a 0.7 per cent gain.
Developer Country Garden missed the bounce. The stock eased 1.8 per cent to HK$3.20, trimming a decline of as much as 15 per cent after
proposing a stock placement
at a deep discount to raise HK$3.87 billion (US$493 million) to help repay offshore debts.
New Huo Technology Holdings rebounded 0.3 per cent to HK$3.53, halting a 14 per cent from the previous day. The digital assets firm has US$18.1 million of cryptocurrencies deposited with FTX, and warned it may not get its money back from the cryptocurrency exchange which has collapsed in the world's largest crypto-related bankruptcy in history, it said in an exchange filing on Monday.
Other major Asian markets were mixed. Japan's Nikkei 225 added 0.1 per cent per cent and South Korea's Kospi closed 0.2 per cent higher, while Australia's S&P/ASX 200 lost 0.1 per cent.