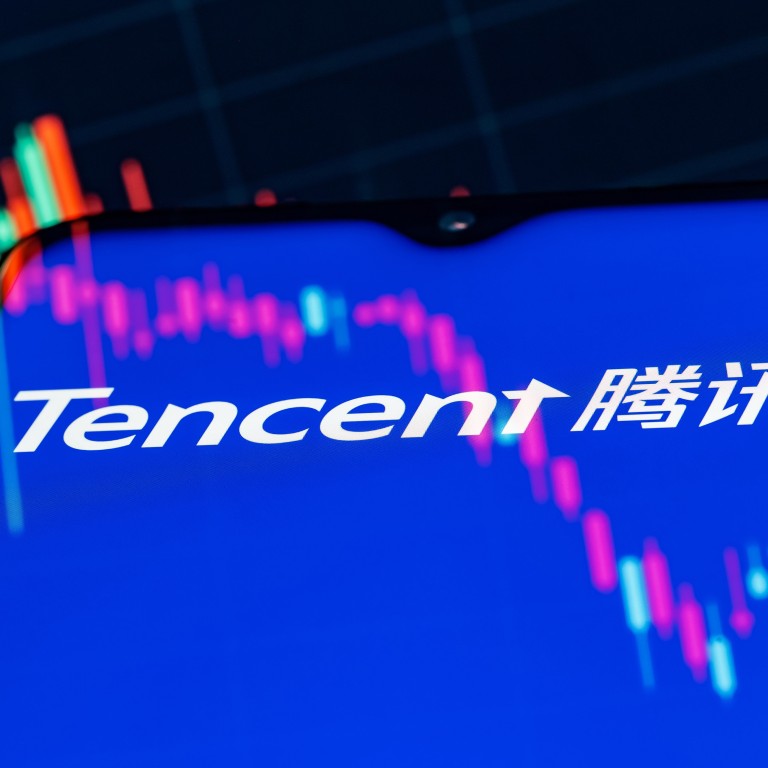 Tencent snaps 4-day winning streak as US$20.3 billion dividend bonanza fails to mask WeChat operator's struggling business
Tencent to hand out 958.1 million shares in Meituan as interim dividend-in-specie on a 1-for-10 basis, a block worth HK$159.4 billion
Move follows an earlier decision to also farm out its stake in JD.com as dividend as the WeChat operator's results failed to sparkle amid clampdown
Tencent Holdings snapped a four-day winning streak in Hong Kong trading as investors worried about its struggling business, overriding a US$20.3 billion bonanza for shareholders in the form of a special dividend payout.
The WeChat operator slid 3.5 per cent to HK$284.40 at the close, halting a 27 per cent winning streak since Friday. The stock had rebounded 43 per cent from an October low going into its earnings report on Wednesday. Meituan tumbled 5.9 per cent to HK$152.80, taking a respite from a 35 per cent advance from a nadir last month.
"The [Meituan] divestment is a signal that Tencent is downsizing its business, either because of the antitrust law or the weakness in the internet sector," said Wang Chen, a partner at Xufunds Investment Management in Shanghai. "Tencent will focus on the fintech and online game operations and that will cut off some revenue sources."
The Shenzhen-based firm will give away 958.1 million shares in Meituan as a special interim dividend on a 1-for-10 basis, a stake valued at HK$159.4 billion (US$20.3 billion), according to a
stock exchange filing
late on Wednesday. Holders on January 10 next year will be eligible, while the shares will be distributed in late March.
The WeChat operator reported an unexpected increase in profit for the third quarter thanks to cost-cutting measures, while revenue dropped for a second straight time for the three-month period.
The Meituan block represents 90.9 per cent of shares held by Tencent in its investment portfolio, or 15.5 per cent of the capital in the food-delivery platform operator.
The dividend-in-specie payout followed a similar decision by Tencent in 2021 to give away a block of shares in e-commerce platform
JD.com
worth US$16 billion from its portfolio to shareholders. The move will put to rest
speculation about Tencent preparing to dump
its Meituan stake in the open market.
Shares of some other Chinese tech companies held by Tencent also fell. Video-platform operator Bilibili shed 2.2 per cent to HK$121.60 and e-book operator China Literature lost 2.8 per cent to HK$27.70.
Tencent's third-quarter net income increased 1 per cent from a year earlier to 39.9 billion yuan (US$5.6 billion), beating the consensus projection of 25.9 billion yuan, while it cut almost 1,900 jobs to save costs amid a slowdown. Revenue fell 2 per cent, trailing analysts' estimate. Profit
slumped 56 per cent from the previous quarter
and revenue decreased 3 per cent, according to its filing in August.
Some investment banks predicted that a turnaround in Tencent's business and the stock price was just around the corner.
Goldman Sachs said in an October report that the company would return to growth this quarter due to its efforts to monetise the vide accounts, while Blue Lotus Capital Group upgraded the recommendation to buy in August, citing attractive valuation.